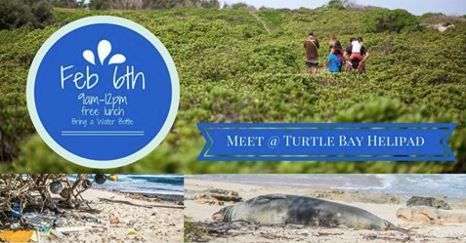 Surfrider Oahu, The North Shore Community Land Trust (NSCLT) & the Energy Excelerator are proud to host our first cleanup of the year at Kahuku Point on Oahu's beautiful North Shore. While a stunning landscape, this is also an area highly impacted by marine plastics and encroachment of invasive species.
In addition to our usual beach cleaning efforts, the NSCLT will be leading volunteers in an effort to remove invasive plants and put over 200 native plants back into the ground.
Time: Check-in will begin at 8:45 AM and the first group will begin their walk out to Kahuku Point at 9AM
Clean & Restoration: 9:30-12PM
Lunch & Group Picture: 12PM
There are no facilities at the point, so please make sure to use the bathroom before you walk out and bring your own reusable water bottle (no single use plastic please).
LINK HERE