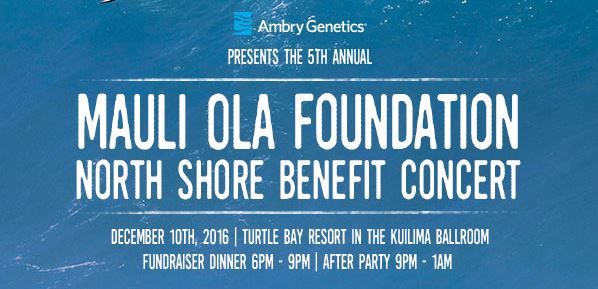 We are excited to announce the Mauli Ola Foundation's 5th Annual North Shore Benefit Concert will take place at the awesome Turtle Bay Resort's Kuilima Ballroom.
Join a group of the world's greatest surfers, personalities, humanitarians and industry leaders at the 5th Annual Mauli Ola Foundation Benefit Concert, presented by Ambry Genetics. This exciting event is set to take place December 10th at the North Shore's only resort destination, The Turtle Bay Resort. Enjoy a gourmet dinner and entertainment from Common Sense, DJ KK, Tahiti Mana, Paula Fuga, and more! The annual benefit raises awareness and funds the Mauli Ola Foundation's mission to introduce surfing as a natural therapy to those facing the challenges of genetic disorders.
As we enter our 10th year as a foundation, we are fired up to share some changes and to create an amazing VIP experience. Thank you for your support during last year's charity event. We look forward to seeing all of your beautiful faces again.
December 10th, 2016 from 5:30PM
Dinner and program from 6-9, After party till 1am.