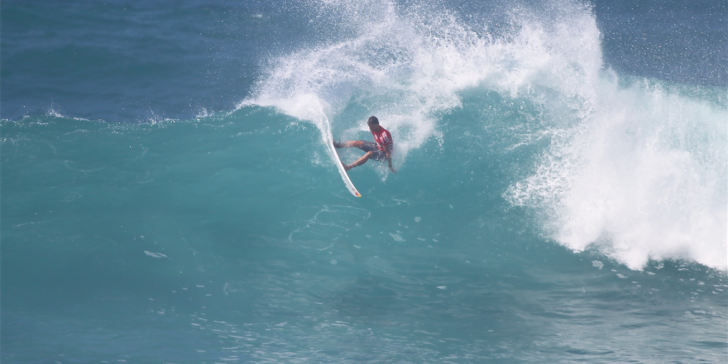 Surf's heavy 10-12′ plus (occas wash through) from the WNW and glassy with calm to lite SE winds. Seabreezes coming.
THURSDAY: MAUI'S IAN WALSH DOMINATES IN HUNT FOR 2ND HIC PRO TITLE
GO LIVE HERE
Ian Walsh (HAW) carves out an 8.67, the highest wave score of the day.
Photo: WSL/Freesurf/Photo Keoki
worldsurfleague.com
vanstriplecrownofsurfing.com/hicpro2015
Location: Sunset Beach, North Shore Oahu, Hawaii
Dates & Rating
October 28 – November 10, 2015
WSL Men's QS 3,000
Sunset Beach, Oahu, HAWAII – (October 29, 2015) – World renowned big wave expert Ian Walsh (HAW) attacked the rising 10-12-foot surf on offer at Sunset Beach today in an ideal power match up at the HIC Pro, Presented by Vans. Dominating Day 2 with the highest wave total of the day – 16.50 points out of 20 – Walsh remained calm and patient during the all-Hawaii heat that featured Honolulu's Gregg Nakamura, Kauai's Kamalei Alexander and North Shore's Schuyler Allen. While waves were smaller this-morning than yesterday, by afternoon another new swell was filling in.
Known to excel in waves of consequence, 32-year old Walsh is a threat at any Qualifying Series event held at big wave breaks, especially here on the North Shore of Oahu. The Maui surfer won the HIC Pro title 10 years ago and his competitive savvy and wave knowledge has seen him advance throughout the decade. Walsh's confidence was easily distinguishable today.
Walsh threw down the biggest single wave score of the day, an 8.67, on a bumpy but expansive wall that lined up perfectly for a few fluid carves. Drawing out huge turns across the wave face, Walsh displayed excellent control throughout the heat.
"I was a lot more patient on the first bottom turn to get a crisp first turn rather than try to rush it up there to be able to have two maneuvers or three maneuvers."
With one eye on Pe'ahi – Maui's infamous big wave venue, Walsh flew to Oahu yesterday and was excited to see a great forecast for the HIC Pro.
"I like Sunset when it's not small, that's for sure," said Walsh. "I think it's challenging though because it is in between size still. This new swell hasn't kicked in and the big swell we had yesterday has really subsided, so I think a big part of it is just trying to be in the right place and positioning yourself to give yourself the most opportunity.
"If I'm in a contest I want to win. I wake up in the morning and I'm going to put a jersey on, I want to win the event. That's pretty much the only drive that I need and I really like competing at home. That's the other thing just being close to Maui around familiar friends here on the NS where I've spent a ton of time as a kid, and I just like competing in Hawaii.
Local favorite Jamie O'Brien (HAW) nabbed a high wave score in the morning, an 8.33 which backed up an opening 6.93 for a combined wave total of 15.26 and the heat win.
"I wasn't sure in the beginning of the heat, I kind of took it easy," said O'Brien. "The guys were already in the lineup, but luckily I got in a nice little rhythm. I just told myself don't surf 100 percent but just surf solid … that was my plan of attack. My first two waves were my two counters to win the heat."
O'Brien isn't a regular competitor, but when the North Shore comes alive, you can expect to find the 32-year-old vying for a slot in the most prestigious surfing series of all, the Vans Triple Crown.
"Always trying to get in the Triple Crown, I love competing in Haleiwa, probably my second favorite wave in the world," continued O'Brien. "And Pipeline is definitely a great event, I'd be stoked to surf the Vans World Cup out here as well."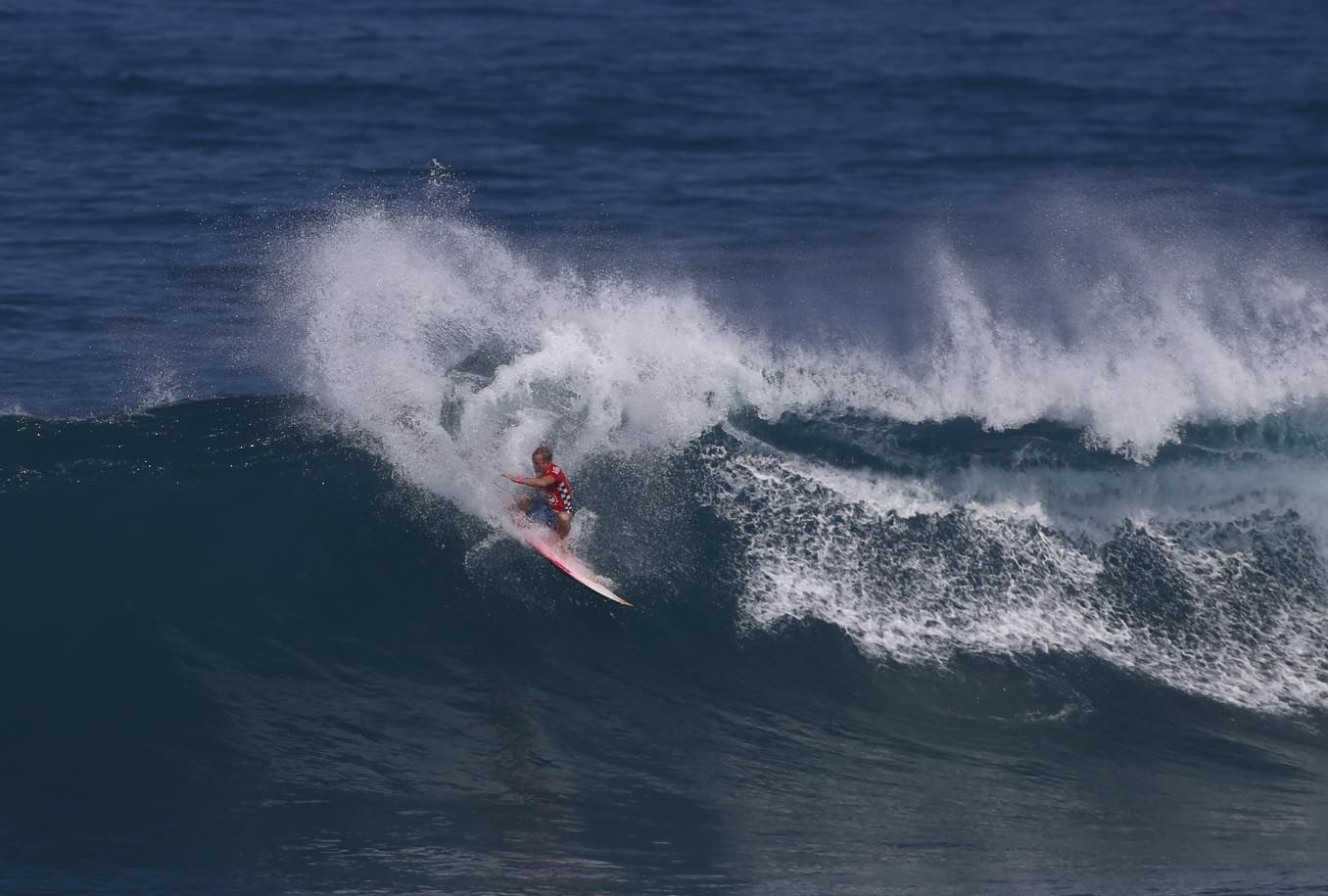 JOB:
WSL/Freesurf/Photo Keoki
Another standout on the North Shore, Chris Ward (USA) used veteran knowledge in the rising Sunset conditions, whipping three turns off an 8-foot wave to score an 8.5 and advancement into the next round. The 36-year-old San Clemente native traveled with the Championship Tour for three years, finishing off each year at the hallowed 7-mile miracle.
"I just went out there with confidence, knowing that I was going to get a good bomb," said Ward. "I wanted to really start the heat off with a good wave … I was way outside and saw a couple sets and they weren't really looking like the right ones, and then I looked at that one and it looked good, so I went and I'm glad I did because it lined up, it doubled up really nice so I got to do a couple good turns."
The wave action during this year's HIC Pro can be attributed to the strong El Nino year, and Ward is looking forward to a busy winter.
"This is just a starting point for me, it's going to be a good El Nino year, there's going to be a lot of good surf so I'm just trying out my big boards and trying to get used to it … for when it's really big."
The HIC Pro is on standby, anticipating a monster day of West Bowl peaks that could see wave face heights reach 30 feet. A call will be made at 7:30am for what could be the final day of the event.
RESULTS
Round of 64 – 1st and 2nd to next round. All surfers from Hawaii unless noted.
Surfers shown in order of 1st through 4th
H1: Kaimana Jaquias; Kalani Chapman; Caiden Fowler (AUS); Ezra Sitt
H2: Koa Smith; Robbie Rickard (AUS); Kevin Sullivan; Kan Watanabe
H3: Billy Kemper; Jackson Baker (AUS); Sunny Garcia; Barron Mamiya
H4: Alex Smith; Sheldon Simkus (AUS); Shane Campbell (AUS); Imaikalani deVault
H5: Cristobal De Col (PER); Gavin Gillette; Kekoa Cazimero; Guy Sato (JPN)
H6: Myles Padaca; Kaito Kino; Kalani Ball (AUS); Coconut Willie
H7: Hank Gaskell; Noa Mizuno; Lucca Saldivar (PER); Arashi Kato (JPN)
H8: Chris Ward (USA); Kylen Yamakawa; Shayden Pacarro; Evan Valiere
H9: Ian Walsh; Kamalei Alexander; Gregg Nakamura; Schuyler Allen
H10: Jack Robinson (AUS); Mitchell James (AUS); Landon McNamara; Kilian Garland (USA)
H11: Olamana Eleogram; Elliot Paerata-Reid (NZL); Takumi Nakamura (JPN); Mikey Bruneau
H12: Johnny Noris (USA); Martin Jeri (PER); Jake Halstead (USA); Elijah Gates
H13: Joel Centeio; Isaiah Moniz; Bruce Irons; Luke Shepardson
Round of 96 – 1st and 2nd to next round (remaining heats from yesterday)
H1: Kalani Chapman; Robbie Rickard (AUS); Takayuki Wakita; Kaisa Kawamura (JPN)
H2: Kan Watanabe (JPN); Ezra Sitt; Joao Marco Maffini; Nolan Rapoza
H3: Billy Kemper; Sheldon Simkus (AUS); Skip McCullough (USA); Nate Dorman (USA)
H4: Imaikalani deVault; Barron Mamiya; Finn McGill; Nick Vasicek (AUS)
H5: Cristobal De Col (PER); Brandon Todd (USA); Tyler Gunter (USA); Cole Houshmand (USA)
H6: Myles Padaca; Guy Sato (JPN); Ulualoha Napeahi; Alex Pendleton (USA)
H7: Noa Mizuno; Evan Valiere; O'Neill Massin (PYF); Cody Young
H8: Kylen Yamakawa; Lucca Saldivar (PER); John Mel (USA); Cody Canzoneri (USA)
H9: Kamalei Alexander; Landon McNamara; Danny Fuller; Rob Kelly (USA)
H10: Jack Robinson (AUS); Schuyler Allen; Quinn McCrystal (USA); Joh Azuchi (JPN)
H11: Olamana Eleogram; Martin Jeri (PER); Keijiro Nishi (JPN); Dylan Kowalski (USA)
H12: Elijah Gates; Mikey Bruneau; Gavin Sutherland; Derek Wong
H13: Bruce Irons; Kai Mana Henry; Kona Oliveira; Davin Torres-Jaime
H14: Kai Barger; Isaiah Moniz; Chris Foster; Ruben Gonzales (PRT)
H15: Benji Brand; Travis Beckmann; Miguel Blanco (PRT); Alvaro Malpartida (PER)
H16: Jamie O'Brien; Brad Ettinger (USA); Saxon Lumsden (AUS); Sean Moody
Round of 112 – 1st and 2nd to next round.
H1: Kalani Chapman; Ezra Sitt; Kaoliopuuwai Kahokuloa; Pancho Sullivan
H2: Skip McCullough (USA); Finn McGill; Love Hodel; Edrick Baldwin
H3: Tyler Gunter (USA); Alex Pendleton (USA); Eli Olson; Kaulana Apo
H4: Cody Young; John Mel (USA); Jeames Young (AUS); Reef McIntosh
H5: Danny Fuller; Joh Azuchi (JPN); Laka Burgess; Frank Chenault (USA)
H6: Martin Jeri (PER); Gavin Sutherland; Jonah Morgan; Taichi Wakita (JPN)
H7: Bruce Irons; Stevie Pittman (USA); Isaiah Moniz; Kahea Hart
H8: Benji Brand; Sean Moody; Sheldon Paishon; Jason Shibata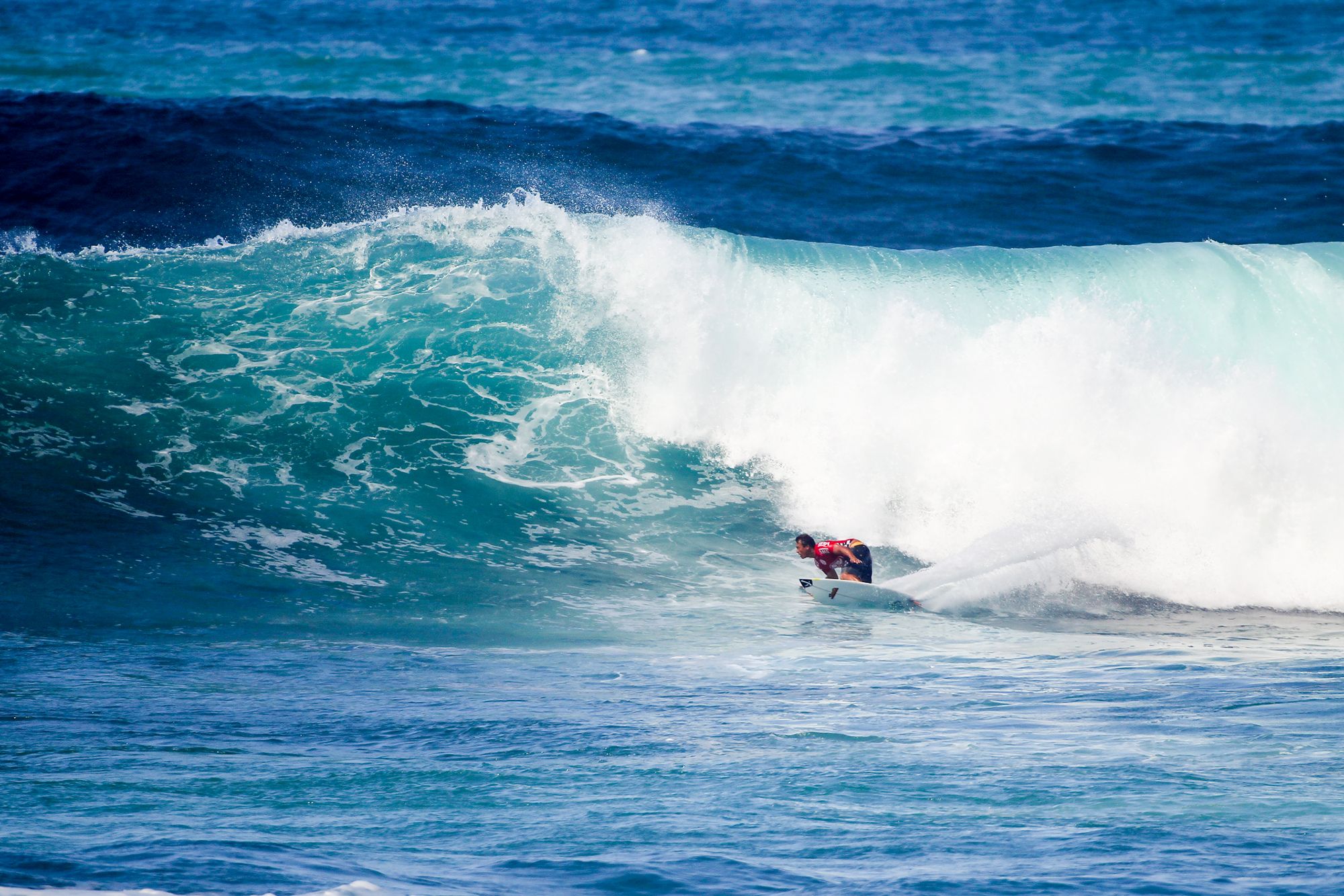 Wardo
WSL/Freesurf/Photo Keoki
Lauren Rolland
WSL Hawaii Media Manager
hawaiicomms@worldsurfleague.com
(808) 651-8248