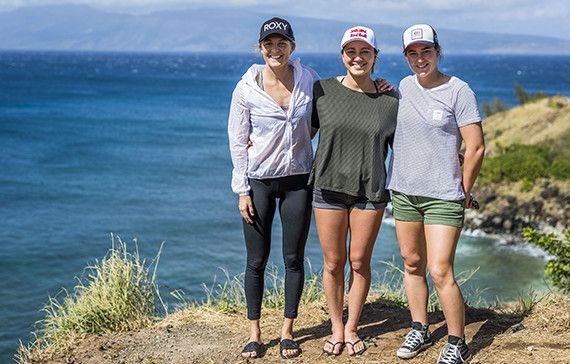 OPENING DAY OF EVENT WINDOW 
 With 10 WSL Titles between them Stephanie Gilmore (AUS), Carissa Moore (HAW) and Tyler Wright (AUS) have arrived in Honolua Bay for the Maui Women's Pro.
Image: © WSL /  Poullenot
HONOLUA BAY, Maui/Hawaii (Tuesday, November 22, 2016) – The final stop on the 2016 Samsung Galaxy World Surf League (WSL) Women's Championship Tour (CT), the Maui Women's Pro, gets underway tomorrow with a competitive window that runs until December 5, 2016.
The world's best female surfers have arrived in Maui, Hawaii led by newly crowned 2016 WSL Champion Tyler Wright (AUS). Wright will surf in Heat 3 of Round 1 where she will take on Bianca Buitendag (ZAF) and the winner of the trials on the hunt for her first win in Maui.
"This is a great last event for the women's tour and such a great way to finish off the year," Wright said. "It's really a dream wave and such a great time to get a head start on next year. I've got so much stuff that I want to work on and it's such an opportunity to do it here and to do all that in Hawaii."
Two-time defending event winner and three-time WSL Champion Carissa Moore (HAW)has reigned supreme in Maui over the past two years and victory in 2016 will see her claim a third consecutive victory at Honolua Bay in front of a home crowd. Moore will take on Laura Enever (AUS), Lakey Peterson (USA) in Round 1 Heat 5.
"This place is home and I'm so happy to be back and surf in front of family and friends," said Moore. "I feel a special connection with this place so I can't wait to get started. Yes, the World Title has been decided but that doesn't take away from the fact that we all want to win this. This is one of the best events on tour and a great time to set your momentum for the next year. I really learned a lot from my mistakes this season so I have a lot of things I'd like to work on. I'm excited to get back to square one and start again fresh in 2017."
Six-time WSL Champion and three-time event winner Stephanie Gilmore (AUS) holds the record for the most wins at Honolua Bay. Gilmore, currently in 6th place on the Jeep Leaderboard, is chasing her first CT event win since Cascais in 2014 and will match up against Hawaiians Malia Manuel (HAW) and Coco Ho (HAW) in Round 1.
"Honolua Bay is such a magical place, especially for me because it's where I won my first World Title," said Gilmore. "I've had so many great events here too. The scenery is insane and in my eyes it's the best place to finish the tour. I love coming back here and I always look forward to this event. I would love to win here. I haven't had much success over the past couple of years but I've been working hard just to make sure I feel good so I hope we get some swell."
A one heat trials event will decide the wildcard into the Maui Women's Pro. The trials are set take place on the first day of competition, likely tomorrow, before to Round 1 and will see four surfers contest for a place into the main event alongside the WSL Top 17. The four trialists are Mahina Maeda (HAW), the highest ranked Hawaiian surfer on the Qualifying Series, Brisa Hennesy (HAW), the Hawaiian Pro Junior Champion, Summer Macedo (HAW), the highest ranked Maui surfer on the QS, and Bethany Hamilton (HAW). Should Hamilton win the trails she will earn her eighth appearance in a Championship Tour event and her third this season.
The Maui Women's Pro is also the final opportunity CT surfers to qualify for next season's elite tour and the event will witness the battle for requalification. The 2017 WSL Top 17 will be comprised of:
– the Top 10 finishers on the 2016 Championship Tour (CT)
– the Top 6 finishers on the 2016 Qualifying Series (QS)
– one WSL wildcard
Event organizers will convene at 7.30am (local time) tomorrow to assess conditions and make the first call.
Fun, but likely lully, NNW swell should be strongest Wednesday morning (watch for a building trend late Tuesday) from a recent storm near the Aleutian Islands. The good news is the swell direction is favorable for Honolua (325-340), while the not so good news is that this storm and swell were not well aimed at the islands. End result should be fun, but lully, surf with sets in the head high+ range Wednesday morning, easing over the afternoon. Thursday likely trends to smaller leftovers. The next swell that we're monitoring looks likely to build through the day on Friday before easing Saturday. This swell looks a bit bigger than the above in the offshore waters, although surf at Honolua will likely be a notch or two smaller, with the swell direction (320-335) more shadowed. At this point contestable surf Fri PM-Sat AM looks very possible, but on the smaller side. Sunday will likely see smaller leftovers. Surfline.
The Maui Women's Pro will be webcast LIVE on WorldSurfLeague.com
The event is also being carried by the WSL's LIVE broadcast partners Fox Sports Australia, CBS Sports in the United States, ESPN Brasil, Globosat, Edgesport, Sky NZ, Sport TV, Canal + Deportes, Channel Nine, MCS, Starhub, and Oceanic Time Warner Cable 250 & 1250 in Hawaii.
Maui Women's Pro Round 1 Match-Ups:
Heat 1: Johanne Defay (FRA), Sally Fitzgibbons (AUS), Keely Andrew (AUS)
Heat 2: Tatiana Weston-Webb (HAW), Sage Erickson (USA), Alessa Quizon (HAW)
Heat 3: Tyler Wright (AUS), Bianca Buitendag (ZAF), TBD
Heat 4: Courtney Conlogue (USA), Nikki Van Dijk (AUS), Chelsea Tuach (BRB)
Heat 5: Carissa Moore (HAW), Laura Enever (AUS), Lakey Peterson (USA)
Heat 6: Stephanie Gilmore (AUS), Malia Manuel (HAW), Coco Ho (HAW)
---
About the World Surf League
The World Surf League (WSL), formerly the Association of Surfing Professionals (ASP), is dedicated to celebrating the world's best surfing on the world's best waves through a variety of best-in-class audience platforms. The League, headquartered in Santa Monica, is a truly global sport with regional offices in Australasia, Africa, North America, South America, Hawaii, Japan and Europe.The WSL has been championing the world's best surfing since 1976, running global events across the Samsung Galaxy Men's and Women's Championship Tours, the Big Wave Tour, Qualifying Series, Junior and Longboard Championships, as well as the WSL Big Wave Awards. The League possesses a deep appreciation for the sport's rich heritage while promoting progression, innovation and performance at the highest levels.

Showcasing the world's best surfing on its digital platform at WorldSurfLeague.com as well as the free WSL app, the WSL has a passionate global fan base with millions tuning in to see world-class athletes like Mick Fanning, John John Florence, Stephanie Gilmore, Greg Long, Gabriel Medina, Carissa Moore, Makua Rothman, Kelly Slater, Adriano de Souza and more battle on the most unpredictable and dynamic field of play of any sport in the world.