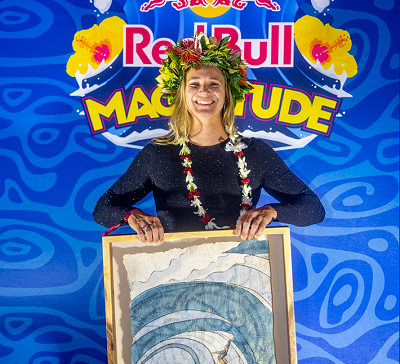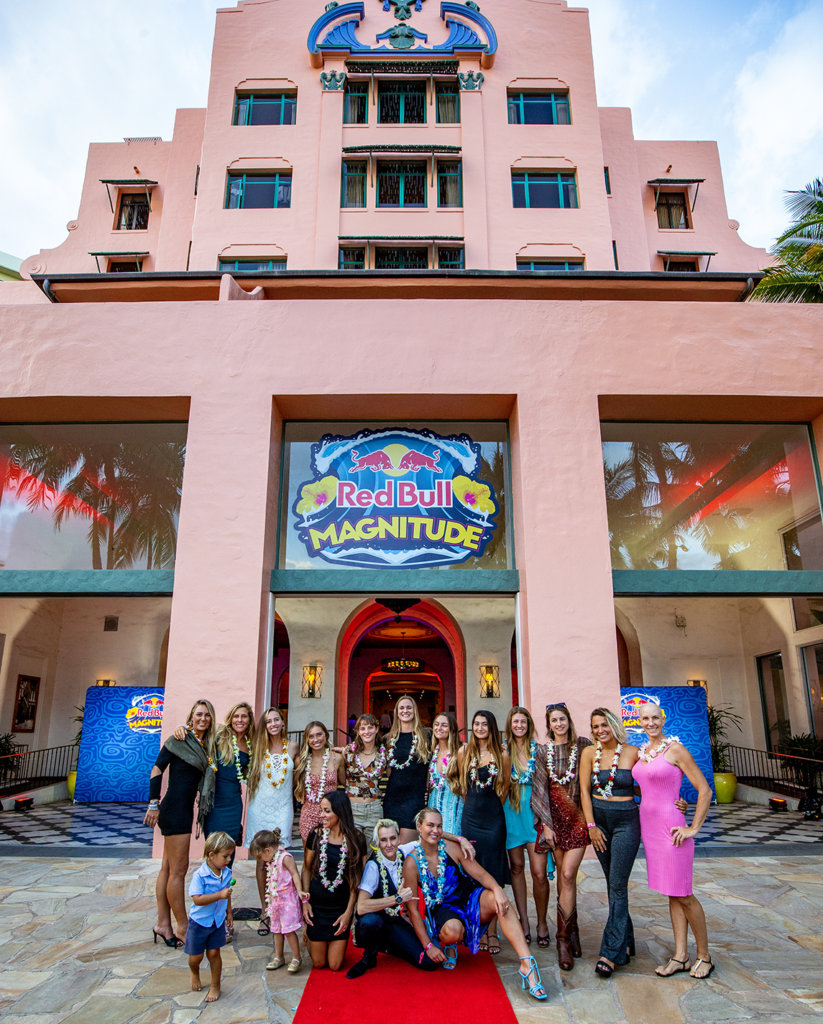 Competitors converge on the Red Bull Magnitude awards in Waikiki, Oahu, Hawaii, USA on 26 of March, 2023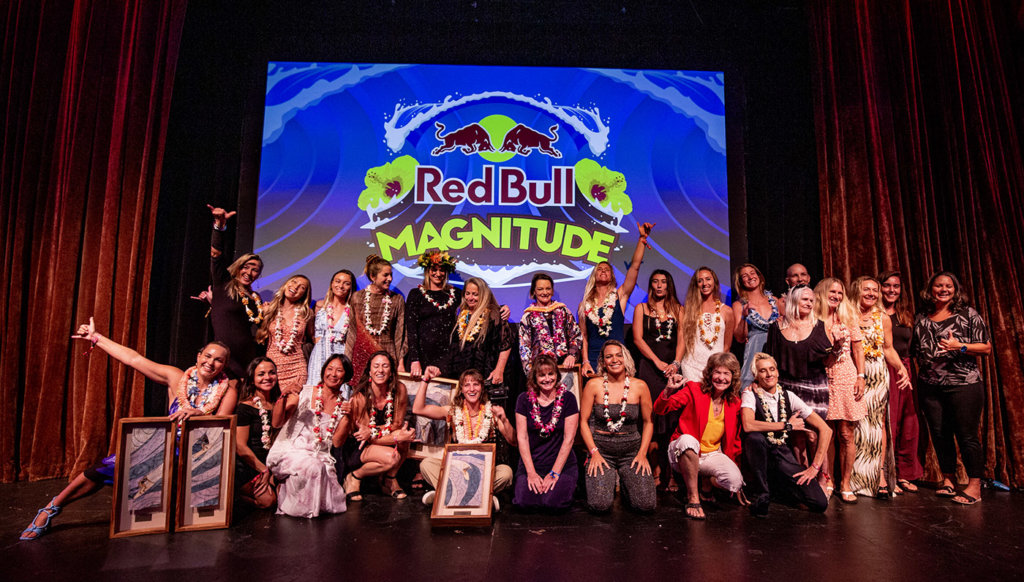 Competitors on the stage for the Red Bull Magnitude awards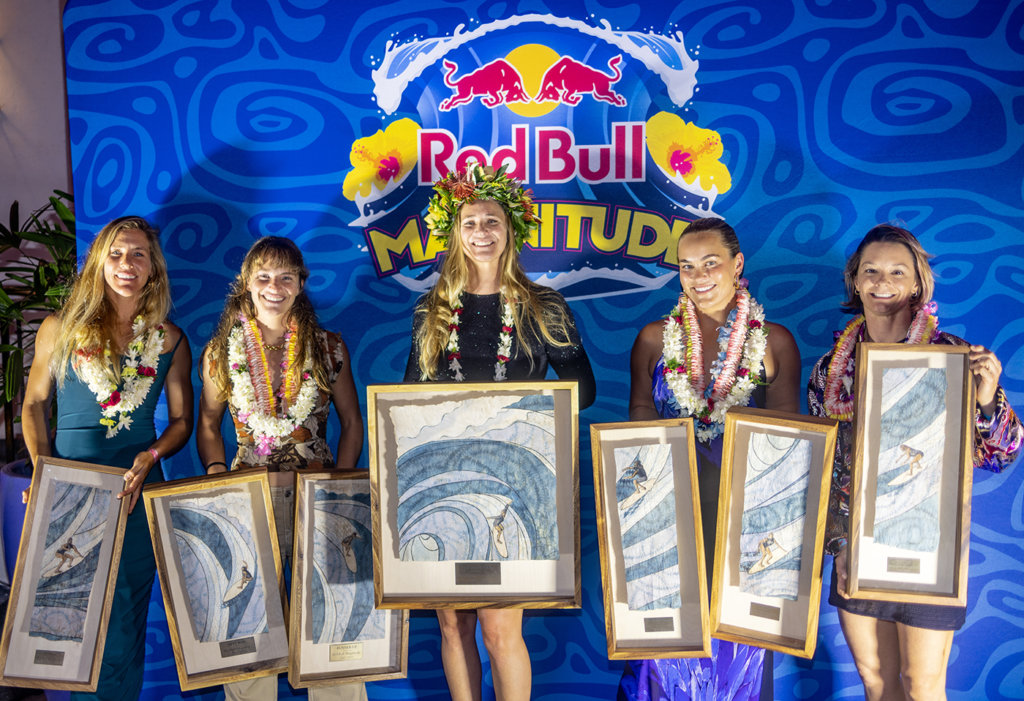 All smiles for the Red Bull Magnitude awards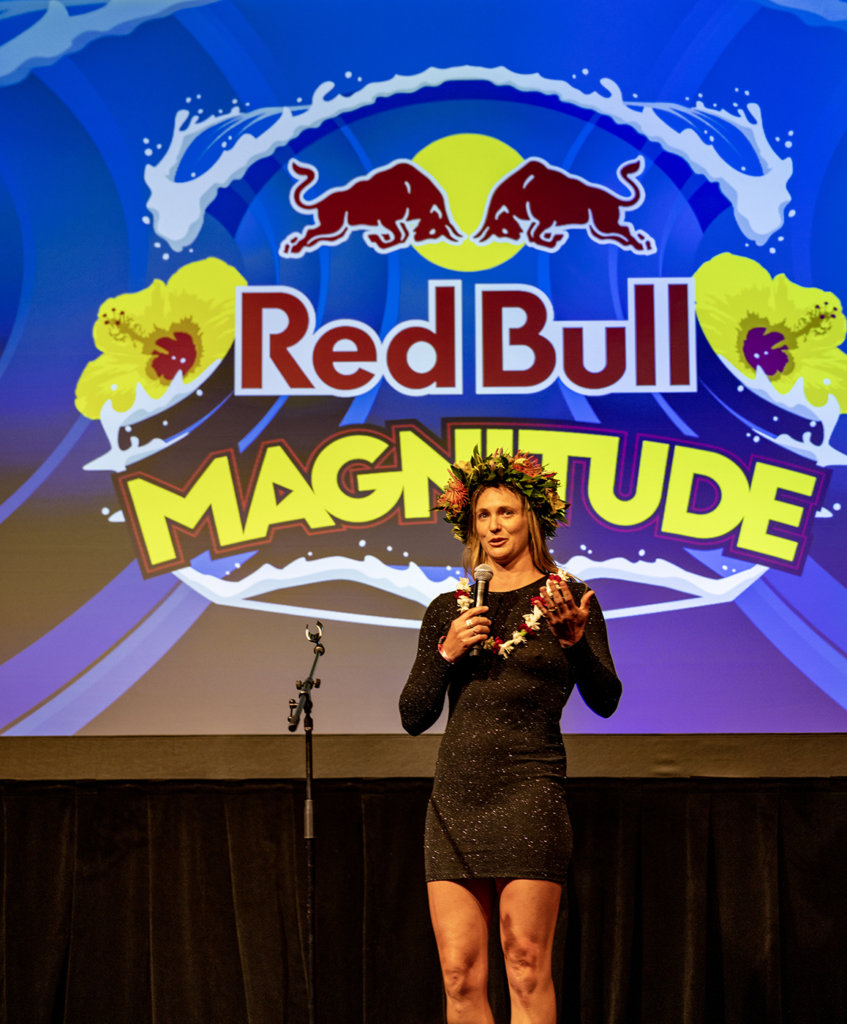 Paige Alms wins the best overall performance at
the Red Bull Magnitude awards in Waikiki, Oahu, Hawaii, USA on 26 of March, 2023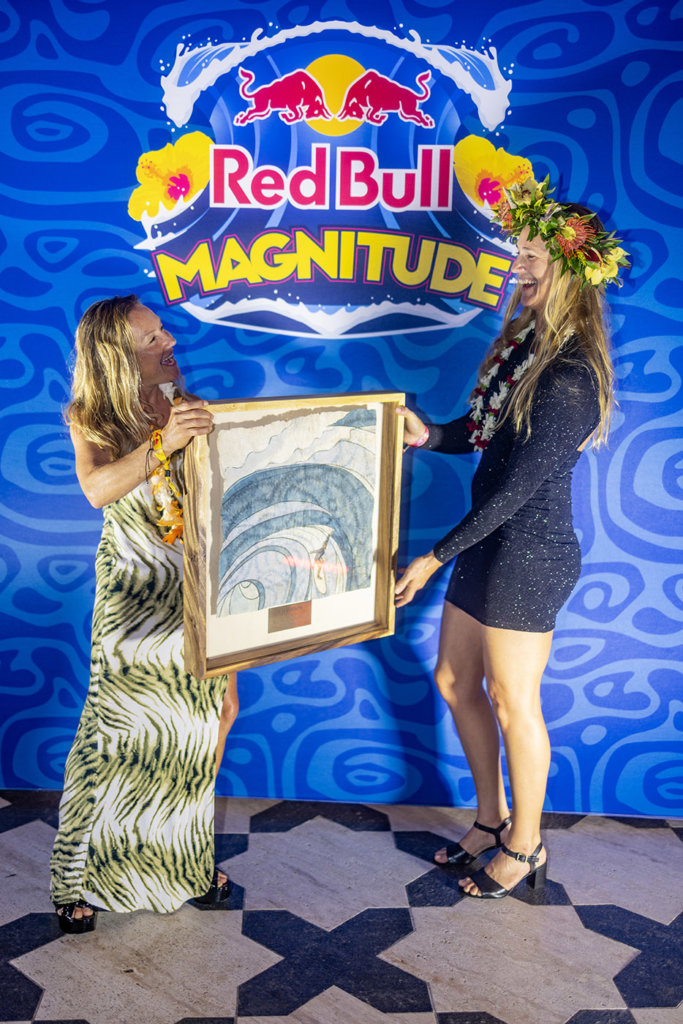 Ground Breaker Rochelle Ballard shares the moment with Paige Alms for best overall performance at
the Red Bull Magnitude awards in Waikiki, Oahu, Hawaii, USA on Sunday 26 of March
The unique big-wave surf contest drew top athletes from around the world, culminating with an Awards Ceremony in Waikiki
HONOLULU, HI – (March 26, 2023) – Today, after an action-packed three months of Hawaiʻi big-wave surfing, Red Bull Magnitude, crowned its new champion: Maui's Paige Alms. The overall winner of the only women's big-wave digital surf contest, Alms put together an impressive reel of big-wave rides this winter season, taking home the Overall Performer award and a $20,000 prize purse.
"I'm so stoked to come out on top at Red Bull Magnitude," said Alms. "This was one of the best winters in Hawaii for performance in big-wave surfing, and its an honor to be in the mix among some outstanding competitors."
The contest ran from December 1, 2022, through February 28, 2023, a three-month swell period to enable athletes to catch their best waves of the season. Over 25 athletes competed for their chance to win across five different categories for a total of $50,000 in prize money. The award categories include Overall Champion, Best Ride (paddle only), Best Tow, Breakthrough Performer and People's Choice.
Second place overall finisher and last year's overall winner, Skylar Lickle, claimed the Best Ride award, which was given to the single highest-scoring wave, for her stunning ride at Peʻahi in January. Red Bull athlete Izzi Gomez scored the Best Tow award, while also catching her first-ever barrel at Peʻahi this season. The Breakthrough Performer and 3rd place finisher was Felicity Palmateer, who competed in Red Bull Magnitude for her first time this season. Finally, the People's Choice award, voted on by fans following online, was Aussie-Brazilian Anne Dos Santos, narrowly edging out fellow competitor Polly Ralda.
"I'm so happy to have won the Best Tow Award; that was the best wave of my life," said Izzi Gomez. "I want to thank Red Bull for giving us such a great platform to push the sport of women's big wave surfing. This winter was so amazing. There were so many great waves ridden, and I have so much respect for all my fellow competitors."
Red Bull provided camera teams, water safety crews and additional resources across notable Hawaiʻi big-wave locations including Waimea, Peʻahi and Outer Reefs.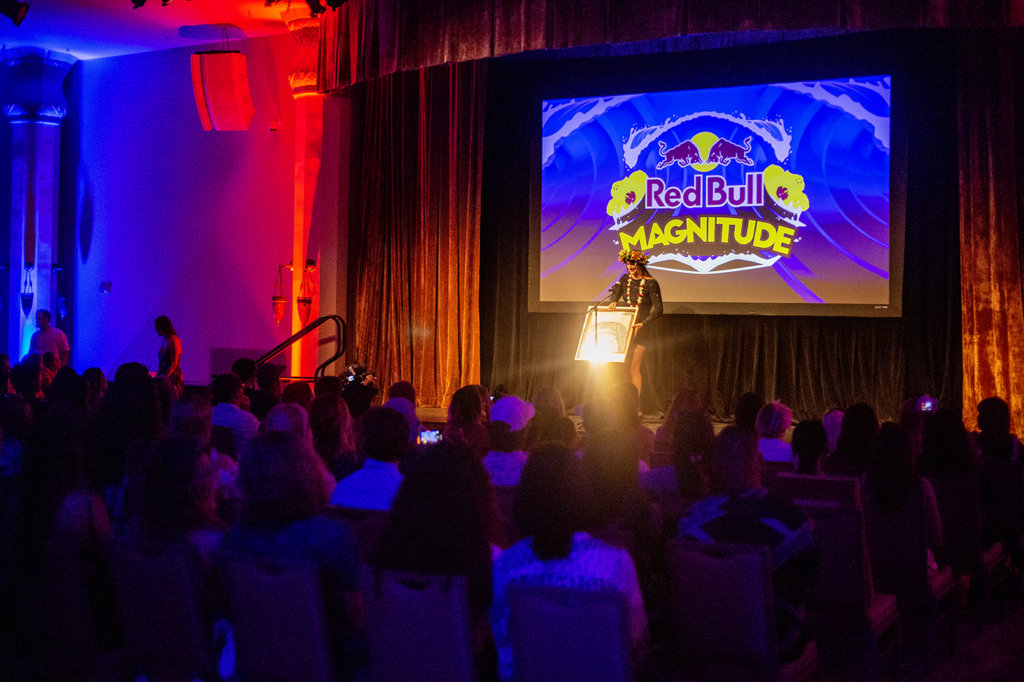 Paige Alms wins the best overall performance
At the end of the swell period, each surfer selected their top three waves for the judging panel. The star-studded judging panel included surfing veteran Rochelle Ballard, who served as the Competition Director and Head Judge, along with the other judges Andrea Moller, Megan Abubo and Red Bull athletes Kai Lenny and Ian Walsh.
In addition to the prize purse, Red Bull presented winners with custom trophies, made out of traditional Hawaiian kapa that was homegrown and designed by Hawaiian local artist, Page Chang of Pūkoʻa Studios.
Red Bull Magnitude Complete Results:
Overall Performance: 
1st – Paige Alms
2nd – Skylar Lickle 
3rd – Felicity Palmateer 
4th – Bianca Valenti 
5th – Katie McConnell 
Best Ride: Skylar Lickle 
Best Tow: Izzi Gómez 
Breakthrough Performer: Felicity Palmateer 
People's Choice: Anne Dos Santos 
Media looking for additional information can visit RedBull.com/magnitude, and all event content can be viewed at www.redbullcontentpool.com.
MEDIA CONTACTS
Jen Tetrick
Red Bull Media House
415-497-9390
Keely Bruns
Good Swell (Agency)
LOOKING FOR RED BULL VIDEO AND PHOTO IMAGES?
Through the Red Bull network, hi-res video and still images are captured and made immediately available for editorial use for all media channels including TV, film, print, mobile and digital. The content is centrally located at redbullcontentpool.com/redbullmagnitude for interested media.
ABOUT RED BULL MEDIA HOUSE
Red Bull Media House is an award-winning, globally distributed mul􀆟-pla􀆞orm media company on a mission to inspire with 'beyond the ordinary' stories – both direct-to-consumer and through partnerships. With a focus on sports, culture and lifestyle content, Red Bull Media House offers a wide range of premium media products across TV, mobile, digital, audio, and print.
Red Bull Media House produces and licenses a broad selection of global live broadcast events, compelling and inspirational local storytelling with original short and long-form programming as well as feature films from around the world.