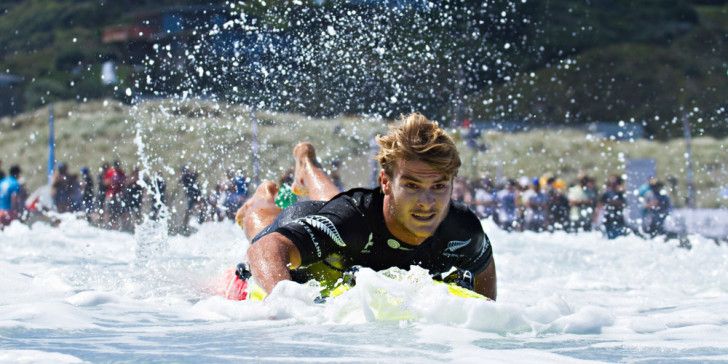 Article & PC Courtesy of TheUltimateWaterman.com
Hawaiian athlete Zane Schweitzer paddled his way to a significant win in the Prone Paddleboard Race held at Piha Beach, Auckland today.
The 6km Prone Paddleboard Race was the second of eight disciplines being held in the 2016 Ultimate Waterman event which runs from the 12 – 20 March in New Zealand.
The 22-year old from the island of Maui maintained his place at the front of the lead pack for the entire race before breaking away on the last leg of the final lap to take the win by 2:36 minutes in a time of 41:58.
After two events, Schweitzer has now jumped to third place on the overall rankings behind Danny Ching (USA) who won the Outrigger Canoe Race and Australian Mark Visser.
Schweitzer was charged full of energy after the race.
"This race was way more fun than yesterday, today is a race of technique and ocean awareness, reading the ocean and choosing the right path so I am super stoked to come out on top, this result will play a huge role in my overall result and it is great to come home with a first place already plus I learnt a lot, it was a blast" Schweitzer said.
"This race was really different for all of us because nobody specializes in this discipline.  In fact seven of eight athletes had not tired our Dolphin Surf Craft boards until 30 minutes before the race.  So there were a lot of things to think about and a lot of 'strategy on the go' that went in to the race" Schweitzer said.
Today's runner up was double whammy surfer Mark Visser who targeted this event to receive double points.  Visser was amongst the leading pack for the entire race before Schweitzer pulled away for the win.  Visser now sits in second place on the overall rankings.
OVERALL ULTIMATE WATERMAN EVENT RESULTS HERE
Official Results – 6km Prone Paddleboard
1st – Zane Schweitzer 41:58
2nd Mark Visser 44:34
3rd Danny Ching 45:02
4th Caio Vaz 45:59
5th Daniel Kereopa 46:01
6th Manoa Drollet 46:07
7th Connor Baxter 52:25
8th Kala Alexander 57:14