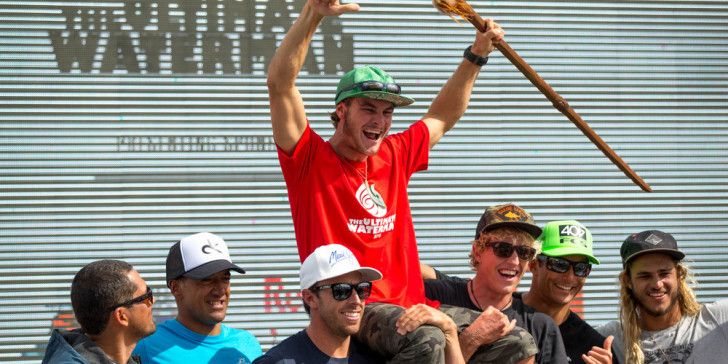 Article Courtesy of TheUltimateWaterman.com / PC: Scotty Sinton
22 year old Zane Schweitzer has been crowned the 2016 Ultimate Waterman.
Schweitzer, a late call up for 2016, was the most consistent surfer of the multi discipline event winning three of the seven disciplines contested.
Today Schweitzer placed third in the 16km Stand Up Paddleboard Race which was enough to clinch the title over runner up Danny Ching (USA).
"I have been training for this event all of my life without knowing about The Ultimate Waterman," Schweitzer said.
"Last year I was so bummed watching the event and not being part of it, it hurt.  And this year I got a late call up a couple of weeks before it started and now I hope I have proven that I deserved the call up."
"I know there are a lot of other athletes out there that suit this event and I look forward to the event growing and learning off these guys when they become part of it.  This event truly broadens a surfer's horizons beyond what they are used to, it makes them step outside of their comfort zone and try new things.  That's what I love about it," said Schweitzer.
Fellow Hawaiian athlete Connor Baxter won the SUP Endurance Race today well clear of Danny Ching (USA).  Baxter moved up in to fourth place as a result of the win, one place behind New Zealand's defending champion Daniel Kereopa in third.
Overall Results 
1st Zane Schweitzer (HAW)
2nd Danny Ching (USA)
3rd Daniel Kereopa (NZL)
4th Connor Baxter (HAW)
5th Mark Visser (AUS)
6th Caio Vaz (BRA)
7th Manoa Drollet (TAH)
8th Kala Alexander (HAW)
FOR MORE ON THE NEW ULTIMATE WATERMAN CHAMP HERE