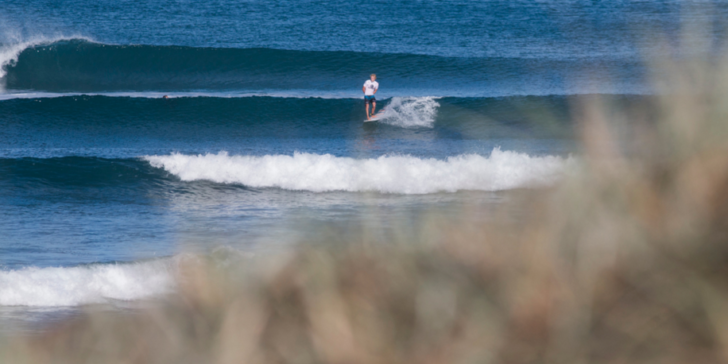 Article courtesy of TheInertia.com | PC: UW
Connor Baxter might be the busiest guy on a surfboard, a SUP or just about any other floating craft you'll find in the ocean these days. The first time I'd met Connor we were fresh off a flight into New Zealand, getting ready to kick off a two week marathon tour of the country with an itinerary of surfing, paddle races, canoe races, more surfing, and a list of other contests one could hold in the ocean for The Ultimate Waterman. Connor was excited. I was excited. He assured me we were about to see more of both North Island and South Island in a fourteen day span than many Kiwis get to see in a lifetime. We did just that; from getting choppered into remote waves to driving coast to coast on each island. It's easily the most unique competition for testing the merits of the world's greatest watermen.
Connor competed through it all and closed things out with a win in the 16 kilometer SUP endurance race. He went back home to Maui for a few weeks for some "downtime," and now as we catch up over the phone for the first time since our marathon through New Zealand, he's fresh off another flight into North Carolina. It turns out that downtime on Maui between The Ultimate Waterman and this weekend's SUP Carolina Cup is about as calm as things get for him. He soaked up as much El Niño as possible, getting out to Pe'ahi whenever it turned on. Now it's back to business as usual.
"The Ultimate Waterman was the kickoff for the year," he says. "That event, sprint home, start training, get ready for this event (SUP Carolina Cup) and from then on it's going to be one of the crazier years for me. Eight to ten months out of the year I'm traveling."
To the average person a livelihood built around bouncing all over the globe is a dream come true. But not sleeping in your own bed 80% of the year? If that sounds intense, it probably is.
"This weekend I'm in Carolina, next weekend I'm back home for a race, the next weekend I'm in Japan, the next weekend I'm in France, the next weekend I'm in Germany. And it just keeps going on and on like that. Spain, Croatia, back to Germany."
So how does one athlete's calendar get filled with so much time on the road? Baxter competes in both the SUP World Tour and the SUP World Series; ten events each on two world tours for professional SUP athletes like himself. Unlike the "traditional" competitive surfing arena, Connor and the rest of the world's best stand up athletes don't stick to one series of contests, essentially doubling their competitive workload in a year compared to someone in the WSL's 'CT. On the SUP World Tour, Connor surfs places like Sunset Beach, the Canary Islands, and even a stop in Huntington for the US Open of Stand Up Paddling. In the SUP World Series he competes in flat water endurance races, where he once earned the title of world's fastest paddler.
"In Hawaii it's just what I grew up doing. Conditions are like this, so you do that. Conditions are like that, so you do this. So in Hawaii you get a small percentage of people who have that mindset of 'I want to be on the water no matter what no matter when,' and really experience what this beautiful ocean provides."