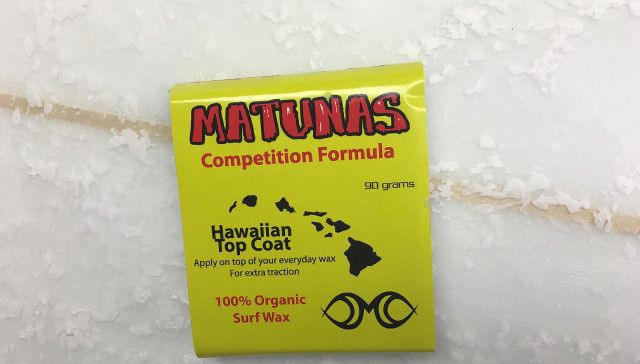 New formula stickier than traditional tropical formula
Surf News Network, 20 July, 2016 – Matunas Surf Wax releases Competition formula Surf Wax, an evolution of the Original Matunas formula that adds more grip to your board.
Competition formula is stickier than Matunas Tropical formula, not over-the-top sticky that could ruin a good surf session or your boardshorts.
Competition formula is a "top coat" that should be applied after you waxed your board with tropical wax, add a little competition to the places you need it and with all Matunas products it is 100% natural and organic.
"We've had a ton of positive feedback about our Competition formula from our Team riders and from surf shop employees."  Said Matt Mattoon, owner of Matunas.
"Another great addition with this wax that I am really stoked on, the inside of the wrapper features one of our Hawaii team riders with a picture and a bio."  Said Bill Crook the Hawaii sales rep and team manager that came up with the idea of putting the rider bios.