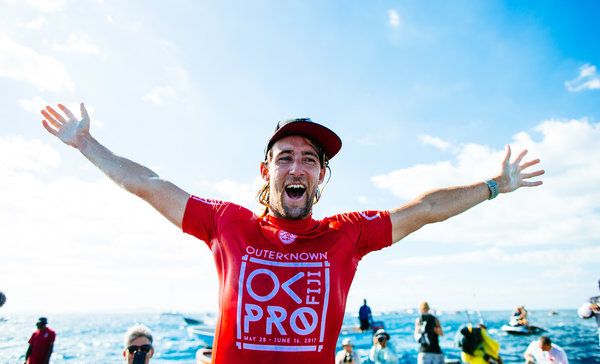 DEFEATS IN-FORM ROOKIE CONNOR O'LEARY IN THRILLING FINAL
 WIN SEES WILKINSON TAKE JEEP LEADER JERSEY
 Matt Wilkinson (AUS) claims the Jeep Leader Jersey after winning the OK Fiji Pro.
Credit: © WSL / Sloane 
2017 WSL Men's Jeep Leaderboard (After Outerknown Fiji Men's Pro):
1 – Matt Wilkinson (AUS) 26,750 points
2 – John John Florence (HAW) 26,500 points
3 – Jordy Smith (ZAF) 26,150 points
3 – Adriano de Souza (BRA) 26,150 points
3 – Owen Wright (AUS) 26,150 points
TAVARUA/NAMOTU, Fiji (Thursday, June 15, 2017) – Matt Wilkinson (AUS) has won the Outerknown Fiji Pro, Stop No. 5 on the 2017 World Surf League (WSL) Championship Tour (CT), after an action-packed Finals Day that saw the world's best surfers battle in pumping waves at Cloudbreak.
Wilkinson's win comes after a hard-fought Final against 2017 CT Rookie Connor O'Leary (AUS), and triumphs over 2017 World Title contenders Michel Bourez (PYF) and Julian Wilson (AUS).
The Australian came into Fiji determined to take the win after earning a runner-up finish to 2014 WSL Champion Gabriel Medina (BRA) at this event last year. Wilkinson's incredible 2016 season saw him win the opening two events and finish the year in fifth place. Today's win not only marks Wilkinson's third CT victory, but sees him lead the elite World Title race heading into the next event.
"We've had an awesome week that started with pumping waves and then had some lay days," said Wilkinson. "If you were going to have lay days anywhere, this is the place to do it. Happiness translates to results."
Wilkinson will now sport the coveted yellow Jeep Leader Jersey with 26,750 points on the leaderboard. His win advances him past former frontrunner and reigning WSL Champion John John Florence (HAW), as well as Jordy Smith (ZAF), Adriano de Souza (BRA) and Owen Wright (AUS).
"I am so stoked," continued Wilkinson. "It definitely feels good to pick up momentum rather than to have the yellow Jeep Jersey to lose. Now I have it to keep. Thanks to everyone – all my support crew and everyone that has helped me."

 Matt Wilkinson (AUS) looked unstoppable throughout the event, charging his way to victory with a series of impressive performances.
Credit: © WSL / Cestari
An exciting Final saw both surfers post excellent-range scores in the opening ten minutes. The rookie took a slight edge thanks to his 6.50 back-up score and went on to build his advantage with a 7.37. Wilkinson battled through the rest of the 40 minute bout to turn the heat and with two minutes remaining his persistence paid off and an 8.03 was enough to earn him victory.
Today's result sees O'Leary move up from 15th to 7th on the Jeep Leaderboard and secure his place firmly inside the Top 10. The impressive performance from the young Australian sees him leading the 2017 WSL Rookie of the Year race and become the only rookie to make a final this year. O'Leary won through every heat en route to the Final and defeated 2012 WSL Champion Joel Parkinson (AUS), fellow rookie Joan Duru (FRA) and 11X WSL Champion Kelly Slater (USA) before meeting Wilkinson in the Final.
"It was such a good final back-and-forth and I'm really glad we put on such a good show for everyone," said O'Leary. "Wilkinson's a legend. He got second here last year so he really deserves the win – he's been ripping. I'm going to do some training and then head to Ballito and J-Bay."

The in-form rookie Connor O'Leary (AUS) jumps up to 7th place on the Jeep Leaderboard after a runner-up finish today.
Credit: © WSL / Cestari
Bourez battled eventual winner Wilkinson in Semifinal 1. The pair were neck-and-neck through much of the heat but a last-ditch effort from the Australian saw him earn a 5.90 and edge the win over Bourez. The result is the best of the season for the Tahitian who was a standout all event, posting consistently high scores and winning each heat on his way to the Semifinals.
"It's a weird feeling because he got that wave with like 20 seconds to go," Bourez said. "He (Wilkinson) just got it at the end so good on him. I'm just super happy to be here – it's pumping, there are barrels and it's a beautiful day. I wish I made the Final but at the end of the day I had fun."
En route to his runner-up finish, O'Leary took down Parkinson, CT veteran and 2012 WSL Champion, in the second Semifinal. Parkinson gained the lead on his opening exchange with a 6.83, but the rookie dominated with an excellent 8.00 and 7.40 for the win. Parkinson's 3rd place finish marks his best result of the season and puts him in 6th place on the Jeep Rankings.
"I'm a little disappointed but stoked with a Semifinal," said Parkinson. "I've had pretty scrappy heats today so I really wanted to go out there and do the surfing I know I can do. Going into the dream leg of the tour I'm happy with a Semifinal finish. J-Bay is definitely one of my favorite events coming up."
The Outerknown Fiji Pro was an incredible event for the 2017 rookie class with Leonardo Fiovaranti (ITA), Duru and Ian Gouveia (BRA) all making it through to Finals Day and delivering their best results of the season. The three rookies Fioravanti, Gouveia and Duru, each caused a stir in Round 3 where they eliminated top seeds Florence, Wright and Smith respectively. Fioravanti was eventually eliminated by Bourez in the Quarterfinals after sending home Gouveia in Round 5 while Duru couldn't overcome runner-up O'Leary.
The next stop on the 2017 Men's WSL CT will be the Corona Open J-Bay from July 12 – 23, 2017. The women will next compete at the Vans US Open of Surfing, which opens July 31 and runs through August 6, 2017.
Outerknown Fiji Men's Pro Final Results:
1 – Matt Wilkinson (AUS) 16.60
2 – Connor O'Leary (AUS) 15.70
Outerknown Fiji Men's Pro Semifinal Results:
SF 1: Matt Wilkinson (AUS) 14.23 def. Michel Bourez (PYF) 14.00
SF 2: Connor O'Leary (AUS) 15.40 def. Joel Parkinson (AUS) 8.36
Outerknown Fiji Men's Pro Quarterfinal Results:
QF 1: Matt Wilkinson (AUS) 17.00 def. Julian Wilson (AUS) 16.30
QF 2: Michel Bourez (PYF) 17.80 def. Leonardo Fioravanti (ITA) 13.57
QF 3: Connor O'Leary (AUS) 11.16 def. Joan Duru (FRA)
QF 4: Joel Parkinson (AUS) 13.67 def. Bede Durbidge (AUS) 11.23
Outerknown Fiji Men's Pro Round 5 Results:
Heat 1: Julian Wilson (AUS) 13.34 def. Italo Ferreira (BRA) 7.34
Heat 2: Leonardo Fioravanti (ITA) 14.83 def. Ian Gouveia (BRA) 11.33
Heat 3: Joan Duru (FRA) 17.33 def. Sebastian Zietz (HAW) 12.50
Heat 4: Joel Parkinson (AUS) 12.57 def. Stuart Kennedy (AUS) 12.36