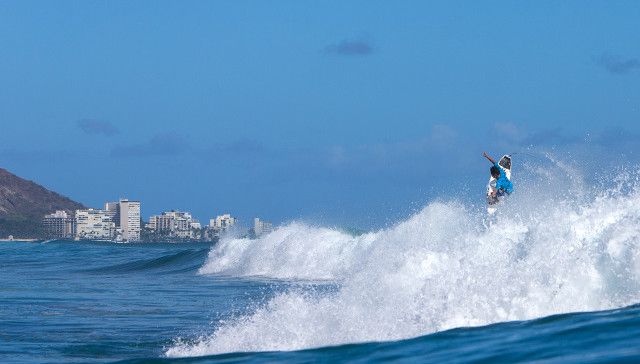 It was a record turnout as Hawaiian groms 'go to town' at Kewalos
Photo: Heff/Freesurf: Koa Matsumoto Airs on the side of No Caution to nail first place in the Boys 16/Under.
The second stop of the 2016 Rip Curl GromSearch series presented by Banzai Bowls made its annual visit to Kewalo Basin, on the South Shore of Oahu. Those who entered the event made a great decision as near perfect 2-3′ occ 4 foot A-frames consistently poured into the lineup all day long. With a GromSearch single day record of 100 competitors entered into the draw, the day was an all-out shredfest to see who reigned supreme.

Video: Willie Edwards
OFFICIAL RESULTS FROM STOP #2 OF THE RIP CURL GROMSEARCH PRESENTED BY BANZAI BOWLS
Boys 16 & Under
1. Koa Matsumoto ($250)
2. Ocean Donaldson-Sargis
3. Cole Alves
4. Devin Brueggeman
Girls 16 & Under
1. Emily Nishimoto ($250)
2. Julie Nishimoto
3. Brisa Hennessy
4. Samantha Sibley
5. Brittany Penaroza
6. Gabriela Bryan
Boys 14 & Under
1. Robert Grilho III ($250)
2. Sage Tutterow
3. Taro Watanabe
4. Wyatt McHale
5. Ocean Macedo
6. Dylan Franzmann
Boys 12 & Under
1. Jackson Bunch ($250)
2. Robert Grilho III
3. Diego Ferri
4. Kai Martin
5. Thatcher Johnson
6. Raphael Castro
Banzai Bowls Maneuver of the Event
Cole Alves, Air Reverse ($305)
DHD High Heat Total
Ocean Macedo, 17.10
HIC Sportsmanship Award
Noah Kawaguchi
Note: The top four finishers in each division earned all-important invites to compete in the GromSearch National Final, to be held at Seaside Reef, San Diego, October 29th.  The Boys and Girls 16/U National champions get an all expense paid trip to compete in the GromSearch International final set to be held 'somewhere' on The Search in the early Spring of 2017.
Next up: stop #3 of the 2016 Rip Curl GromSearch at New Smyrna Inlet, Florida, August 13th or 14th.