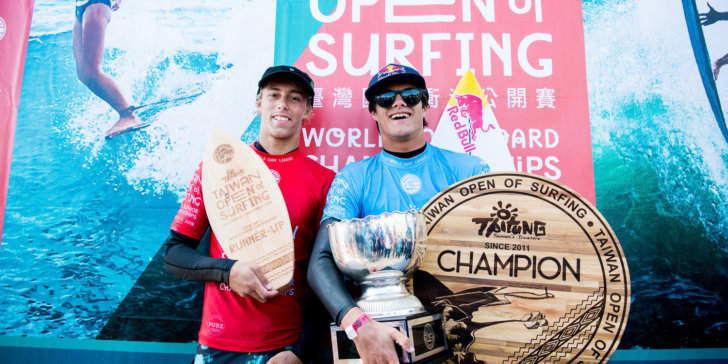 – The 17-Year-Old Joins the Likes of Adriano de Souza and Gabriel Medina as a World Junior Champion
– Californian Eithan Osborne Finishes Runner-Up
 2018 World Junior Champion Mateus Herdy on the podium with runner-up Eithan Osborne (USA) at the WSL Taiwan Open World Junior Championships.
Credit: © WSL / Jack Barripp
Taiwan Open of Surfing World Junior Championship
Congratulation Mateus Herdy 2018 world Junior Champion
3-4ft. NNE swell,  lumpy, strong cross-shore winds.
Jinzun Harbour, Taitung/Taiwan (Sunday, December 9, 2018) – 17-year-old Brazilian prodigy Mateus Herdy (BRA) has claimed victory at the Taiwan Open World Junior Championship in solid windblown conditions at Jinzun Harbour.

Herdy was the surfer to beat all week, posting excellent scores in every heat he surfed. He saved his best performance for the Final where he posted a two-wave total of 18.37 (out of a possible 20) to overcome Californian Eithan Osborne (USA). This included a near perfect 9.77 (out of a possible 10) for two air reverses and a number of turns on one wave. Osborne battled hard but was left in a combination situation (needing two scores) for the majority of the 35-minute match up.

"This has been the best few weeks of my life," Herdy said. "I just got here to Taiwan and loved it straight away — the waves are fun, the people are so nice and it's a beautiful place, I'm definitely coming back. I was talking to my friends before the final and knew to win I was going to have to surf better than I ever had. The conditions were great for airs so I just went for it and am just so stoked I got the win."

 2018 World Junior Champion Mateus Herdy chaired to victory at the WSL Taiwan Open World Junior Championships.
Credit: © WSL / Jack Barripp
After a Final finish at the Hawaiian Pro QS10,000 event, Herdy dropped out of the Sunset QS event early and decided to jump on a plane and get to Taiwan and take a wildcard spot in the WJC. Herdy's last-minute decision has seen him join the likes of his heroes Adriano de Souza and Gabriel Medina as a Brazilian World Junior Champion.
"I was in Hawaii two weeks ago and luckily got the wildcard to come here thanks to WSL," Herdy continued. "I have always wanted my name to be on something like my heroes Adriano (de Souza) and Gabriel (Medina). To now have it alongside them is amazing, they both inspire me so much and have helped me get to here."
2018 World Junior Champion Mateus Herdy boosting to victory at the WSL Taiwan Open World Junior Championships.
Credit:
 © WSL / Tim HainKnown for his incredible free-surfing,
 Eithan Osborne
 was by far the surprise packet of the event, this being his very first WJC, the Ventura whiz-kid dominated some of the event's biggest competitive names with his incredible air game. Osborne was disappointed to fall short in the final but was stoked to know he could compete with the best."I was bummed to go down in the final but really stoked with my efforts this week," Osborne said. "I knew I was going to have to go big at this event with all of the talent that was on hand so it was cool to stick a few big tricks. This result has definitely given me confidence in my competing and I'm pumped to do a few big QS events next year. It's been an awesome week here in Taiwan — it's a really cool place."

Ventura's Eithan Osborne (USA) the WSL Taiwan Open World Junior Championships.
Credit: © WSL / Tim Hain
Rio Waida (IDN) made history today, with the highest ever placing of an Indonesian surfer in a WSL World Championship event. Waida was a standout all event and looked destined to end up in the final. Although he was unable to find himself a spot in the Final, Rio has further cemented himself as a surfer who is bound for big things.
"I really wanted to win this event but third is still an amazing result," Waida said. "It's really special to have the best result of an Indonesian at a World Championship event. I love coming to Taiwan and want to come back here to compete in the future — it's such a special place to me."
On his way to the Final, Osborne dispatched Brazilian World Championship hopeful Samuel Pupo in their Semifinal Match-up. Pupo was on fire all event, posting some of the highest scores of the event. Unfortunately for the young Brazilian, he fell short on Finals day and leaves Taiwan with an equal third place finish, his best at the World Juniors.
The 2018 WSL World Junior Championships will run in conjunction with the Taiwan Open of Surfing from December 1 – 9. Watch all of the action LIVE at worldsurfleague.com  and on the free WSL App. Head here for more information, images, highlights and results.
Taiwan Open World Junior Championships Men's Final Results:
Heat 1: Mateus Herdy (BRA) 18.37 DEF. Eithan Osborne (USA) 11.67
Taiwan Open World Junior Championships Men's Semifinal Results:
Heat 1: Eithan Osborne (USA) 14.36 DEF. Samuel Pupo (BRA) 12.33
Heat 2: Mateus Herdy (BRA) 16.27 DEF. Rio Waida (IDN) 13.90
Taiwan Open World Junior Championships Men's Quarterfinal Results:
Heat 1: Samuel Pupo (BRA) 16.50 DEF. Cole Alves (HAW) 10.34
Heat 2: Eithan Osborne (USA) 14.83 DEF. Te Kehukehu Butler (NZL) 14.50
Heat 3: Rio Waida (IDN) 16.13 DEF. Caleb Tancred (AUS) 14.50
Heat 4: Mateus Herdy (BRA) 13.73 DEF. Yuji Nishi (JPN) 13.14
About the WSL The World Surf League (WSL) is dedicated to celebrating the world's best surfing on the world's best waves through a variety of best-in-class audience platforms. The organization, headquartered in Santa Monica, is a global sport with regional offices in Australasia, Africa, North America, South America, Hawaii, Japan and Europe.

The WSL has been championing the world's best surfing since 1976, annually running more than 180 global events across the Men's and Women's Championship Tours, the Big Wave Tour, Qualifying Series, Junior and Longboard Championships, as well as the WSL Big Wave Awards. The League possesses a deep appreciation for the sport's rich heritage while promoting progression, innovation and performance at the highest levels, and in doing so crowns the undisputed Men's and Women's World Champions across all tours.

Showcasing the world's best surfing on its digital platform at WorldSurfLeague.com, the WSL has a passionate global fan base with millions tuning in to see world-class athletes like Kelly Slater, Stephanie Gilmore, Tyler Wright, John Florence, Lakey Peterson, Paige Alms, Kai Lenny, Taylor Jensen, Honolua Blomfield, Carissa Moore, Gabriel Medina, Courtney Conlogue and more battle on the most dynamic field of play of any global sport.

For more information, please visit WorldSurfLeague.com