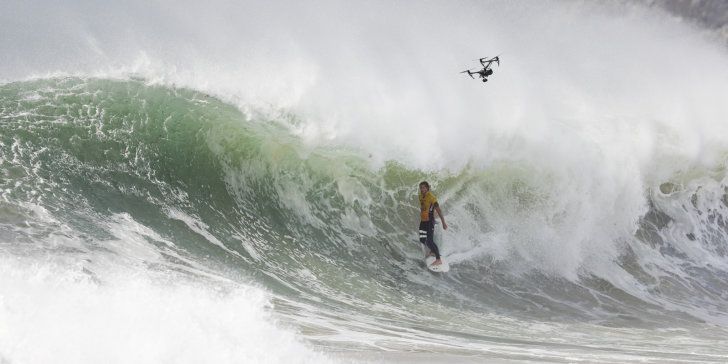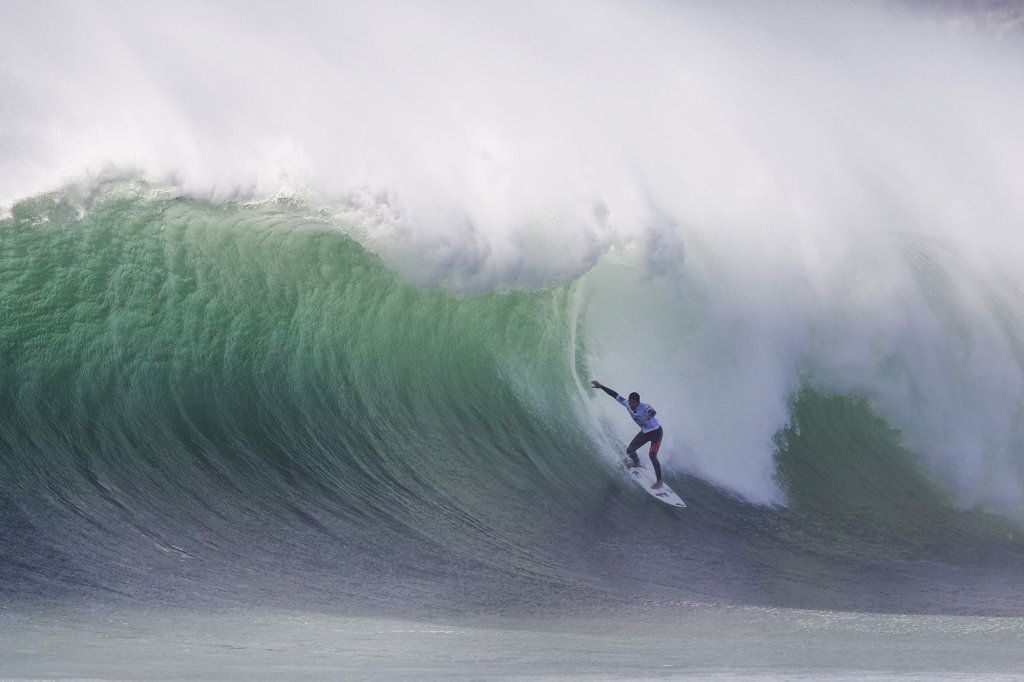 No this is not Sunset Beach. Zeke Lau of Hawaii drops into a massive overhead wave during his 1st heat. Coming up Zeke will be in Round Two Heat 7: Adrian Buchan (AUS) of the MEO Rip Curl Pro Portugal after placing third in Heat 11.
Each heat is critical for Lau to  stay on tour next year. PHOTO: © WSL / Masurel
HEAVY CHALLENGING SURF FOR – ROUND 1.
OWEN WRIGHT (NOW OUT OF TITLE CONTENTION), MASON HO, ELIMINATED.
JJF, JORDY, JULIAN, et al… THRU TO ROUND 3
STARTED AT 

10:05AM

 AT SUPERTUBOS
TITLE RACE CONTENDERS MAKE THEIR WAY TO ROUND 3
LOCAL WILDCARD VASCO RIBEIRO ELIMINATES WORLD NO. 4 OWEN WRIGHT 
ROOKIE LEONARDO FIORAVANTI DISPATCHES FILIPE TOLEDO
Image front page: JJF was comfortable in the uncomfortable conditions.
Current World No.2 on the Jeep Leaderboard Jordy Smith of South Africa advances directly to Round Three of the MEO Rip Curl Pro Portugal after winning Heat 5 of Round One at Supertubos, Peniche, Portugal today Saturday October 21, 2017.
PHOTOS: © WSL / Poullenot
Michel Bourez (PYF) finds a bomb to secure his place in Round 3 of the MEO Rip Curl Pro Portgual.


Credit: © WSL /  Masurel
Location:   
Supertubos, Peniche / Portugal
Event window:
October 20 – 

31, 2017

Today's Call:   
Round 1 & Heats 1 – 4 of Round 2 complete
Conditions:

Building eight-to-twelve foot surf
SUPERTUBOS, Peniche/Portugal (Saturday, October 21, 2017) – Stop No. 10 on the World Surf League (WSL) Championship Tour (CT), the MEO Rip Curl Pro Portugal launched today in epic conditions, with the world's best surfers tested in solid eight-to-twelve foot surf at the main venue of Supertubos. In a day of upsets, big performances and heavy wipeouts, competition ran through the opening round as well as four heats of Round 2.
Matt Wilkinson (AUS) was the first surfer to find a decent barrel in the shifting lineup of Supertubos, to post a buzzer-beater win over compatriots Stuart Kennedy (AUS) and Bede Durbidge (AUS). In second position into the final moments of the heat, Wilkinson locked into a foamy lefthander and hid just under the lip before floating his way out for a 5.17 and the win.
"It's super hard out there, pretty much straight closeouts and you're trying to make do," Wilkinson said. "To get that fun one at the end was pretty lucky and I'm happy I made it out and got that little floater out in time. It looks like this afternoon could see some amazing waves, so it's going to be fun to watch."
Ethan Ewing (AUS) sent current World No. 4 Owen Wright (AUS) and Conner Coffin (USA) into the elimination Round 2, claiming his career-first Round 1 win in maxing Supertubos. The young Australian found a long and clean medium-sized  barrel on his forehand to post a 6.50 and advance straight into Round 3.
"This morning I came down and it was pretty small so I was disappointed because it's been so hyped up about this swell," Ewing said. "But it picked pretty quickly and it's a crazy wave! I've been staying with Mick (Fanning) and Joel (Parkinson) and I'm really lucky to be able to get a few tips from them, it's been fun!"
Wright was later eliminated in Round 2 in 25th place, struggling to find above-average waves while his opponent, local Portuguese up-and-comer Ribeiro, found a near-perfect ride for the win and his place in Round 3.
Josh Kerr (AUS) secured a rare Round 1 win in Heat 4 over current World No. 2 Gabriel Medina (BRA) and Wiggolly Dantas (BRA). Kerr sits in equal 35th place on the Jeep Leaderboard and 25th place on the Qualifying Series and is in danger of failing to re-qualify for the CT in 2018.
"I've definitely had a really lacklustre year and I'm really looking forward to turning things around and focusing on next year," said Kerr. "It's fun to get some closeouts and slabs here. I do think I could turn it around but I am feeling a little done with things and ready to move on with another chapter and try some new things. Coming into France I felt a lot of pressure but after getting a 25th in France I feel like the pressure is off."
Medina went on to eliminate Rip Curl wildcard Mason Ho (HAW) in their Round 2 match-up, keeping his recent winning form alive and moving into Round 3.
Jordy Smith (ZAF) survived a low-scoring affair against local wildcard Vasco Ribeiro (PRT) and Italo Ferreira (BRA) to advance into Round 3 as well. The powerful South African found two smaller barrel sections and went to his turns repertoire to lock in two average scores when his opponents could barely find one wave of consequence.
"At this stage it's head down, no looking back and a Round 1 win is just as important as a win in the final," Smith said. "The conditions are extremely tough out there, it's huge. I'm very relaxed but I feel like this result in France killed me. I have nothing to lose at this point, if I finish the year second it's a great year, if I win the World Title even better, so everything to gain!"
Ribeiro went on to defeat Wright and upset his title race efforts in elimination Round 2, claiming the day's highest single wave score of 9.37 for a long and big tube followed by two punctuation turns.
"I knew there were some really good double-ups down the beach and that was my strategy, to just wait for a really good one," Ribeiro reflected. "Owen (Wright) is one of my favorite surfers and I wish he could have continued but I'm just doing my job and trying to make heats. It's amazing to have everyone here on the beach supporting me. We always travel and to come home and compete in pumping waves with everyone watching is a dream come true."
"That was definitely a tough one," Wright said. "I felt like conditions were really in my favor and I was really happy that we ran today. I was in a good head space and surfing well but nothing really came in my zone towards the end there. I'm really bummed about the result today and be out of the Title race but I'll brush it off and I feel like I'm well and truly caught up and got my health back. I've got mixed emotions about going back to Pipe though."
John John Florence (HAW) found one of the biggest barrels of Round 1, standing tall under a heavy lip to exit cleanly after a short ride and post a 7.67 for the win. The current World No. 1 and reigning WSL Champion, who is the only surfer with a mathematical chance of claiming the WSL Title in Portugal, managed to fend off dangerous wildcard Ho and Kanoa Igarashi (USA).
"I'm super stoked to be back here and for the waves to be pumping like this, it is amazing," Florence said. "It's got a little Off-the-wall feel to it, like it's a little bit unpredictable and you see those big ones coming in and you never know if you're going to make it or not. There's definitely some insane waves and someone's bound to get a 10 today!"
Jack Freestone (AUS) put together a massive performance to edge out 2015 WSL Champion Adriano De Souza (BRA) and barrel specialist Jeremy Flores (FRA). The Australian found the longest tube, a nearly-impossible section to make and somehow found an exit through a whitewater wall, to post a 9 point ride and move into Round 3
"I couldn't hear my score actually cause the fans were screaming so hard but I knew it was a good score as soon as I came out," Freestone said. "I'm just trying to make the most of the tour, I haven't really focused on the QS so I'm just going to try to surf as best as I can in these last two events."
Michel Bourez (PYF) continued the trend of upsets in the massive surf of Supertubos, surfing a big forehand barrel for an 8.50 to relegate Filipe Toledo (BRA) and Jadson Andre (BRA) into Round 2. The Tahitian will look to build momentum to break out of Round 3 for the first time in the last three events and solidify his spot on the Championship Tour next season.
"It was a triathlon out there, swimming, running and surfing," Bourez said. "I caught a few waves on my head and I was just surviving out there. That's what I'm on the tour for, to surf waves likes this it's absolutely pumping out there. It doesn't matter who you're against, it's just a matter of having fun and catching the two best waves. It's very difficult but when you're in the right spot it gets dreamy."
Toledo, current No. 8 on Jeep Leaderboard, was eventually eliminated by an in form Leonardo Fioravanti (ITA) in Round 2. The Italian rookie found back-to-back waves to build a 15.34 heat total, one of the highest of the day, and send Toledo home in 25th place.
"The waves were hard but it's pumping when they come," said Fioravanti. "I was stoked to get to two waves back-to-back. When I come up everyone on the beach was cheering it was mental. It's not over yet but I'm just having fun being here in Europe and it's wonderful to have so many people here around me and supporting. That energy that they give me is amazing."
Mick Fanning (AUS) wrapped up the opening round with the biggest combined heat total of the day, courtesy of a near-perfect 9 point ride on a massive barrel and a good 6.50 backup for a smaller and shorter ride. Fanning's fitness level was then tested when the Australian broke two boards, but the three-time WSL Champion controlled the situation to eventually send local favorite Frederico Morais (PRT) and Ian Gouveia (BRA) to battle again in Round 2.
"I had a look at my watch and there was still 7 minutes to go after I broke my board so I thought I couldn't really come in," Fanning said. "The runaround killed me, then the paddle out, and when I was almost out the back, that one landed on my head, broke my board and then I had another 3 or 4 on the head. But it was fun, I got down here to watch Parko (Joel Parkinson) and got all fired up to go out and get a win. You just have to go out there and expect nothing, hope for everything."
Solid swell and well overhead surf this weekend (peaking Saturday afternoon), while side-offshore North-NE wind and good conditions prevail. Smaller yet plenty contestable surf around the head high+ range continues Monday the 23rd through Thursday the 26th, and with good wind conditions for at least the mornings. Nothing of much significance is lining up for the last days of waiting period (27th-31st) at this time. Surfline.
Event organizers will reconvene at 7:45 a.m. (local time) tomorrow at Supertubos to assess conditions and make the first call.
The events will be broadcast LIVE via WorldSurfLeague.com, the WSL app and on Facebook LIVE via the WSL's Facebook page.
MEO Rip Curl Pro Portugal Round 1 Results:
Heat 1: Julian Wilson (AUS) 4.97, Leonardo Fioravanti (ITL) 4.20, Caio Ibelli (BRA) 2.03
Heat 2: Matt Wilkinson (AUS) 9.84, Stu Kennedy (AUS) 7.90, Bede Durbidge (AUS) 7.44
Heat 3: Ethan Ewing (AUS) 10.37, Conner Coffin (USA) 9.34, Owen Wright (AUS) 9.33
Heat 4: Josh Kerr (AUS) 12.83, Gabriel Medina (BRA) 10.87, Wiggolly Dantas (BRA) 2.90
Heat 5: Jordy Smith (ZAF) 9.20, Vasco Ribeiro (PRT) 3.64, Italo Ferreira (BRA) 2.04
Heat 6: John John Florence (HAW) 11.67, Mason Ho (HAW) 3.67, Kanoa Igarashi (USA) 0.50
Heat 7: Jack Freestone (AUS) 14.90, Adriano de Souza (BRA) 12.67, Jeremy Flores (FRA) 4.33
Heat 8: Michel Bourez (PYF) 12.00, Filipe Toledo (BRA) 7.74, Jadson Andre (BRA) 4.73
Heat 9: Joel Parkinson (AUS) 13.50, Nat Young (USA) 9.27, Joan Duru (FRA) 4.73
Heat 10: Miguel Pupo (BRA) 8.00, Kolohe Andino (USA) 6.66, Connor O'Leary (AUS) 5.17
Heat 11: Sebastian Zietz (HAW) 9.77, Adrian Buchan (AUS) 7.90, Ezekiel Lau (HAW) 3.97
Heat 12: Mick Fanning (AUS) 15.50, Frederico Morais (PRT) 6.84, Ian Gouveia (BRA) 3.97
MEO Rip Curl Pro Portugal Round 2 Results:
Heat 1: Gabriel Medina (BRA) 11.66 def. Mason Ho (HAW) 6.33
Heat 2: Vasco Ribeiro (PRT) 11.20 def. Owen Wright (AUS) 10.17
Heat 3: Adriano De Souza (BRA) 12.27 def. Stuart Kennedy (AUS) 4.93
Heat 4: Leonardo Fioravanti (ITA) 15.34 def. Filipe Toledo (BRA) 8.40
Upcoming MEO Rip Curl Pro Portugal Round 2 Match-Ups:
Heat 5: Kolohe Andino (USA) vs. Jadson Andre (BRA)
Heat 6: Frederico Morais (PRT) vs. Nat Young (USA)
Heat 7: Adrian Buchan (AUS) vs. Ezekiel Lau (HAW)
Heat 8: Connor O'Leary (AUS) vs. Ian Gouveia (BRA)
Heat 9: Joan Duru (FRA) vs. Kanoa Igarashi (USA)
Heat 10: Jeremy Flores (FRA) vs. Italo Ferreira (BRA)
Heat 11: Caio Ibelli (BRA) vs. Wiggolly Dantas (BRA)
Heat 12: Bede Durbidge (AUS) vs. Conner Coffin (USA)