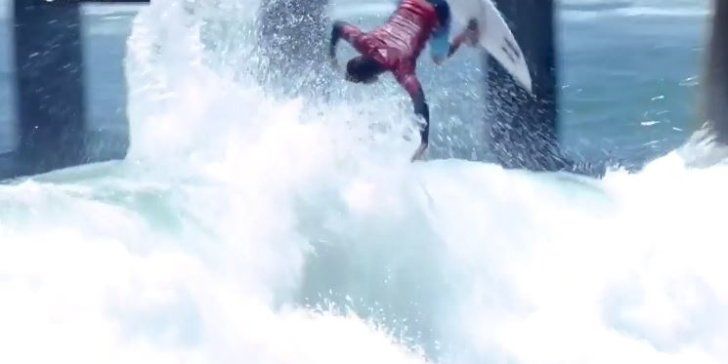 VANS US OPEN OF SURFING FROM HUNTINGTON BEACH
3 HAWAII WOMEN OUSTED LEAVING ONLY 3X WORLD CHAMP CARISSA MOORE TO REPRESENT THE ALOHA STATE IN TOMORROWS FINALS
Surfers featured in today's newsfeed include: Seth Moniz (HAW), Lakey Peterson (USA), Courtney Conlogue (USA), Griffin Colapinto (USA), Italo Ferreira (BRA) and Stephanie Gilmore (AUS)
HUNTINGTON BEACH, Calif./USA (SATURDAY, August 4, 2018) – 
Quarterfinalist's Decided at Vans US Open of Surfing
Massive Aerial Move From Hawaii's Seth Moniz Excites Large Crowds
Lakey Peterson and Stephanie Gilmore Both Into Quarterfinals
Tomorrow Is Final's Day!
1. Seth Moniz (HAW): The waves aren't big at Huntington Beach this year for this event but the action is still explosive with surfers regularly going to the air to find the big scores to progress to tomorrow's finals day.
The day's most explosive moment came from current QS No. 2 Seth Moniz (HAW) as he soared out of the lip with a sky-high air reverse that the Oahu, Hawaii, surfer was able to recover from — earning the event's highest score so far, a near-perfect 9.87. Moniz eliminated one of the event's top threats Evan Geisleman (USA) and is into the Quarters with a chance of solidifying his spot among the CT next season.
Seth Moniz Steals the Show
On a hot, sunny Saturday in Huntington Beach, as the Vans US Open of Surfing – Men's QS powered through Round 5, Seth Moniz brought the crowd to their feet with what could turn out to be the best air of the year.
Stroking into a chunky reform, he drove down the line on his backhand and threw up the ultimate Hail Mary. An inverted, corked out rotation, he landed flat on his back in the whitewater before somehow finding his footing and riding out of it…Jake Howard...FULL STORY AND VID HERE
2. Lakey Peterson (USA): Lakey Peterson (Santa Barbara/California) is the current World Number 2 ranked surfer and a serious world title contender for 2018 and she is through to the Quarterfinals of the US Open of Surfing. Peterson posted the day's highest wave score for the Women's event, an excellent 8.33 where she unleashed her super smooth and powerful approach – Peterson's main contender for this year's world title is Australia's Stephanie Gilmore and she is also through to the Quarterfinals tomorrow.
3. Courtney Conlogue (USA/Santa Ana): Conlogue continues her great comeback following a serious foot injury earlier this year. In front of her home crowd at Huntington, Beach Conlogue won her Round 3 heat at the US Open of Surfing and she's through to the Quarterfinals where she will face fellow Californian Lakey Peterson in a much anticipated Quarter.
Also included on the newsfeed platform – Griffin Colapinto (USA/SanClemente) who is into the Quarterfinals of the Men's, Stephanie Gilmore (AUS) and Italo Ferreira (BRA), the world number 4 Brazilian who suffered a leg injury in Round 5 which he won. But there are doubts as to whether Italo will take his place in tomorrow's Quarterfinals.
Vans US Open Women's CT Round 3 Results:
Heat 1: Johanne Defay (FRA) 13.16, Carissa Moore (HAW) 10.90, Pauline Ado (FRA) 7.87
Heat 2: Nikki Van Dijk (AUS) 13.54, Stephanie Gilmore (AUS) 11.46, Malia Manuel (HAW) 10.07
Heat 3: Sally Fitzgibbons (AUS) 13.60, Lakey Peterson (USA) 12.40, Coco Ho (HAW) 12.00
Heat 4: Courtney Conlogue (USA) 13.90, Caroline Marks (USA) 11.70, Tatiana Weston-Webb (BRA) 10.26
Upcoming Vans US Open Women's CT Quarterfinal Matchups:
QF 1: Johanne Defay (FRA) vs. Stephanie Gilmore (AUS)
QF 2: Nikki Van Dijk (AUS) vs. Carissa Moore (HAW)
QF 3: Sally Fitzgibbons (AUS) vs. Caroline Marks (USA)
QF 4: Courtney Conlogue (USA) vs. Lakey Peterson (USA)
Vans US Open Men's QS Round 5 Results:
Heat 1: Kolohe Andino (USA) 9.20 def. Reef Heazlewood (AUS) 8.84
Heat 2: Griffin Colapinto (USA) 14.00 def. Adriano De Souza (BRA) 13.27
Heat 3:  Jorgann Couzinet (FRA) 15.50 def. Cam Richards (USA) 9.90
Heat 4: Dion Atkinson (AUS) 10.64 def. Tanner Gudauskas (USA) 9.43
Heat 5: Jadson Andre (BRA) 14.17 def.  Peterson Crisanto (BRA) 3.53
Heat 6: Italo Ferreira (BRA) 11.73 def. Michael Rodrigues (BRA) 6.80
Heat 7: Seth Moniz (HAW) 15.70 def. Evan Geiselman (USA) 13.50
Heat 8: Kanoa Igarashi (JPN) 14.33 def. Michael February (ZAF) 12.23
Upcoming Vans US Open Men's QS Quarterfinal Matchups:
QF 1: Kolohe Andino (USA) vs. Griffin Colapinto (USA)
QF 2: Jorgann Couzinet (FRA) vs. Dion Atkinson (AUS)
QF 3: Jadson Andre (BRA) vs. Italo Ferreira (BRA)
QF 4: Seth Moniz (HAW) vs. Kanoa Igarashi (JPN)