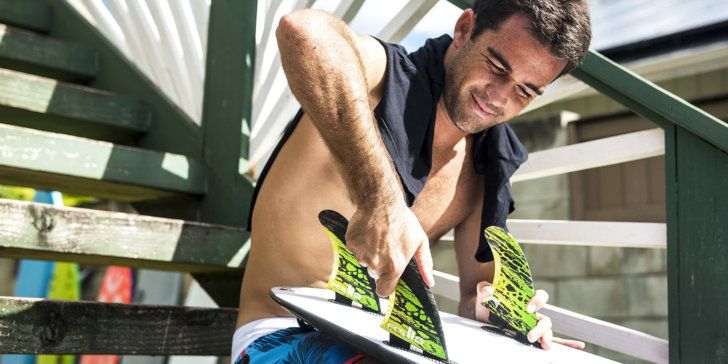 FCS welcomes the highly entertaining surf talent Mason Ho to their Global Team
Surf News Network, 30 Jan, 2018.
FCS grabs Mason Ho for their Global Team to endorse 100% FCS hardware and accessories:  fins, leashes, covers….
Mason's personality and surfing are spontaneous and fun…the true embodiment of the surfing lifestyle…perfect for the FCS brand.
Sure, some would argue that FCS is known for aligning with surfers chasing Wold Titles and competition victories. But, at the heart of the FCS business, lies that connection we as surfers have with the waves, our equipment, and what the surfing lifestyle represents; freedom, fun, and escapism. We'd also argue that Mason is currently doing some of the most innovative surfing on the planet, and therefore this partnership is a perfect fit.
"It's been my childhood dream to be on the FCS team. As a kid, I used to collect all the FCS fin templates like baseball cards. In my eyes, the equipment is top of the line and the most durable I've used, so I'm stoked." – Mason Ho
Over the past few years, Mason's traveled the world riding and documenting not only the world's best waves but some untapped novelty waves that nobody had thought ridable before. It's this output of unique content that's seen his edits among the most watched in the industry.
"I'm such a big fan of Mason for so many reasons, and I'm proud to have him in the team mix. His talent on a board is one thing, but his zest for life is infectious and he has so much respect and knowledge of surfing's history. Deep down I think we're all a little envious of his life". Said SHI's Sports Marketing and Brand Ambassador, Richie Lovett.
Mason sits alongside 100% FCS Hardware athletes Gabriel Medina, Julian Wilson, Kolohe Andino, Filipe Toledo, Jeremy Flores, Sally Fitzgibbons, Ryan Hipwood and Harley Ingleby, together with Mick Fanning (fins only) on what can only be described as one of the most revered teams in surfing.