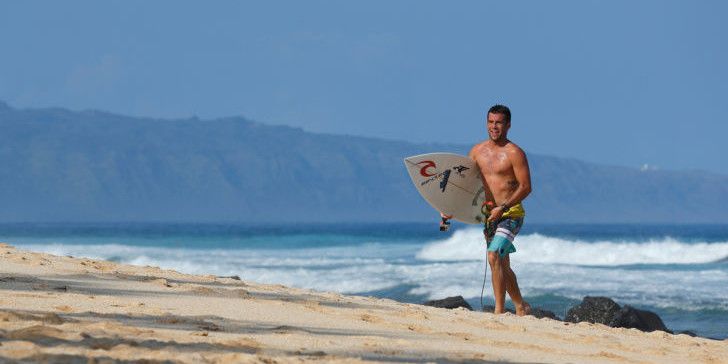 Rip Curl Pro Bells Beach. Pic: Mason Ho © Rip Curl/Warbick
World Surfing League Championship Tour event
Bells Beach, Victoria Australia
1 – 12 April 2015
Mason's dad Michael placed in the finals of the 1978 Rip Curl Bells
Surf News Network, 26 March, 2015. Hawaii's Mason Ho has received the 2015 Rip Curl Pro wildcard and will take on the world's best next week at the Rip Curl Pro Bells Beach.
Currently ranked 16th on the World Qualifying Series (WQS), the regular-foot from Oahu's famed North Shore will join the WSL's top 34 in Torquay between April 1 and April 12. Ho, 26, inked a multi-year deal with Rip Curl earlier this month following his victory at the Backdoor Shootout and runner-up finish at the Volcom Pipeline Pro.
After landing in Victoria last night and hitting the building swell at Bells Beach this morning, he said he was excited to return to Bells Beach, where he won the Rip Curl GromSearch in 2005.
"I can't stop thinking about how fun it's going to be, almost everything I've seen for a couple days has looked like a Bell that had to be rung," Ho said.
"I absolutely love surfing in Australia. It was the first country I went to outside of the United States. And it's nice having the chance to build on family tradition at such a historical surfing event like Bells."
Ho is the son of legendary Hawaiian Michael Ho, who placed 6th at the Rip Curl Pro Bells Beach in 1978. His uncle Derek was the 1993 World Champion and his younger sister Coco has enjoyed a strong run at the event since she stepped onto the Championship Tour in 2009.
Ho will meet either current World Champion Gabriel Medina or 3 x World Champion Mick Fanning in Round One.
He said he was anticipating some really high-risk maneuvers at the Rip Curl Pro this year, "I really want huge Bells, the bigger the better; extra drama."
"I just want to pick nice waves, slam the lip and ride all my good waves up the beach. I'll be going into it super happy just having a chance, and I feel blessed to be a part of such a solid company like Rip Curl."
The Rip Curl Pro Bells Beach is the longest-running professional surfing contest in the world and one of the most coveted titles on Tour. This year celebrates the 54th running of the event.
The event window runs from Wednesday April 1 to Sunday April 12, 2015