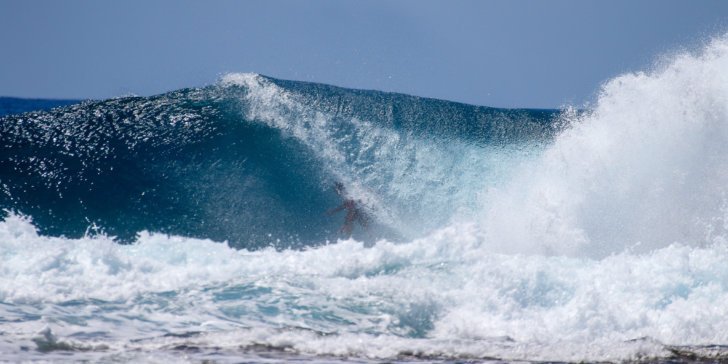 Rangiroa Turns On For a Full Day of Rifling Barrel Action to Determine Quarterfinalists
Ho Finds Perfection, Bediamol Turns in Near-Perfect Heat
Tahitians Ariitu, Tahutuni Jr., and David Remain in Quarters
Hanneman Right at Home in Pumping Conditions
Pictured Front Page: Mason Ho reemerges from behind the blue curtain of Rangiroa for the first perfect 10.
Credit: © WSL / Andrew Nichols
RANGIROA, Tuamoto Islands/French Polynesia (Wednesday, March 4, 2020) – The pristine righthander of Rangiroa turned on for the World Surf League (WSL) Air Tahiti Rangiroa Pro, a men's Qualifying Series (QS) 1,000, to determine the finals day draw. A building swell created a late morning and full afternoon of rifling barrels with six-to-eight foot, clean conditions. Rounds 2 and 3 were completed in their entirety to set up Quarterfinal duals as competitors relished in the incredible conditions on hand.
Round 2 provided a highlight reel all its own leading into one of the event's premier heats in Round 3 Heat 1 featuring one of the world's most fun surfers to watch Mason Ho (HAW) taking on fellow event threats Makai McNamara (HAW), Tahitian O'Neill Massin and 2018 event victor Sheldon Paishon (HAW). Ho started strong heading into the back half of the heat when the wave of the day breached the horizon and the Oahu, Hawaii, native was there to meet it. The 31-year-old locked in and drove through the barrel to emerge with cheers from the beach and a perfect 10 (out of a possible 10) from the judges.
A battle for second unfolded as the remaining three competitors went wave-for-wave with Massin earning an excellent 8.77 to edge in front of Paishon. In the end Massin held on to the elation of the Tahitian crowd on hand with Ho stealing the show. (Newsfeed available)
"Tens, the goal, finally I nailed the goal (laughs)," said Ho. "It was just the most beautiful blue and there was a moment when I thought I wasn't going to get out but it let me out and I was so amazed. That was a crazy heat just having those guys and it's always a bummer when you have to surf against your friends unless it's in the Final. But I wouldn't have got that 10 if it wasn't for Sheldon (Paishon) and Makai (McNamara) pushing me to that."
The flurry of barreling perfection continued right into the next heat with excellent waves as Logan Bediamol (HAW) put on a jaw-dropping performance. By heat's end, Bediamol replaced a 7.60 and 8.07 with a near-perfect 9.00 and 17.50 (out of a possible 20) heat total. The Maui, Hawaii, competitor surpassed his career-best equal ninth as he moved into the Quarterfinals with plenty of momentum moving into finals day. (Interview in video)
Pictured: Turo Ariitu (PYF) pulled some last-minute heroics and earned a Quarters spot. Credit: © WSL / Abraham 
Turo Ariitu (PYF) salvaged near-elimination and found redemption in the final ten minutes of the heat to represent brilliantly for his Tahitian crowd in attendance. Fellow Tahitian Heifara Tahutini Jr. also advanced after taking over the advancing position from Brodi Sale (HAW) in the dying minutes. Ariitu's Round 2 performance was quite the opposite after finding an excellent 8.33 to start the heat. He finished strong, carrying that momentum forward as he looks to bring the event win home. (Newsfeed available)
"The start of the heat was hard but I got two waves at the end and I'm super stoked to make it to the Quarters," said Ariitu. "I (was glad) to get my composure… and I'm super happy. It means a lot (having a chance to win the event) for all my friends watching at home and hopefully I bring back the title."
Pictured: Eli Hanneman (HAW) locking in to a Rangiroa dreamer. Credit: © WSL / Abraham 
Adding his name to the thriving Tahitian crew, Tereva David continued to surge with a big Round 2 win before taking on a hefty Round 3 bout against event standout Eli Hanneman (HAW), along with in-form competitors Jackson Bunch (HAW) and Makana Franzmann (HAW). David held the lead heading into the final ten minutes before Hanneman locked into another Rangiroa gem, after earning a near-perfect 9.00 in Round 2, and came out after the wave regurgitated to earn an excellent 8.17. Hanneman looks to go one better than his Semifinal finish last year and find himself into a first-ever QS Final. (Full interview in newsfeed)
"It was fun and the waves were pumping all day," said Hanneman. "It kind of slowed down in that last heat but I got a few so I'm stoked to make the Quarters."
The Air Tahiti Rangiroa Pro will be webcast LIVE on WorldSurfLeague.com, Facebook.com.wsllive and tntv.pf to allow fans the rare occasion of witnessing Rangiroa's beautiful barreling wave from the comfort of home. Tahiti Nui Television (TNTV) is partnering with the Tahitian Surfing Federation and the World Surf League to provide the LIVE webcast with multi-angle views and drone perspectives to enhance the experience, along with replay, scoring, athlete interviews and more.
Tune in when the competition kicks off from March 2 – 6, 2020. For more information, please visit the Air Tahiti Rangiroa Pro event page on WorldSurfLeague.com.
Upcoming Air Tahiti Rangiroa Pro Quarterfinal Matchups:
QF 1: Mason Ho (HAW) vs. Ocean Macedo (HAW)
QF 2: O'Neill Massin (PYF) vs. Logan Bediamol (HAW)
QF 3: Turo Ariitu (PYF) vs. Tereva David (PYF)
QF 4: Heifara Tahutuni Jr. (PYF) vs. Eli Hanneman (HAW)
About the WSL 
The World Surf League (WSL), established in 1976, is the enablement platform for surfing and surfers worldwide. The WSL is dedicated to changing the world through the inspirational power of surfing by creating authentic events, experiences, and storytelling to inspire a growing, global community to live with purpose, originality, and stoke.
The WSL is a global organization, headquartered in Santa Monica and with regional offices in North America, Latin America, Asia Pacific, and EMEA. The WSL possesses a deep appreciation for the sport's rich heritage while promoting progression, innovation, and performance at the highest levels.
The WSL is comprised of Tours & Events, celebrating the world's best surfers across all disciplines and annually running more than 180 global contests and crowning the undisputed World Champions across all divisions; WSL WaveCo, where innovation meets experience; and WSL Studios, which offers best in class storytelling across competition, lifestyle, and conservation.
For more information, please visit WorldSurfLeague.com
About the Tahitian Surfing Federation (Federation Tahitienne de Surf)
The association called the Tahitian Surfing Federation is located at Taharu'u Beach PK 39 Papara, Tahiti, French Polynesia and aims to organize, control and develop the practice of surfing and all associated disciplines including bodyboard, longboard, kneeboard, bodysurf, skimboard, paddleboard, stand-up paddleboard, and tow-in surfing.
The Tahitian Surfing Federation coordinates the activities of affiliated associations practicing the above-mentioned activities functioning in French Polynesia and, when appropriate, of Polynesians abroad. The organization establishes the rules of conduct as defined by the Olympic Committee of French Polynesia, elaborates the rules and pedagogic content pertaining to the teaching of surfing, and maintains all useful relationships with all Federations and all French and foreign agencies and public authorities.