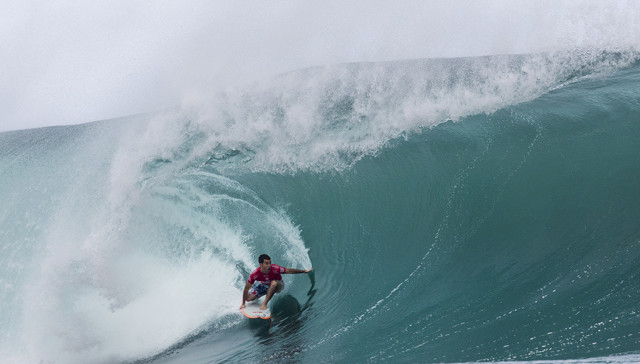 Iconic surf footwear brand signs much loved surf personality within Ho Dynasty
Mason Ho, Pipeline © WSL/Cestari
Surf News Network, 7 February, 2017 – Mason Ho, known for his quirky and warm demeanor, is the new generation of Hawaiian chargers – quite literally. His father, Michael Ho, was a two-time Hawaiian Triple Crown winner and his uncle, Derek Ho, was the 1983 World Champ. They both set new levels for surfing Pipeline. Sister Coco is currently a force on the WSL Womens World Tour as well.
Ho is one of the most exciting surfers to watch today, with a progressive approach and unique style, but also on par with the most revered big wave surfers in the world, as he is an invite to the prestigious In Memory of Eddie Aikua contest at Waimea Bay.
"When I was a kid I'd always see that iconic REEF logo on my uncle Derek's surfboard, so I'd draw the logo in art class at Sunset Elementary School. Now to have Reef on my surfboard and be part of such a solid team and company makes me feel really special," says Ho.
"We are thrilled as a kid in a candy store with the addition of Mason to the Reef family. His fun and infectious energy is what the brand is all about," says Shea Perkins, Reef's Marketing Manager, "We're looking forward to collaborating and encouraging the journey as he continues to surprise us all."
The 28-year-old gets tapped each season as a wildcard for several World Surf League World Tour events and is a standout during the Hawaiian Triple Crown season. His adventures and charm have given Ho a solid social following as well that will fit nicely into Reef's list of ambassadors.