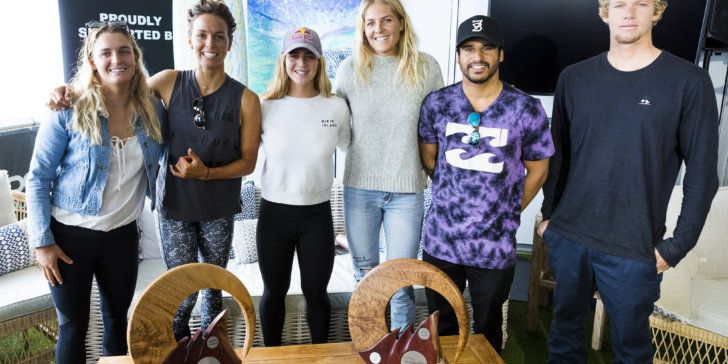 COMPETITION WINDOW OPENS TOMORROW, APRIL 11(TODAY, TUESDAY in HAWAII) 

From left to right – Bronte Macaulay (AUS), Sally Fitzgibbons (AUS), Caroline Marks (USA), Stephanie Gilmore (AUS), Italo Ferreira (BRA), and John John Florence (HAW) at the Margaret River Pro Press Session
Caption: © WSL /  Cestari
MARGARET RIVER, Western Australia/AUS (Tuesday, April 10, 2018) – The Margaret River Pro, Stop No. 3 on the World Surf League (WSL) Championship Tour (CT), begins tomorrow with a competitive window from April 11 through April 22, 2018.
The final stop on the Australian Leg, the Margaret River Pro, offers the ultimate trifecta of waves to test the world's best surfers: Main Break, North Point, and The Box. With a new crop of up-and-coming surfers, the world is eager to see how the competitors perform in Western Australia's wild and wooly conditions.
Reigning, two-time WSL Champion John John Florence (HAW) returns to Margaret River, a place where he put on one of the most incredible performances in surfing history to win the 2017 event, after an uncharacteristically slow start to the season. Florence will do his best to repeat his previous performance but will have the tough task of taking on event wildcard Mikey Wright (AUS), who beat him earlier this year on the Gold Coast.
"This is one of my favorite places on Tour. No matter what, there is always something to surf — whether it's Main Break, North Point, or The Box," said Florence. "Last year the waves were perfect. It was offshore and you could gather a lot of speed. It feels like snowboarding with that big, open face. It's pretty rare to get a heat like the one I got last year where you're not worried about the competition at all because you're having so much fun."
World Title challenger Sally Fitzgibbons (AUS) found her breakthrough win in 2017 at Margaret River's Main Break and looks for back-to-back Margaret River Pro victories this week. After an erratic start to her competitive season, there is no better place for Fitzgibbons to get her title campaign on track than the familiar waters of Western Australia.
"I love it here in Western Australia," Fitzgibbons said. "I've been coming here for a long time. I'm carrying all the confidence from last year and I'm hoping to take it all the way again. There are so many different elements that go into your surfing here — you feel it in and out of the water. You never know what's going to happen next."
Six-time WSL Champion Stephanie Gilmore (AUS) is fresh off a win at the Rip Curl Pro Bells Beach and now wears the Jeep Leader Jersey for the first time in almost 12 months. Gilmore is one of the winningest surfers on the Championship Tour but has yet to take first at the Margaret River Pro, something she will look at changing in the coming week.
"It's incredible how many years you can be on Tour and still be learning about how to surf a heat," Gilmore said. "I've never won this event before, but I love it here and when you're inspired, people can see that. This is one of those spots that you can't perfect."
For the first time in his young career, Italo Ferreira (BRA) arrives in Margaret River rated first in the world, tied with Julian Wilson (AUS). The elite CT sophomore was in incredible form at Bells Beach and hopes to carry his winning momentum into the powerful, open-ocean waves of Western Australia. Ferreira will take on 2016 Margaret River Pro winner Sebastian Zietz (HAW)and compatriot Michael Rodriguez (BRA) in Heat 10 of Round 1.
"This all feels like a dream," said Ferreira. "To have the Jeep Leader Jersey, it's the best feeling in the world. The World Title is a goal of mine, but I also know that's still far off and it's the hardest thing in the world to stay on top. I'm just focusing on staying relaxed and enjoying every moment."
Florida's Caroline Marks (USA) wowed the surfing world when she qualified for the elite Championship Tour last year as a 15-year-old. Now heading into the third event of her debut season, she continues to turn heads with a fifth and third-place finish at the first two events of the year. Marks will hope to hang onto her Top 3 rank when she hits the water for her first time in the wild west of Australia.
"The waves have been incredible," said Marks. "I'm loving it here. Coming off the last few events, I know what I'm capable of, but I'm also trying not to put too much pressure on myself this year. It's been a great ride and I definitely don't want to slow down. I want to take it all the way. I'm trying to enjoy every moment."
2017 CT Rookie of the Year and local favorite, Bronte Macaulay (AUS), chases a breakthrough result in 2018 and believes there is no better place to do so than in her own backyard. The talented 24-year-old will utilize her intimate knowledge of the Margaret River area to cement her spot amongst the world's best female surfers.
"I've had a pretty rough start this year, so I'm really excited for this event," said Macaulay. "It's nice to be home and to be surrounded by family and friends. Despite growing up here, I don't think it's given me much of an edge over the other surfers. Most of them have been coming for a few years now and Sally (Fitzgibbons) has won heaps. It's just a really pretty part of Australia. It's a really rugged and scenic coastline."
Earlier today, the Drug Aware WA Trials took place in solid conditions at Main Break. It was a hard fought battle with some of Western Australia's most talented surfers competing for a spot on the main stage, but in the end, local Dave Delroy-Carr (AUS) won the men's Trials and Yallingup's Mikaela Greene (AUS) won the women's. Yallingup prodigy Kael Walsh's (AUS)runner-up finish in the men's division earned him a spot in the main event, too, as a replacement for Jeremy Flores (FRA), who withdrew from the competition to celebrate the birth of his first child.
Courtney Conlogue (USA) has withdrawn from the event due to a foot injury suffered ahead of the season. She will be replaced once again by 2016 World Junior Champion Macy Callaghan (AUS).
11-time WSL Champion Kelly Slater (USA) has also had to forfeit his spot in this event to recover from a foot injury sustained midway through last year and will be replaced by former CT competitor Miguel Pupo (BRA).
Three-time WSL Champion Mick Fanning (AUS) officially retired from the elite CT at the Rip Curl Pro Bells Beach last week and will be replaced by Michael February (ZAF) for the remainder of the 2018 season.
Event officials will assess the conditions tomorrow morning and determine if the competition will run on its opening day of the window.
Decreasing SW swell and onshore wind are likely for the first couple days of the event window, Wed-Thu. A solid SW swell is likely for Fri-Sat; wind is looking dicier for Friday now, with improving wind for the first half of Saturday. Fading surf and favorable wind looks increasingly likely for Sun-Mon. Midsize SW swell and favorable wind look possible Tue-Wed, with larger WSW swell possible the end of next week. Surfline
Margaret River Men's Pro Round 1 Matchups:
Heat 1: Matt Wilkinson (AUS), Connor O'Leary (AUS), Keanu Asing (HAW)
Heat 2: Jordy Smith (ZAF), Tomas Hermes (BRA), Ian Gouveia (BRA)
Heat 3: Owen Wright (AUS), Caio Ibelli (BRA), Miguel Pupo (BRA)
Heat 4: John John Florence (HAW), Wade Carmichael (AUS), Mikey Wright (AUS)
Heat 5: Gabriel Medina (BRA), Joan Duru (FRA), Kael Walsh (AUS)
Heat 6: Julian Wilson (AUS), Jesse Mendes (BRA), Dave Delroy-Carr (AUS)
Heat 7: Filipe Toledo (BRA), Conner Coffin (USA), Michael February (ZAF)
Heat 8: Adriano de Souza (BRA), Kanoa Igarashi (JPN), Yago Dora (BRA)
Heat 9: Adrian Buchan (AUS), Griffin Colapinto (USA), Willian Cardoso (BRA)
Heat 10: Italo Ferreira (BRA),  Sebastian Zietz (HAW), Michael Rodrigues (BRA)
Heat 11: Kolohe Andino (USA), Frederico Morais (PRT), Ezekiel Lau (HAW)
Heat 12: Joel Parkinson (AUS), Michel Bourez (PYF),  Patrick Gudauskas (USA)
Margaret River Women's Pro Round 1 Matchups:
Heat 1: Sally Fitzgibbons (AUS), Silvana Lima (BRA), Coco Ho (HAW)
Heat 2: Carissa Moore (HAW), Sage Erickson (USA), Bronte Macaulay (AUS)
Heat 3: Stephanie Gilmore (AUS), Keely Andrew (AUS), Mikaela Greene (AUS)
Heat 4: Lakey Peterson (USA), Caroline Marks (USA), Paige Hareb (NZL)
Heat 5: Tyler Wright (AUS), Tatiana Weston-Webb (HAW), Macy Callaghan (AUS)
Heat 6: Johanne Defay (FRA), Nikki Van Dijk (AUS), Malia Manuel (HAW)
For more information, check out WorldSurfLeague.com.