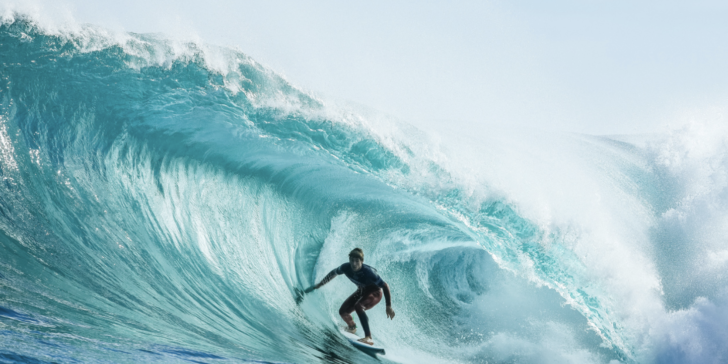 Local Wildcard Jack Robinson Puts on Clinic at Backyard Break

Kelly Slater: 'A Memorable Day on Tour and in Life'

2x WSL Champion Gabriel Medina Ousted Early by Caio Ibelli

Macaulay, Manuel, Van Dijk Miss out on Quarterfinals After R/16 Eliminations
MARGARET RIVER, West Australia/Australia (Saturday, June 1, 2019) – The Margaret River Pro, Stop No. 4 on the 2019 World Surf League (WSL) Championship Tour (CT), saw a rare day of competition run in pumping conditions at The Box, the famed right-hand slab known for producing fast, square-shaped tubes. The first 13 heats of the men's Round of 32 ran at The Box, before the remaining R/32 heats moved to Margaret River Main Break, along with the final three heats of the women's Round of 16.
Local Wildcard Jack Robinson Puts on Clinic at Backyard Break
Local wildcards can be a daunting prospect for the full-time CT surfers, but none are as big of a threat to a World Title campaign as Jack Robinson (AUS)competing in his backyard at The Box. Today at the Margaret River Pro, current World No. 4 Filipe Toledo (BRA) had the tough task of taking on Robinson. Toledo committed to a couple of set waves but struggled to find a score of significance, while Robinson put on a clinic in front of huge hometown crowds to post the highest two-wave combination of the 2019 CT thus far, 18.57 (out of a possible 20) to move into the Round of 16 where he will take on his friend, Seth Moniz (HAW).

"The Box today is as good as it gets, especially if you're on the good ones," Robinson said. "But this is just another day for me. If I'm not surfing Main Break, I'm surfing The Box. I was just doing what I do and having fun. I didn't doubt Filipe Toledo one bit though. He's a good friend of mine but as soon as we get in the water, that guy is gnarly. This event is a bonus for me. I'm getting warmed up to join the CT full time. Of course, I would like to take it all the way but I'm just seeing what happens. I don't want to doubt myself."
Party Wave: Conner Coffin Makes New Friends at The Box
The wave of the day went to California's Conner Coffin (USA) as he shared his Box barrel with the local dolphins. On this wave, Coffin pulled into one of the biggest tubes of the day with a whole pod of dolphins riding shotgun as he scored a strong 7.83 (out of a possible 10) to take the win over Brasilian Jesse Mendes.

"It was so insane out there I was so fired up before that heat," Coffin said. "I had to kind of calm myself and remember to focus on the task at hand. I just remember that I thought I was a bit too deep, hassling for priority, then Jesse (Mendes) got one, then I looked up and there were all of these dolphins around me and this perfect big, blue set wave for me and I was just like 'Oh my, this is insane!' We're so lucky to get barrelled in our heats sometimes and The Box is as fun as it gets. This was definitely a good day at the office."
 Kelly Slater (USA) Credit: © WSL / Dunbar
Kelly Slater (USA) won his heat then stayed in the water to watch on, in awe of the waves. While watching, he witnessed Coffin's party wave with the dolphins. The 11-time World Champion was already excited about the opportunity to surf pumping waves at The Box but witnessing this feat made the day all the more special.

"Today is a memorable day on Tour and in life really," said Slater. "I will probably never in my life forget watching Conner (Coffin) pull into that one with the dolphins in that crazy wave. That is one of the coolest things you can ever experience in surfing, even to not be there and just be watching is awesome. Hard to soak it all in because there were fins everywhere and the dolphins were body surfing underwater, it was unbelievable. It is just so fun to watch. I've just had butterflies excitement all morning. It is so fun to be competing when the waves are like this. These conditions, if you get to surf with one guy out at The Box, I would say is the day of the year for us on Tour."
2x WSL Champion Gabriel Medina Ousted Early by Replacement Surfer Caio Ibelli
Reigning WSL Champion Gabriel Medina (BRA) suffered a shock elimination in the Round of 32 at the hands of replacement surfer Caio Ibelli (BRA). Medina displayed some of the technical backhand tube-riding that earned him his 2018 Billabong Pipe Masters title, but Ibelli's deep barrels on his frontside earned him the win, which was his first of the 2019 Season. Medina exits Margaret River with his second Equal 17th place result of the season.

"In my eyes, Gabriel (Medina) is the best surfer in the world," said Ibelli. "He's the most complete and is so good in all conditions. I wasn't expecting him to bring anything less and he almost got the heat in the end as he is such a good backhand barrel rider. To take a win over him in Round 3 is so special for me and is a really good feeling. As a wildcard with a low seed, you always get the top guys in the early rounds, which is tough, so I am really happy to make it this far and really thankful for the opportunity. I'm so glad that we surfed The Box today because it is such a proving ground. I love surfing out there and am out there every chance I get. Even though I got slammed on the reef on my second wave, I had such a good time out there and am so stoked. It's all worth it and I'm really excited for this event."
In his first wave ever at The Box, Italo Ferreira (BRA) posted an excellent 8.17 (out of a possible 10) in the opening heat against Soli Bailey (AUS). Ferreira's ride set an epic pace for the remainder of the day with a committed display of backhand, hands-free tube riding. The Brasilian now advances to the Round of 16, while Bailey was eliminated after failing to find his way out of the fast barrels.
The last time the Margaret River Pro moved the competition to The Box, Owen Wright (AUS) was a standout for the goofy-footers, posting a Perfect 10. Growing up on the South Coast of New South Wales, Wright is no stranger to heaving slabs and, once again, did not disappoint in the heavy conditions with two 7-point rides to eliminate Ezekiel Lau (HAW) in Heat11, R/ 32.

"It was so sick to be back over at The Box," Wright said. "I was excited and pretty pumped to get out there and just had to remind myself we're in a competition. I haven't had a heat out there since 2015 so it was good to get out there and slip back in and get a couple.  This wave deals out some serious beatings. Halfway through that heat, I went down and ended up on the rocks and my board broke clean in half. I'm stoked to be able to surf The Box and get barrels like that in a heat. Just being out there is so special here in this beautiful place that is West Aus."
2016 event winner Sebastian Zietz (HAW) is famous in Margaret River for his awe-inspiring escapes from the most difficult barrels. In 2017, Zietz's incredible Perfect 10 tube at North Point caught the world's attention, in addition to some big performances at The Box in 2015, and at Main Break in 2016. In Heat 4, Zietz had the task of taking on fellow tube specialist Jeremy Flores (FRA). Zietz held the upper hand for the entire heat and sent Flores packing in 17th place.

Current World No. 1 John John Florence (HAW) made the challenging drop-ins at The Box look easy with a 5.00 and 6.83 out of his seven attempts. Jack Freestone (AUS) disappointingly lost by only 2.67 points as the required 6.01 score did not materialize in Heat 3, R/32. Freestone exits in Equal 17th, his third of the 2019 season. Florence advances to the Round of 16, where he will be against Zietz.

Jadson Andre (BRA) and Leonardo Fioravanti (ITA) fell victim to the heavy conditions at The Box today. Fioravanti's injury occurred during a morning warm-up,  prior to the event start. His dislocated shoulder injury forced the Italian to withdraw from this heat against Jordy Smith (ZAF). Andre surfed in Heat 13 and received lacerations on his backside after a big wipeout over the shallow reef. Unfortunately, Andre was unable to overcome Julian Wilson (AUS).
Macaulay, Manuel, and Van Dijk Miss out on Quarterfinals After R/16 Eliminations
Pictured: Stephanie Gilmore (AUS) Credit: © WSL / Dunbar
Hometown hero Bronte Macaulay (AUS) was eliminated from the Margaret River Pro by seven-time WSL Champion Stephanie Gilmore (AUS). Macaulay had all the support of the local crowd, but the ocean failed to deliver many opportunities for the Gracetown resident. Gilmore secured two bookmark 5-point rides to start and end her heat with Macaulay falling short of the requirement.

"It's definitely a massive confidence booster beating the local girl," Gilmore said. "Bronte (Macaulay) and her dad surf here so much and know the wave really well so that was always going to be a tough heat and I'm glad I got through it. Today was such a crazy day of surfing. I spent the whole day watching the guys just charging at The Box. It definitely inspired me to maybe head out there and try to get a couple."

Brisa Hennessy (CRI) continues to make heats in her rookie year and today secured her third Quarterfinal appearance (out of four events). Hennessy eliminated Malia Manuel (HAW) in the final 19 minutes of their previously paused heat. Manuel leaves with a second ninth place result, equaling her worst placing after a 3rd on the Gold Coast and 2nd at Bells Beach.

Having already been stopped two times in the R/16, 2018 World Title contender Lakey Peterson (AUS) was determined to advance through to the Quarterfinals. The Californian trailed Australian Nikki Van Dijk for the majority of their match-up until taking off on a left and demolishing it with a series of back-hand snaps, posting an excellent 8.50 to take the lead and the win. Now, Peterson advances to the Quarterfinals against Gilmore, the one surfer who stood in the way of her maiden World Title last season.
The next call will be tomorrow, Sunday, June 2 at 7:20 a.m. AWST for a possible 7:40 a.m. start at Main Break and The Box. At this time, event organizers will assess the conditions and decide the day's competition schedule.

The Margaret River Pro will be broadcast LIVE on WorldSurfLeague.com and Facebook.com/WSL .

Also check local listings for coverage from the WSL's broadcast partners.

For more information, please visit WorldSurfLeague.com.
Brief SL Overview


Sun 2nd: Fading swell, offshore AM wind. Likely run day.
Mon 3rd: Rebuilding swell late, offshore AM wind. Likely run day.
Tue 4th: Strong swell, offshore AM wind. Likely run day.
Longer Range: Strong side-onshore to onshore wind likely Wednesday afternoon through Sunday.
Margaret River Pro Men's Round of 32 (Round 3) Results:
Heat 1: Italo Ferreira (BRA) 15.00 DEF. Soli Bailey (AUS) 3.50
Heat 2: Michel Bourez (FRA) 12.17 DEF. Yago Dora (BRA) 4.27
Heat 3: John John Florence (HAW) 11.83 DEF. Jack Freestone (AUS) 9.16
Heat 4: Sebastian Zietz (HAW) 13.87 DEF. Jeremy Flores (FRA) 4.93
Heat 5: Caio Ibelli (BRA) 13.67 DEF. Gabriel Medina (BRA) 13.23
Heat 6: Kelly Slater (USA) 10.06 DEF. Willian Cardoso (BRA) 7.34
Heat 7: Jordy Smith (ZAF)  DEF. Leonardo Fioravanti (ITA)
Heat 8: Conner Coffin (USA) 12.33 DEF. Jesse Mendes (BRA) 9.20
Heat 9: Jack Robinson (AUS) 18.57 DEF. Filipe Toledo (BRA) 6.73
Heat 10: Seth Moniz (HAW) 12.77 DEF. Michael Rodrigues (BRA) 2.14
Heat 11: Owen Wright (AUS) 15.40 DEF. Ezekiel Lau (HAW) 5.50
Heat 12: Kolohe Andino (USA) 13.20 DEF. Griffin Colapinto (USA) 12.00
Heat 13: Julian Wilson (AUS) 7.47 DEF. Jadson Andre (BRA) 4.30
Heat 14: Peterson Crisanto (BRA) 14.23 DEF. Joan Duru (FRA) 14.10
Heat 15: Ryan Callinan (AUS) 10.83 DEF. Deivid Silva (BRA) 7.63
Heat 16: Kanoa Igarashi (JPN) 14.83 DEF. Ricardo Christie (NZL) 11.10Margaret River Pro Men's Round of 16 (Round 4) Matchups:
Heat 1: Italo Ferreira (BRA) vs. Michel Bourez (FRA)
Heat 2: John John Florence (HAW) vs. Sebastian Zietz (HAW)
Heat 3: Caio Ibelli (BRA) vs. Kelly Slater (USA)
Heat 4: Jordy Smith (ZAF) vs. Conner Coffin (USA)
Heat 5: Jack Robinson (AUS) vs. Seth Moniz (HAW)
Heat 6: Owen Wright (AUS) vs. Kolohe Andino (USA)
Heat 7: Julian Wilson (AUS) vs. Peterson Crisanto (BRA)
Heat 8: Ryan Callinan (AUS) vs. Kanoa Igarashi (JPN)Margaret River Pro Women's Round of 16 (Round 3) Remaining Heat Results:
Heat 6: Brisa Hennessy (CRI) 11.44 DEF. Malia Manuel (HAW) 6.33
Heat 7:  Stephanie Gilmore (AUS) 10.57 DEF. Bronte Macaulay (AUS) 6.00
Heat 8: Lakey Peterson (USA) 15.17 DEF. Nikki Van Dijk (AUS) 10.13

Margaret River Pro Women's Quarterfinals Matchups: 
Heat 1: Courtney Conlogue (USA) vs. Tatiana Weston-Webb (BRA)
Heat 2: Caroline Marks (USA) vs. Sally Fitzgibbons (AUS)
Heat 3: Carissa Moore (HAW) vs. Brisa Hennessy (CRI)
Heat 4: Stephanie Gilmore (AUS) vs. Lakey Peterson (USA)