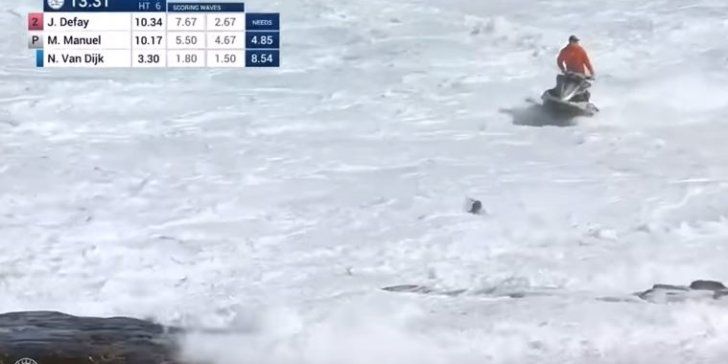 Malia Manuel's scary experience with the ledge at North Point 2018
Malia keeps her cool in a very dicey situation. She copped a few waves on the head which pushed her back very quickly, toward the ledge at North Point, in round 1, heat 6.
The water patrol was already heading there before she got so close, but they couldn't grab her on the first take. After picking Malia up on the second round, they hit a huge rock on the way to safety and Malia ended up losing grip on the sled and back in the soup. She ended up safe after her harrowing and scary experience, with only a damaged board, which she swapped later in the heat. PHEW!
Did you notice how the original jet ski – did not do a runaround to pick her up again after he hit the large boulder/rock? It must have been damaged, as they headed for the shore.
Another jet ski from almost out the back had to get to her and pick her up.
I have had a similar situation happen at Angourie Point where my legrope broke on a set wave. The board just glided happily on the white water to the sand, no damage, but I was pushed by more waves on the head and the prevailing current towards the ledge known as 'life and death'. I had to get outta there or else. My only option was to swim out past the breaking waves, and all the way back out into the line-up, where a fellow surfer let me hang on to his board to recover.
After some time I swam direct left to the rocks to get in, so as to not rinse and repeat that experience. I have a scar on my left hand to this day, from banging a rock on the way in.