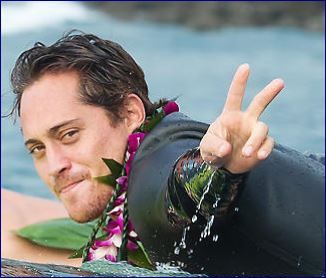 Makaukai Rothman (HAW) is currently ranked No. 1 on the Big Wave Tour (BWT) rankings after winning the BWT's opening event at Pico Alto, Peru and finishing runner-up at Punta Galea, Spain. Born and raised on the North Shore of Oahu, Rothman grew up surfing big waves, and admits he's not the best small wave surfer. As for the BWT? In Rothman's view, with his background and mindset there's no reason why he shouldn't be on top. During a big day at Pipe, he took a break from watching — mostly — to talk shop.
World Surf League: You're having tremendous success on the BWT this year. Where's your headspace at?
Makuakai Rothman: [shouting] Oh man!
WSL: Makua?
MR: Sorry, this wave just came in and just cleaned the whole beach right out! Maverick's style. [laughs] My headspace right now is happy — the waves are getting big.
WSL: Maui's Pe'ahi Challenge almost ran in January. What did you do once the Yellow Alert was called?
MR: I was pretty relaxed. Everyone [was talking] about it when the storm hadn't even blown in. It wasn't optimal because it was before anything happened. When they called it on I was just kind of relieved. I'm tired of thinking about it. I'm just ready to surf.

Makuakai Rothman, ratings leader for the Big Wave World Tour, stops by Dawn Patrol to talk about his breakout year.
WSL: What do you do once a Green Alert is called?
MR: I make sure my stuff is packed ahead of time so I don't have to scramble at the last minute. I spend time with my daughter and love her up because I'll be gone for a while.
WSL: Did you approach the second event — the Punta Galea Challenge — any differently having won in Peru, the first event of the season?
MR: I'd never been there before so I didn't even know what to expect. It's not the easiest task. I see Twiggy (Grant Baker) come in catching the waves. I just went out there and did what I did. I think I should have won, but second's great and on to the next one. I didn't have any expectations. I just wanted to go out there and have a great time. I've never even had booties on and a full wetsuit. I was nervous and since before that I didn't even know what that felt like. It's better being the underdog. The pressure isn't on me, it's on them.
WSL: Do you still feel like an underdog?
MR: That's what I usually do. I've never been too highly regarded. Just like soccer growing up, or water polo anything I've ever done. Some of these guys are all of a sudden big wave surfers when I've been doing it all my life. It's better being the underdog. The pressure isn't on me, it's on them. I just love surfing. It's who I am. I went and showed that if it's cold water or warm water I'm ready to go.
Catch the entire interview and video features on WSL HERE