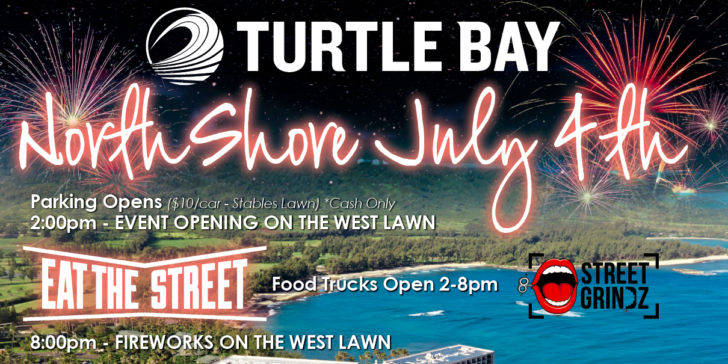 CELEBRATE  ALL WEEKEND LONG! This Independence Day we are serving up festive drinks, dishes and entertainment. View all the excitment below: including our fireworks extravaganza featuring amazing food trucks, prime fireworks viewing areas by the pool and our live musical line-up. We are excited to have you join us for our annual Fourth of July Celebration!
2:00p EVENT OPENING ON THE WEST LAWN

4th of July parking opens ($10/per car)
Eat the Street Food trucks open (West Lawn) 

Aloha Pops

Bao Taon

Bobalicious

Bon Appetit

Candies Ono Grindz

Chamorro Grindz

Crazy Country Corn

Da Bolalohan & BBQ Grill

Fiestas Mexican Grill

Five-O Ribs

Flavors Of The World

Flo's Kitchen

Ha'aha'a

Hawaiian Fresh Farms

Hawaiian Twisted Tater

Heavenly Treats

Hula Shrimp

Il Gelato

Ke Nui Kitchen

Laroux Hawaii

Local Stop

Mega Load Burgers

NOSH LLC

Ono Mono

Pop Pop Mini Donuts

Sugar Hut

Taste Tea

Three B's

Tin Hut BBQ

Uncle Chess Imu Style

Uncles Ice Cream Sandwich

Uncles Kitchen

What It Dough

WICKED HI SLUSH

Wild Candy Bacon

Wow Wow Lemonade

2:30-8:00p Hawaiian Slack Key Guitar Festival Begins (West Lawn)

2:30 PM – 2:45 PM_______George Kuo

2:50 PM – 3:05 PM_______Aja Gample

3:10 PM – 3:25 PM_______Ka Moku

3:30 PM – 3:45 PM_______Michael Keale

3:50 PM – 4:05 PM_______Dwight Kanae

4:10 PM – 4:25 PM_______Patrick Landeza

4:30 PM – 4:45 PM_______Danny Carvalho

4:50 PM – 5:05 PM_______Glen Smith

5:15 PM – 5:30 PM_______Weldon Kekauoha

5:40 PM – 5:55 PM_______Blayne Asing

6:00 PM – 6:15 PM_______Swinging Hawaiians

6:20 PM – 6:35 PM_______Kawika Kahiapo

6:45 PM – 7:00 PM_______Donald Kaulia

7:10 PM – 7:25 PM_______Keale

7:35 PM – 7:50 PM_______Brother Noland

 8:00 PM – 8:15 PM_______Fireworks Display !
                        8:15 PM –  8:30 PM______Bobby Moderow/Maunalua
RESERVE THE BEST SPOT ON THE BEACH FOR THE EVENT
Limited Tailgate Party Spots Available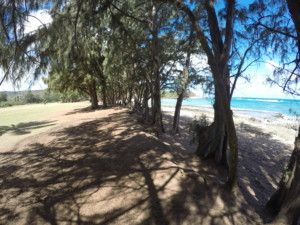 Celebrate with your friends and family in your very own tailgating stall which includes prime parking & fireworks viewing.
Each Tailgate Party Stall is approximately 15'x25′ which includes approved space for: (1) Vehicle (1) 12×12 Pop Tent (1) BBQ
* Stalls are in order from 1 – 25 along from stables lawn coastline.
Connecting parties will need to purchase next numerical stall.
** Please note that this is a non-alcholic event.
Tailgating stalls will be available 2pm- 11pm.
$250 per stall
Limited spaces available!