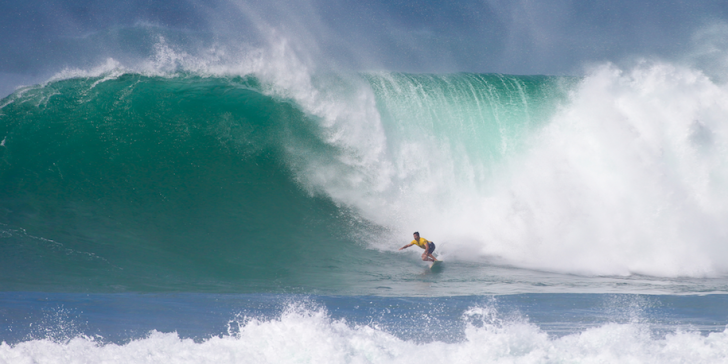 Surfs 6-8′ occ plus and peaking over 10′ near midday from the NW at 16 seconds. It's a brisk ENE tradewind day with decent weather. SNN.
Day one story: MAKE AND BREAK PERFORMANCES IN CLASSIC CONDITIONS AT SUNSET BEAC
Joel Centeio (HAW), WSL Regional Champion contender, rides out an enormous wave at Sunset. WSL / Masurel
Location:   
North Shore Oahu, Hawaii
Event:
Dates & Rating:
Vans World Cup of Surfing – Event No. 2 of the Vans Triple Crown
November 24 – December 6, 2015
WSL Men's QS 10,000
Sunset Beach, North Shore, Oahu, HAWAII – (Sunday, November 29, 2015) — Sunset Beach churned out classic heavy water conditions for Round 2 of the Vans World Cup today, pushing surfers to the brink as they battled wave face heights of 20 feet-plus. The conditions delivered brilliant rides balanced with heavy wipeouts and hold downs.The super heat of the day kept spectators on their toes as Hawaiian Ezekiel Lau, North Shore specialist Jamie O'Brien, California's Patrick Gudauskas and Italy's Leonardo Fioravanti went blow for blow on Sunset's freight train-sized waves during the second event of the Vans Triple Crown of Surfing.
Gudauskas and O'Brien advanced into the next round, but left a major upset behind: Lau needed a Semifinal finish to requalify for the Championship Tour, but fell .06 points short to O'Brien's final wave with only seconds left on the clock. This result also affects his chances of securing a Vans Triple Crown title. Both Hawaii athletes will meet again in the Pipe Invitational, during the Billabong Pipe Masters from December 8 – 20.
Gudauskas posted the highest wave score of the day, an 8.83 for a giant barrel that required expertise in the takeoff. The seasoned surfer added a couple turns and a chop hop to finish things off with control and style.
"I wasn't expecting to get barreled, I actually went out there trying not to get barreled because I feel like it's too high risk," said Gudauskas. "But that wave was sick, Jamie tried to pull in to the one before it and just missed it so I figured I had priority and I just knifed it super hard and it kind of did the watermelon seeds squirt out. It was cool … probably my favorite heat to see on paper, Jamie and Zeke and Leo were surfing incredible the whole time. It was so sick, I was psyching."
Joel Centeio (HAW) tied with Gudauskas for the highest wave of the day, an 8.83, which catapulted the Haleiwa surfer into first position to advance to the next round. Centeio's confidence in the giant surf and combined wave score of 14.86 put him well beyond competitors Mitch Coleborn (8.54) and Dion Atkinson (AUS), while Vasco Ribeiro (PRT) progressed through with an 11.57.
"It would mean the world," said Centeio on potentially winning at Sunset again. "I'm into Round 3 now and the waves are big and I'm pretty comfortable when it's like this. It's just one of those things… you got to get out there, it's Sunset, it's challenging. Every heat is different so I just have to adjust and make do and keep making those heats."
Costa Rican Carlos Munoz stayed busy during his heat against Yadin Nicol (AUS), Cooper Chapman (AUS) and Thiago Camaro (BRA), posting a 7.33 and 4.37 to keep him in first place just narrowly ahead of Nicol. After an intense wait for scores, Munoz and Nicol advanced into the Round of 64.
The second Costa Rican to advance today, (Noe Mar McGonagle being the first), Munoz is sitting at 31 on the Qualifying Series (QS) rankings and is motivated to make it to the Championship Tour.
"I've always been dreaming to be on the World Tour and I'm going to keep on hunting that dream," described Munoz. "I just want to keep surfing, this is my last event of the year and I hope I can keep going and keep making heats and in the end I hope my surfing talks better than me and keeps going."
Uruguay's sole surfer Marco Giorgi and Joan Duru (FRA) edged out Hawaiian powerhouse Sunny Garcia and Brazil's Bettero Hizunome to advance in first and second respectively. Giorgi showed control throughout his heat with smooth off-the-lip backhand attacks to tally a 13.50 heat score. Garcia paddled to shore with three minutes left on the clock after scoring a 0.57 and a 1.50.
An 8.00 by Aritz Aranburu (ESP) was one of the best single wave scores of the morning, which saw some barrel coverage and a nice carve to finish. Aranburu's backup wave of a 6.67 was enough to see the Spanish surfer advance to the next round, but it was Maui's Torrey Meister who took the heat win with a 6.67 and 7.17.
"Felt good to be out there again, I love Sunset, it's my favorite wave in the world," said Meister. "Just kind of nursing some injuries and it feels good to be on a big wave and doing long turns and not trying to do airs or anything like that. I enjoy surfing this wave more than anywhere in the world, stoked."
Australia's Jack Robinson continued to impress the crowd with his fearlessness, and tackled the triple-overhead waves with poise and panache. Robinson advanced ahead of Ricardo Christie (NZL), Willian Cardoso (BRA) and Evan Valiere (HAW), respectively, with the highest single wave score of the heat, a 7.67, and a 4.00 to back it up.
Two full days of competition remain to crown a Vans World Cup champion. Organizers will assess conditions at first light tomorrow morning. The forecast for the remainder of the period is packed with solid surf.
Results
Round of 64 (1st and 2nd advance to next round)
Heat 1: Frederico Morais (PRT) 13.90pts, Jordy Smith (ZAF) 13.10pts, Seth Moniz (HAW) 12.96pts, Kanoa Igarashi (USA) 9.37pts
Round of 96 (1st and 2nd advance to next round)
Heat 1: Frederico Morais (PRT) 12.97pts, Hiroto Ohhara (JPN) 10.34pts, Wade Carmichael (AUS) 8.17pts, Charles Martin (GLP) 4.67pts
Heat 2: Benji Brand (HAW) 10.34pts, Seth Moniz (HAW) 8.60pts, Michael Rodrigues (BRA) 3.87pts, Tanner Hendrickson (HAW) 3.10pts
Heat 3: Jack Robinson (AUS) 11.67pts, Ricardo Christie (NZL) 10.94pts, Willian Cardoso (BRA) 10.34pts, Evan Valiere (HAW) 4.67pts
Heat 4: Kekoa Cazimero (HAW) 8.27pts, Conner Coffin (USA) 7.56pts, Tanner Gudauskas (USA) 6.74pts, Kaito Kino (HAW) 6.20pts
Heat 5: Mason Ho (HAW) 12.03pts, Jesse Mendes (BRA) 11.03pts, Thomas Woods (AUS) 10.43pts, Nathan Yeomans (USA) 9.00pts
Heat 6: Torrey Meister (HAW) 13.84pts, Aritz Aranburu (ESP) 12.87pts, Glenn Hall (IRL) 9.84 pts, Gonzalo Zubizarreta (ESP) 8.13pts
Heat 7: Marco Giorgi (URY) 13.50pts, Joan Duru (FRA) 8.87pts, Hizunome Bettero (BRA) 5.40pts, Sunny Garcia (HAW) 2.07pts
Heat 8: Noe Mar McGonagle (CRI) 12.27pts, Marc Lacomare (FRA) 11.53pts, Maxime Huscenot (FRA) 5.73pts, Beyrick De Vries (ZAF) 5.47pts
Heat 9: Carlos Munoz (CRI) 11.70pts, Yadin Nicol (AUS) 11.67pts, Cooper Chapman (AUS) 9.94pts, Thiago Camarao (BRA) 3.46pts
Heat 10: Soli Bailey (AUS) 13.00pts, Stuart Kennedy (AUS) 9.90pts, Kevin Sullivan (HAW) 8.47pts, Michael Dunphy (USA) 4.47pts
Heat 11: Dusty Payne (HAW) 8.84pts, Pedro Henrique (PRT) 7.00pts, Santiago Muniz (ARG) 6.67pts, Mitch Crews (AUS) 2.93pts
Heat 12: Patrick Gudauskas (USA) 14.33pts, Jamie O'Brien (HAW) 11.40pts, Ezekiel Lau (HAW) 11.34pts, Leonardo Fioravanti (ITA) 9.90pts
Heat 13: Joel Centeio (HAW) 14.86pts, Vasco Ribeiro (PRT) 11.57pts, Mitch Coleborn (AUS) 8.54pts, Dion Atkinson (AUS) 8.06pts
Heat 14: Brent Dorrington (AUS) 15.16pts, Makuakai Rothman (HAW) 14.94pts, Makai McNamara (HAW) 9.17pts, Nathan Hedge (AUS) 5.44pts
Heat 15: Miguel Tudela (PER) 13.66pts, Connor O'Leary (AUS) 12.43pts, Olamana Eleogram (HAW) 10.90pts, Evan Geiselman (USA) 5.76pts
Heat 16: Deivid Silva (BRA) 13.84pts, Bino Lopes (BRA) 10.93pts, Tomas Hermes (BRA) 7.10pts, Elijah Gates (HAW) 5.47pts