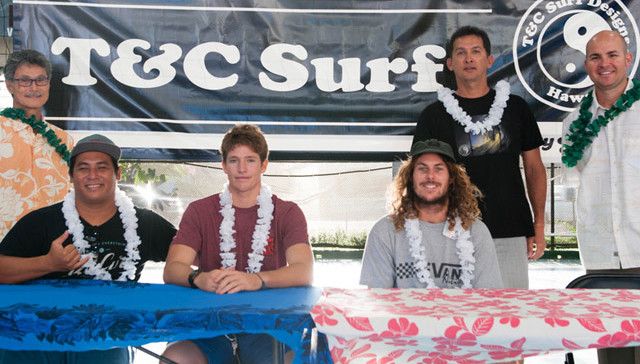 Photo: Owner of T&C Surf, Craig Sugihara with Pros Kekoa Bacalso, Nathan Florence, Wade Goodall and friends.
Surf News Network, 18 December, 2015 – Honolulu – Just in time for the holiday season, Boys and Girls Club of Hawaii (BGCH) announced it received an in-kind donation of products worth over $30,000 from T&C Surf and Vans.
The donation, which included backpacks, t-shirts and socks, was delivered to local children at the BGCH Hale Pono Clubhouse yesterday. The children also had a special opportunity to meet pro surfer and T&C Surf team rider Kekoa Bacalso as well as pro surfers and Vans team riders Nathan Florence and Wade Goodall, who shared their stories with the club kids, signed autographs and distributed gifts.
"We are absolutely stoked to be able to bring smiles to the faces of Hawaii's youth this holiday season. It is both an honor and pleasure to contribute a combination of excellent products and share the Aloha spirit with the deserving keiki of the Boys & Girls Club of Hawaii," said Craig Sugihara, owner and founder of T&C Surf.
T&C Surf has had a longstanding partnership with the BGCH through events such as the T&C Grom Contest and Skate Contest. The local company has also contributed monetary funds through a portion of its proceeds from these events to BGCH.
"It's not often that two amazing companies such as T&C and Vans are able to come together for the enrichment of Hawaii's most precious resource: our keiki" said Tim Motts, president and CEO of Boys & Girls Club of Hawaii. "T&C and Vans have done just this with their generous donation of backpacks and clothing to children who otherwise are unable to afford such essential items. The Boys & Girls Club of Hawaii is grateful for this important support and investment in our future generations."
Now in its 33rd year, The Vans Triple Crown event on Hawaii's North Shore has a history of supporting local community groups.  Last year, over $72,000 of donations and in-kind support was generated, making a positive impact in the daily lives of North Shore residents. In 2015, working with iconic local retailer T&C Surf, Vans has expanded its charitable giving to reach and positively impact additional communities on the island.
"Vans is proud to support the local communities in which we live and play. Hawaii graciously welcomes us during the Vans Triple Crown of Surfing and it is our pleasure to give back to the people of this state. T&C Surf is a big part of the Vans family and a pillar in the surfing community in Hawaii.  We are beyond excited to take part in this special donation and hope that it spreads some holiday cheer to these local kids," said Jim Watson, sales director at Vans.