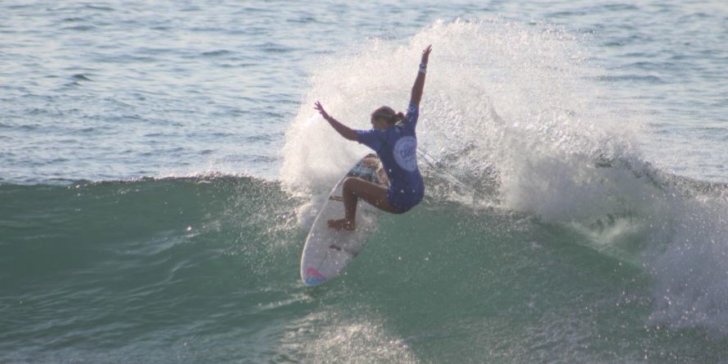 Summer Macedo (HAW) winning her Round Five heat on her way to Victory at the Los Cabos Open of Surf. WSL / ANDREW NICHOLS
Silvana Lima © WSL/Nichols

Los Cabos Open of Surf
WSL QS6000 Women's Event
Zippers, Los Cabos, Baja Sur Mexico
6 – 11 June 2017
Hawaii's Summer Macedo shines at Zippers along with Silvana Lima, Che Allen to take home check + rating points
Surf News Network, 11 June 2017 –  San Jose Del Cabo, Mexico – The World Surf League Los Cabos Open of Surf crowned Silvana Lima, Che Allan, and Summer Macedo it's 2017 champions after a marathon event was completed in remaining two-to-three foot waves.
An incredible day of action from an all Championship Tour (CT) affair in the women's Qualifying Series (QS) 6,000 event and big performances from the juniors made it entertaining for all watching. The fifth annual Los Cabos Open of Surf witnessed some of the best conditions in years throughout the event and, despite some inconsistency, today provided plenty of opportunities for competitors to showcase their talents.
It was a long overdue win for Lima after earning two runner-up results at Zippers since 2014 and always finding her place in finals day each year. The 6,000 points pushes Lima into the top three on the QS ratings before heading back to Brazil for some time away from the jersey.
"I feel so happy, I can't thank everyone from here enough for all their support over the years so this is for all of them," Lima said. "Bronte is such an amazing surfer and it was great to surf against her in that Final. That was the first time I wasn't nervous out there and just kept telling myself to surf my best, and that's all I needed to do."
The 34-year-old charged through two fellow CT competitors starting with Keely Andrew (AUS) in the Semifinals where she posted an excellent 8.17 (out of a possible 10) before backing it up with another 8.77 — earning the highest single-wave and heat total, 16.94, of the QS finals day. She continued that brilliance into the Final with another 8.17 over last year's champion Bronte Macaulay (AUS) and solidified her maiden Zippers win.

Silvana Lima, Che Allen, Summer Macedo © WSL
"It's a proud moment that I'll never forget after getting so close every year and now to win is a dream come true," Lima added. "I'm so comfortable out here with all the guys telling me this is your year and I started to believe it more and more. This is great confidence to take home and start training for the Supergirl, but I'm going to enjoy this day and just soak it all in."
Macaulay returned to her second consecutive Final in Los Cabos after taking down Sage Erickson (USA) in the Semifinals and fell just short of a repeat to an unstoppable Lima. But, this marks the Aussie's best result of 2017 and can now head into the summer break with some confidence to hold on to.
"I feel like Silvana was the best surfer in this event and she posted up so many good heats so I knew it'd be a tough one," Macaulay said. "I'm a little disappointed in my surfing though it felt good to get going on the QS. It was a fun day out there, I swear it's always glassy and this wave is so defined that it makes it so good to unleash on. It'll be great to spend some time at home after a quick stay in California, then head back there for the QS and CT leg."
Before Lima was chaired up the beach, a spectacular men's Pro Junior Final took full advantage of the fun conditions on offer and Che Allan (BRB) emerged victorious. The Barbadian claimed his second WSL event title over the in-form talents of current North America No. 1 Ryland Rubens (USA), last year's Los Cabos Open of Surf fourth-place finisher Eithan Osborne (USA), and explosive Tyler Gunter (USA).
Allan's vicious backhand did not let him down after recovering from a slow start before posting an 8.33 on his final scoring ride to take the win in the final minute of action.
"After that first contest I just went home and regrouped then came here wanting to win so bad, that's all I wanted, so to do that is unbelievable," Allan said. "Hopefully I can go through the rest of the year with a lot more confidence now and try to qualify for Worlds again. I got nervous thinking I peaked too early in that first heat and had a slow Quarterfinal yesterday, but I got my form back in the Semifinals and Finals which is what mattered."
"I'll just have to get back to square one now and not get ahead of myself heading into the US Open," Allan added. "It'll be good to go home and regroup again before getting to Huntington early to practice early. That's always such a big event with all the internationals there and I'm looking forward to competing against them again."
An incredible finish to Summer Macedo's (HAW) 2017 Los Cabos Open Surf campaign came with a deserving win and saved the best for last. The 16-year-old earned a near-perfect 9.93, matching the event's highest single-scoring wave, to claim her first Los Cabos title. One of Maui's top talents won't walk away with any points being out of the region, but can take this confidence and a well-earned $2,500 for her dominating performance.
It was a stacked international final featuring some of the world's best up-and-coming talents including reigning World Junior Champion Macy Callaghan (AUS), former CT wildcard Caroline Marks (USA), and current North America No. 1 Alyssa Spencer (USA). But, Macedo continued on her forehand attack and lit up Zippers one last time when it mattered most.
"To win the Pro Junior and test my abilities against some of the world's best juniors feels amazing," Macedo said. "In that heat Macy [Callaghan] started off really strong and I knew I needed the best wave out here. I wanted to stay in sync and find that one wave, there's been that one in every heat and I had to be on it. I love this wave and felt really in rhythm with it the whole event so I couldn't be happier. Now I'll be back and forth between California and Maui to spend time at home while prepping for some amateur events and the Supergirl Pro. I'm just beyond excited to win this event and know I can compete against these girls. at a high level."
Los Cabos Open of Surf Women's QS6,000 Finals Result:
1 – Silvana Lima (BRA) 15.84           6,000 points  $10,000
2 – Bronte Macaulay (AUS) 11.50    4,500 points  $5,000
Los Cabos Open of Surf Men's Pro Junior Finals Result:
1 – Che Allan (BRB) 15.96              1,000 points  $2,000
2 – Ryland Rubens (USA) 15.63     750 points     $900
3 – Tyler Gunter (USA) 14.33          560 points    $600
4 – Eithan Osborne (USA) 14.13     525 points    $500
Los Cabos Open of Surf Women's Pro Junior Finals Result:
1 – Summer Macedo (HAW) 17.26                        $2,000
2 – Alyssa Spencer (USA) 14.80  750 points       $900
3 – Macy Callaghan (AUS) 12.83                           $600
4 – Caroline Marks (USA) 8.50 525 points          $500
Los Cabos Open of Surf Women's QS6,000 Semifinal Results:
SF 1: Silvana Lima (BRA) 16.94 def. Keely Andrew (AUS) 15.27
SF 2: Bronte Macaulay (AUS) 12.84 def. Sage Erickson (USA) 10.00
Los Cabos Open of Surf Men's Pro Junior Semifinal Results:
SF 1: Ryland Rubens (USA) 13.10, Che Allan (BRB) 15.33, David Economos (USA) 9.60, Shane Borland (USA) 7.53
SF 2: Eithan Osborne (USA) 15.07, Tyler Gunter (USA) 12.20, Crosby Colapinto (USA) 11.74, Cole Houshmand (USA) 11.50
Los Cabos Open of Surf Women's Pro Junior Semifinal Results:
SF 1: Macy Callaghan (AUS) 13.00, Summer Macedo (HAW) 14.00, Kirra Pinkerton (USA) 11.23, Alyssa Lock (AUS) 10.00
SF 2: Alyssa Spencer (USA) 16.33, Caroline Marks (USA) 15.46, Bethany Zelasko (USA) 6.63, Julie Nishimoto (JPN) 5.43