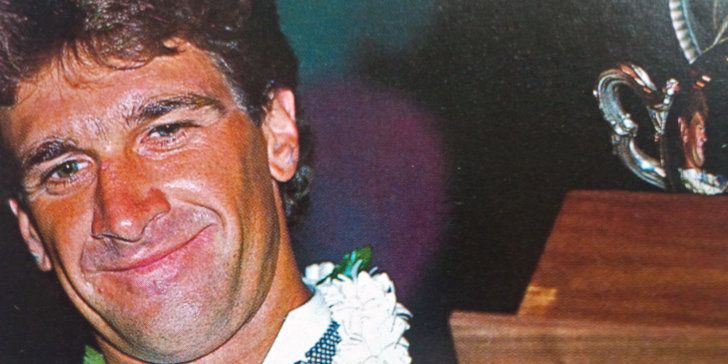 '88 Champ Barton Lynch © WSL archive
Lynch, Reyes, Hakman, Burridge, Jenks and H.B. High coaches to be honored at 24th-anniversary ceremony in Huntington Beach
Surf News Network – Huntington Beach – The votes have been tallied and a fresh crop of legendary wave riders will once again be forever enshrined in surfing's history books on August 3, 2017.
Through a selection ballot, a host of respected surf industry veterans, former professionals, current inductees and surf journalists narrowed down a field of hundreds of candidates to name the 2017 Surfing Walk of Fame's honorees in their respective categories: Barton Lynch (Surf Champion), Jeff Hakman (Surf Pioneer), Jim Jenks (Surf Culture), Timmy Reyes (Local Hero), Pam Burridge (Woman of the Year) and the Huntington Beach High School 50th Anniversary Coaches — Bill Garland, Bruce Gabrielson, Rob Hill, Chuck Allen, Andy Verdone (Honor Roll).
The Surfing Walk of Fame is the only tribunal in surfing to award specific categories as well as require a 10-year margin since the commemorating achievement. This year's recipients will be cemented alongside past inductees, earning their immortal place in the pavement on the corner of PCH and Main Street, directly across from the famous pier in Huntington Beach, California.
"With surfing headed towards the Olympics, it's exciting times for the SWOF as we move into our 24th year," said Don MacAllister, Chairman of the Board. "The Surfing Walk of Fame induction is a highly-recognized event and we have plans for a new coffee table book to celebrate our 25th anniversary in 2018. We are pleased to have such a distinguished group to represent the surfing world this year and hope to see everyone on August 3rd."
1988 World Champion Barton Lynch headlines the group following his recent move to a color commentator for World Surf League events. The articulate Aussie amassed 17 Championship Tour wins during his 15 years on the circuit, including victories at the OP Pro in Huntington Beach in 1987 and 1991.
Jeff Hakman will be commemorated in the Surf Pioneer category. Hakman won the inaugural Pipeline Masters in 1971 as well as became the first non-Australian to win the esteemed Bells Beach trophy in 1976 during the first year of the professional World Tour. The big-wave expert from Oahu was also one of the founders of the Quiksilver brand in the U.S.A. in 1976.
The always-colorful Surf Culture plaque goes to surfwear innovator Jim Jenks, who conceptualized the iconic Ocean Pacific (OP) label. As a surfboard dealer in the 1970s, Jenks noticed a need for performance-based surf shorts that eventually led to a worldwide movement in surf/lifestyle fashion. He was instrumental in bringing pro surfing back to California in 1982 with the inaugural OP Pro contest in Huntington Beach.
Huntington Beach ripper, former WCT mainstay, tube hunter and big-wave charger Timmy Reyes will be awarded the well-deserved Local Hero achievement. 1990 World Champion and 15-time World Tour event winner Pam Burridge earns Woman of the Year honors. And also in this year's ceremony, the Honor Roll spot goes to the Huntington Beach High School 50th Anniversary Coaches  — Bill Garland, Bruce Gabrielson, Rob Hill, Chuck Allen and Andy Verdone.
Here are the voting criterions used to decide each division:
SURF CHAMPION – Nominees must have held a world championship and/or world-class event titles specific to Huntington Beach.
SURF PIONEER – Nominees achieved surfing fame as a respected surfer or pioneer in the time before major championship; candidates must either be at least 50 years old or deceased.
SURF CULTURE – Inductees are nominated from the arts and/or industry, and must have helped create and define surfing culture.
WOMAN OF THE YEAR – Any female who meets the qualification in any of the four categories: surf champion, surfing culture, local hero, or surfing pioneer.
LOCAL HERO – Nominees must have resided in Huntington Beach for at least 10 years, graduated from Huntington Union School District, been a finalist in the surf champion category, contributed to Huntington surfing culture, been a surfing pioneer in the city or a past champion at the annual Huntington Beach City Championships.
HONOR ROLL – Recipients of the honor roll award deserve recognition due to their important contributions to the sport of surfing and its culture, but hey do not qualify under the specific guidelines of the other five walk of fame categories. The honor roll is the only category chosen by the Walk of Fame Board of Directors.
This year's honorary induction ceremony will take place during the U.S. Open of Surfing outside of Jack's Surfboards in Huntington Beach at 10:00am on Thursday, August 3, 2017. Past recipients of the Surfing Walk of Fame honors include Duke Kahanamoku, Kelly Slater, Lisa Anderson, Tom Curren, Bruce Brown, Eddie Aikau, Shaun Tomson, Mark Richards, Gerry Lopez, Layne Beachley and more.