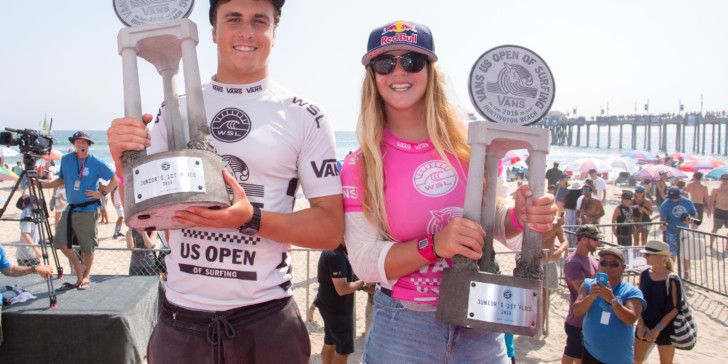 – DIAZ CLAIMS FIRST VANS US OPEN TITLE; MARKS SECURES HISTORIC BACK-TO-BACK WIN
– WOMEN'S CHAMPIONSHIP TOUR EVENT SET FOR SUNDAY FINISH
Luis Diaz (CNY) and Caroline Marks (USA) claim victory at the Vans US Open of Surfing Pro Junior in Huntington Beach, California.
Image: WSL / Van Kirk
| | |
| --- | --- |
| Location:    | Huntington Beach Pier, Huntington Beach, California |
| Event Window: | July 25 – 31, 2016 |
| Today's Call: | Men's + Women's Pro Junior complete; Men's QS10,000 Round 5 complete |
| | |
| --- | --- |
| Conditions:   | 2 – 4 feet (0.5 – 1.5 metre) |
HUNTINGTON BEACH, California/USA (Saturday, July 30, 2016) –  Luis Diaz (CNY)and Caroline Marks (USA) have won the World Surf League (WSL) Vans US Open of Surfing Pro Junior in two-to-four foot (0.5 – 1.5 meter) conditions at the Huntington Beach Pier. In addition to the action that went down today, tomorrow will see world class performances with the WSL Samsung Galaxy Championship Tour women's Quarterfinals and the WSL Qualifying Series (QS) 10,000 men's Quarterfinals as both events are set for an exciting finish.
Hailing from the Canary Islands, Diaz captured the 2016 Men's Junior Title from the North American competitors with a brilliant performance over the talented field. Taking on Yuji Mori (JPN), Jake Marshall (USA), and Nolan Rapoza (USA), the 17-year-old could not believe he earned the win when coming out of the water. Though he will not earn points from this win because the event is out of his European region, it was a momentous milestone in his career.
"I'm so stoked, I really can't even believe I won," Diaz said. "Everyone has been shredding this whole competition and I just had to find the two waves that would allow me to surf to my best ability. I knew that 8.00 was going to be a good score even though it wasn't the best wave. I felt that I surfed it really well and I was so excited to get rewarded for it. Each heat I was gaining confidence, and to come out on top, there's just no better feeling."
Defending champion Caroline Marks (USA) retained her Vans US Open of Surfing Women's Junior Title in terrific fashion. Marks is the first to ever win back-to-back Junior Titles at this prestigious event. Getting off to a slow start, Marks made up for it with a massive finish and posted a solid 6.50 (out of a possible 10) and an excellent 7.50 on her final two rides.
"I'm speechless right now, I thought about what it'd be like to win this thing twice and it's just an amazing feeling," Marks said. "These girls are so good and I can't thank my parents and family enough for all their support. All my friends, and people shouting from the beach and the pier was so surreal. This is only the second event I've done this year so I'm hoping to get another big result at the next one and try to make it into the World Junior Championships."
With the Men and Women Juniors crowned, the Vans US Open of Surfing Men's QS10,000 ripped through their Round 5 heats and have Quarterfinal draws set with spectacular match-ups in store. Despite the challenging conditions, competitors showed why they are some of the best in the world with dominant performances.
Kanoa Igarashi (USA) made it back into the Quarterfinals over Conner Coffin (USA)using his local knowledge and picking off the best two waves in a star-studded match-up. The hometown hero looked to be in top form both mentally and physically as the heat progressed and maintained his lead throughout the thirty minutes. Capping off the heat with his last ride to solidify the win, Igarashi posted the best score in the heat as the clock dwindled down. Igarashi will face Bino Lopes (BRA) in the next round for an opportunity to advance to the Semifinals.
"It's super important to make good decisions and recognize what each wave has for scoring potential," Igarashi said. "I didn't see anything better than a six out there and kind of let Conner (Coffin) go on a few waves, but he's such an amazing surfer he could've easily gotten it. You're always trying to work out the numbers and percentages but I think I surfed a pretty smart heat."
"I love the pressure," Igarashi added. "It's just gives me that extra bit of confidence I don't get in other places with all my friends and family here supporting me. I'll be walking down the street and everyone's saying congrats, and good luck in my next heat — it fires me up. It's what really motivates to perform."
Sebastian Zietz (HAW) continued his reign over the lineup at the Huntington Beach Pier and posted another excellent 8.67. The Hawaiian had his strategy in place with the smaller conditions on offer and kept the momentum from yesterday's big win alive over the in-form Davey Cathels (AUS). The heat came down to the final seconds and Zietz was able to breathe a heavy sigh of relief after the horn sounded. Zietz will advance to the Quarterfinals, where he will try to defeat reigning WSL Champion Adriano de Souza (BRA).
"When the waves are really small, I feel like any type of drag can hinder you so I surfed without a leash to get any type of edge I could," Zietz said. "I almost didn't go on that eight-point wave because there were a few waves that were a bit bigger but that one had a little double up to it and anything that has a little bit of face you have to give a chance. It was just a game of waves out there, but I was tripping out when I heard the countdown and saw that last set come through. I thought Davey (Cathels) was going to get it but it ended up going my way."
2013 Vans US Open of Surfing Champion Filipe Toledo (BRA) found his way back into another finals day at Huntington Beach, California. The Brazilian native, San Clemente, California transplant felt at home in the lineup with such an impressive history at this event — winning both a QS and Junior Title in the past. Sticking to his signature, lightning fast surfing, Toledo had the crowd in attendance on their feet as he posted the highest heat score of the round, an impressive 14.67. Toledo will battle powerhouse and fellow CT competitor Michel Bourez (PYF) in the Quarterfinals.
"It's really dead low tide right now and slow and the waves are closing pretty fast," said Toledo. "There's some fun ones if you get lucky with priority and a set comes you just have to be on it. It was all about patience and trying not to fall so you could get the scores. It helps to not wear a leash so you can keep your speed up but you have to finish the wave, otherwise you'll lose your board, so it's a confidence builder for me to try and keep producing."
Rounding out an incredible draw, 17-year-old phenom Ethan Ewing (AUS) will take onRyan Callinan (AUS) in the opening heat of the Quarterfinals.
The Final day of competition will continue tomorrow morning, starting with the men's QS10,000 Quarterfinals at 8:00 a.m. local time followed by the women's Samsung Galaxy WSL Championship Tour Quarterfinals.
Vans US Open of Surfing Men's Junior Final Results:
1 – Luis Diaz (CNY) 14.90          $2,000  1,000 points
2 – Jake Marshall (USA) 14.63   $900     750 points
3 – Yuji Mori (JPN) 13.57            $600     560 points
4 – Nolan Rapoza (USA) 11.64   $500     525 points
Vans US Open of Surfing Men Junior Semifinal Results:
Heat 1: Nolan Rapoza (USA) 13.27, Yuji Mori (JPN) 8.87, Kei Kobayashi (USA) 6.73, Ethan Ewing (AUS) 5.67
Heat 2: Luis Diaz (CNY) 15.66, Jake Marshall (USA) 11.47, Rylan Rubens (USA) 11.37, Christopher Kervin (USA) 4.37
North America Junior Men Tour Top 5 Rankings (After Vans US Open of Surfing):
1. Kei Kobayashi – 1,840
2. Nolan Rapoza – 1,575
3. Griffin Colapinto – 1,280
4. Cole Houshmand – 1,235
5. Chauncey Robinson – 1,235
Vans US Open of Surfing Women's Junior Final Results:
1 – Caroline Marks (USA) 14.00    $2,000  1,000 points
2 – Alyssa Spencer (USA) 12.10   $900     750 points
3 – Brisa Hennessy (HAW) 9.14    $600     560 points
4 – Bethany Zelasko (USA) 8.03    $500     525 points
Vans US Open of Surfing Women Junior Semifinal Results:
Heat 1: Caroline Marks (USA) 14.17, Alyssa Spencer (USA) 11.70, Leilani McGonagle (CRI) 10.13, Macy Callaghan (AUS) 7.47
Heat 2: Brisa Hennessy (HAW) 13.17, Bethany Zelasko (USA) 10.87, Kirra Pinkerton (USA) 8.56, Maddie Peterson (USA) 5.74
North America Junior Women Top 5 Rankings (After Vans US Open of Surfing):
1. Alyssa Spencer – 2,030
2. Leilani McGonagle – 1,470
3. Maddie Peterson – 1,340
4. Meah Collins – 1,245
5. Caroline Marks – 1,200
Upcoming Vans US Open of Surfing Men's QS10,000 Quarterfinal Matchups:
Heat 1: Ryan Callinan (AUS) vs. Ethan Ewing (AUS)
Heat 2: Sebastian Zietz (HAW) vs. Adriano de Souza (BRA)
Heat 3: Kanoa Igarashi (USA) vs. Bino Lopes (BRA)
Heat 4: Filipe Toledo (BRA) vs. Michel Bourez (PYF)
Vans US Open of Surfing Men's QS10,000 Round 5 Results:
Heat 1: Ryan Callinan (AUS) 12.33 def. Mitch Crews (AUS) 9.23
Heat 2: Ethan Ewing (AUS) 11.50 def. Mitch Coleborn (AUS) 8.53
Heat 3: Sebastian Zietz (HAW) 12.67 def. Mitch Coleborn (AUS) 8.53
Heat 4: Adriano de Souza (BRA) 12.36 def. Nathan Yeomans (USA) 12.23
Heat 5: Kanoa Igarashi (USA) 13.27 def. Conner Coffin (USA) 8.66
Heat 6: Bino Lopes (BRA) 13.60 def. Torrey Meister (HAW) 9.16
Heat 7: Filipe Toledo (BRA) 14.67 def. Maxime Huscenot (FRA) 10.90
Heat 8: Michel Bourez (PYF) 12.90 def. Carlos Munoz (CRI) 12.17