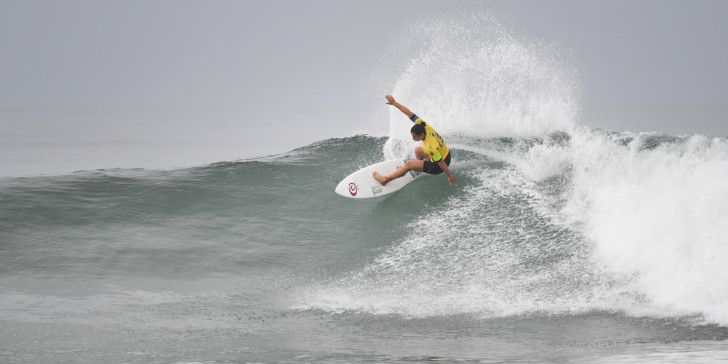 TITLE CONTENDERS WILKO, JULIAN AND WORLD CHAMP ADRIANO OUT!
SSW HOLDS AT HEAD TO 3′ OVERHEAD WITH LIGHT ONSHORES.
Tyler Wright (AUS), current World No. 1 on the Jeep Leaderboard, eliminated event wildcard Bethany Hamilton (HAW) in an exciting Round 2 match-up at the Swatch Women's Pro.
Image: © WSL / Kirstin
| | |
| --- | --- |
| Location:    | Lower Trestles, San Clemente, California |
| Event window: | September 7 – 18, 2016 |
| Today's call: | Women's Round 2 & Men's Round 1 Heats 1 – 11 complete |
| | |
| --- | --- |
| Conditions: | 4 – 6 foot (1 – 2 metre) |
SAN CLEMENTE, California/USA (Thursday, September 8, 2016) – Action at the Hurley Pro and Swatch Women's Pro, Stops No. 8 and 7 respectively on the Samsung Galaxy World Surf League (WSL) Championship Tour (CT), continued today. Competition completed women's Round 2 and Heats 1 through 11 of men's Round 1 in building four-to-six foot (1 -2 metre) waves at Lower Trestles.
Tyler Wright (AUS), current Jeep Rankings Leader, dispatched wildcard Bethany Hamilton (HAW) in an exciting Round 2 head-to-head match-up. Wright wasted no time to get points on the board and posted an excellent 8.17 with big frontside snaps. The Australian continued to fire by displaying massive carves and technical rail-work to earn another solid score, an 8.60. With less than five minutes on the clock, Hamilton charged back with incredible vertical hits to earn an 8.17. Under pressure, the Hawaiian needed an 8.60, but was not able to find the waves to defeat Wright. Hamilton will walk away with a 13th place finish, while Wright sails through to Round 3.
"That first wave was a dream boat and I knew I started off well," said Wright. "It just swung a bit wide of Bethany [Hamilton] and I just took off on it. My feet were settled on the wax after the first wave and just let it go a little bit, really relaxed into it and just really enjoyed it."
Courtney Conlogue (USA), No. 2 on the Jeep Leaderboard, blazed through Round 2 Heat 4 to defeat 2016 WSL Rookie Chelsea Tuach (BRB). Conlogue secured a solid 7.33 to gain an early lead over Tuach and didn't look back. The rookie tried to combat the Californian's 14.00 combined heat score with clean surfing, but was not able to break the combination. Conlogue will advance to Round 3 where she will face Malia Manuel (HAW) and Nikki Van Dijk (AUS).
"I don't think I'm feeling the pressure, it's been more of just my strategy being a bit off," said Conlogue. "Yesterday I was waiting for sets and it just went flat. Today I was waiting for those sets that came through in Tyler's [Wright] heat and it ended up not coming til the end — sometimes that's just Mother Nature. I feel really good, my boards feel great so now I think it's just coming in fresh and getting ready for the next round.
2016 WSL Rookie Keely Andrew (AUS) upset the competition today after defeatingBianca Buitendag (ZAF) in the final heat of Round 2. Andrew locked in two solid 6-point rides to edge out Buitendag by 2.86 points. Buitendag fought back with a 4.67 and a 5.97, but it was not enough to challenge the rookie and she leaves the event in Equal 13th place.
"Round 2 would have to be the worst round there is and I'm stoked to be turning it all around making some of these elimination heats," Andrew said. "I'm really happy with how I've started the second half of the year. The rights were definitely the better option with the bigger ones being a bit funky and the smaller ones not offering much so it was the happy mediums that had a good double up and offered up big first turns and a good finish."
Round 1 Heat 5 saw an exciting match-up between Coco Ho (HAW) and Sally Fitzgibbons (AUS), who currently sits 5th on the Jeep Leaderboard. Ho attacked Lowers with a near-perfect 9.43 with a vicious opening turn that set her tone on the wave, performing beautifully throughout each section until the finishing maneuver. Fitzgibbons was unable to find the opportunity to match the Hawaiian and goes home in Equal 13th place, her worst result at the Swatch Women's Pro.
"We've been on tour for eight years together and we always joke about what life's going to be after this, but we've had some really good heats and that was nerve-racking" Ho said. "She's always that one who can get the nine in the last few milliseconds so I was dying to get a better backup and I was lucky she didn't find that seven since I couldn't back it up. But, I know this lineup pretty well and I did not want my run to end this early so I was going do my everything to make it through this round."
The opening heat of the morning witnessed an All-American Round 2 bout betweenSage Erickson (USA) and Lakey Peterson (USA). Erickson was able to edge out Peterson with a quick start and solid finish, and will go on to face Wright and Laura Enever (AUS) in Round 3. Peterson will walk away in 13th place.
"I knew it was going to be pretty tough against Lakey [Peterson] after she got me in the Quarters at the US Open," Erickson said. "I was interested to see where her head was at with positioning, especially at the beginning. There's a lot of favorable lefts out there also, so I don't think being on either side is a disadvantage depending on how the set came in. It's such a bummer because I want to see Lakey out here everyday, but I'm really excited to get at least two mores sessions out here at Trestles."
Following the conclusion of Women's Round 2, competition witnessed a spectacle of action as the men battled in Heats 1 through 11 of Round 1.
Hometown hero and event wildcard Tanner Gudauskas (USA) put on a clinic at Lower Trestles to cause a big upset in Round 1 against Matt Wilkinson (AUS), No. 2 on the Jeep Rankings, and 2016 WSL Rookie Conner Coffin (USA). Gudauskas dropped two solid 6-point rides, while Wilkinson and Coffin put points on the board to challenge. The wildcard waited out the back, and his local knowledge paid off as he dropped the first Perfect 10 of the event with a powerful combination of maneuvers throughout the wave. With ten minutes left on the clock, Wilkinson and Coffin were both in a combination situation and could not find two new scores to combat Gudauskas.
"That was a really fun ride and I almost went on the one two waves before thinking it looked pretty good but just didn't look smooth," Gudauskas said. "I was thinking that when I get a wave I hope I can stay on my surfboard. I've never felt this fired up and focused, and I want to prove that I deserve to be here. I'm feeling really good so I'm looking forward to it. I'm also really grateful to be representing the San Clemente boys and excited to get another heat out there."

 Tanner Gudauskas (USA) earned a Perfect 10 to win Round 1 Heat 5 against Matt Wilkinson (AUS), No. 2 on the Jeep Leaderboard, and 2016 WSL Rookie Conner Coffin (USA).
Image: © WSL / Kirstin
Current World No. 1 on the Jeep Rankings John John Florence (HAW) charged through Round 1 to defeat event wildcard Brett Simpson (USA) and 2016 WSL RookieDavey Cathels (AUS) in Heat 6. The frontrunner took the lead with a 6.67 on his opening ride and sealed the win with a strong 7.50. Simpson and Cathels could not find the excellent-range scores needed to take the win from Florence and will surf again in elimination Round 2.
"It feels great to come in here at No. 1, but I'm just surfing it like any other heat really and it's just so cool to be at Lowers with no one out after the last few days have been packed," Florence said. "My knee feels great and I'm at one-hundred percent. I came straight from Tahiti to here and started physical therapy right away which I think helped out a lot. I'm just so stoked to be surfing right now. I've never had a knee injury before so I wasn't sure how bad it was so I'm pretty fortunate it wasn't bad at all."
11-time WSL Champion Kelly Slater (USA), Filipe Toledo (BRA) and Jeremy Flores (FRA) battled wave for wave in an intense Round 1 match-up. The heat witnessed suspenseful exchanges between the three competitors with massive laybacks from Slater, technical railwork from Toledo, and powerful snaps from Flores. In the dying minutes of the heat, Toledo topped the field with his strong rail carves to earn a critical 9.33 and steal the win. Slater, with a 16.20, will surf again in Round 2 alongside Flores.
"The rights are swinging pretty wide and going really fast so it was good for the power carve and to work the rail game," said Toledo. "I just stuck with that plan and it all worked out in the last few minutes. Kelly [Slater] has been the best surfer in the world since I was born and after watching him in Tahiti was just incredible. I know that victory felt really good for him and he's had a lot of good results here with some wins in the past, so it's great for my confidence to know I can beat the best surfer in the world."
After Toledo's impressive performance, Joel Parkinson (AUS) raised the bar to claim the highest combined score of the day, a near-perfect 18.67 in Round 2 Heat 10. The 2012 WSL Champion will advance to Round 3, while three-time WSL Champion and defending event winner, Mick Fanning (AUS), and Jadson Andre (BRA) will be relegated to Round 2.
2014 event winner Jordy Smith (ZAF) kicked off Men's Round 1 with an electric performance. The South African power-surfer posted a 9.00 following a slight falter on his opening wave choice. But, he wasted no time solidifying his spot into Round 3 with his signature power surfing, defeating Nat Young (USA) and Keanu Asing (HAW).
"I definitely worked my ass off on that first one and kind of grinded it out with the tide coming up," Smith said. "The wave was a little flatter and more difficult to get that open face without running down the line, but just got one in the bank and then waited for priority. When I got that I just wanted to wait for a good one. I found that peakier wave and it walled up so nicely throughout the bank and just got a good opportunity I was able to capitalize on."
2016 WSL Rookies Kanoa Igarashi (USA) and Jack Freestone (AUS) wreaked havoc in Round 1, taking down top seeds to claim their place in Round 3, where both surfers will continue to improve their Rookie of the Year campaign.
Igarashi pulled off a buzzer-beater win over Julian Wilson (AUS) and Ryan Callinan (AUS) — earning a 7.00 with his back against the wall. The 18-year-old has established himself among the world's elite with terrific performances throughout the year and avoided yet another Round 2 appearance.
"I wasn't trying to be too patient but Mother Nature kind of made me play the waiting game and wound up having a five-minute heat," Igarashi said. "Glad it worked out for me and really stoked to be moving into Round 3. It's crazy how things change over time. I remember two years ago like it was yesterday and sleeping on the couch at the Quiksilver house just trying to watch guys like Travis [Logie], Freddy [Pattachia], and Kelly [Slater], all those guys were always around me. I was just so star struck with how cool it was to be on tour. It's just crazy how two years later I'm here."
Heat 9 saw Freestone defeat fellow rookie Caio Ibelli (BRA) and Italo Ferreira (BRA)with a 15.50 combined heat score. The Brazilians were not able to secure the scores to overcome the Australian and will surf again in Round 2.
But, fellow countryman Gabriel Medina (BRA) survived a near disaster earlier on in Round 1 Heat 4 as a no-priority interference was called against him on his opening exchange. Despite the penalty, Medina fought back with a solid 7.33 and unleashed high-risk maneuvers to secure an excellent 8.00. Adam Melling (AUS) held the lead with a 10.93, but could not find the 5.75 required to challenge the 2014 WSL Champion. Rookie Alex Ribeiro (BRA) was not able to hold on against the CT chargers as both he and Melling will surf again in elimination Round 2. Medina currently sits in third place on the Jeep Leaderboard and will continue his hunt for an event win in Round 3.
Adrian Buchan (AUS), Wiggolly Dantas (BRA) and Stuart Kennedy (AUS) will also advance straight to Round 3 after winning their Round 1 three-man match-ups.
Event organizers will reconvene tomorrow at 7:30 a.m. local time for a possible 8:00 a.m. start.
Swatch Women's Pro at Trestles Round 2 Results:
Heat 1: Sage Erickson (USA) 12.00 def. Lakey Peterson (USA) 10.56
Heat 2: Johanne Defay (FRA) 12.83 def. Alessa Quizon (HAW) 9.87
Heat 3: Tyler Wright (AUS) 16.77 def. Bethany Hamilton (HAW) 13.50
Heat 4: Courtney Conlogue (USA) 14.00 def. Chelsea Tuach (BRB) 6.33
Heat 5: Coco Ho (HAW) 14.93 def. Sally Fitzgibbons (AUS) 13.84
Heat 6: Keely Andrew (AUS) 13.50 def. Bianca Buitendag (ZAF) 10.64
Swatch Women's Pro at Trestles Round 3 Match-Ups:
Heat 1: Tatiana Weston-Webb (HAW), Johanne Defay (FRA), Coco Ho (HAW)
Heat 2: Tyler Wright (AUS), Sage Erickson (USA), Laura Enever (AUS)
Heat 3: Courtney Conlogue (USA), Malia Manuel (HAW), Nikki Van Dijk (AUS)
Heat 4: Carissa Moore (HAW), Stephanie Gilmore (AUS), Keely Andrew (AUS)
Hurley Pro at Trestles Round 1 Results:
Heat 1: Jordy Smith (ZAF) 14.50, Nat Young (USA) 10.23, Keanu Asing (HAW) 8.67
Heat 2: Kanoa Igarashi (USA) 14.67, Julian Wilson (AUS) 13.04, Ryan Callinan (AUS) 12.00
Heat 3: Adrian Buchan (AUS) 15.10, Miguel Pupo (BRA) 14.77, Kai Otton (AUS) 13.80
Heat 4: Gabriel Medina (BRA) 11.67, Adam Melling (AUS) 10.93, Alex Ribeiro (BRA) 9.80
Heat 5: Tanner Gudauskas (USA) 16.67, Conner Coffin (USA) 11.66, Matt Wilkinson (AUS) 10.10
Heat 6: John John Florence (HAW) 14.67, Brett Simpson (USA) 9.43, Davey Cathels (AUS) 8.60
Heat 7: Wiggolly Dantas (BRA) 15.47, Matt Banting (AUS) 10.90, Adriano De Souza (BRA) 9.70
Heat 8: Filipe Toledo (BRA) 17.50, Kelly Slater (USA) 16.20, Jeremy Flores (FRA) 11.87
Heat 9: Jack Freestone (AUS) 15.50, Caio Ibelli (BRA) 13.23, Italo Ferreira (BRA) 11.20
Heat 10: Joel Parkinson (AUS) 18.67, Mick Fanning (AUS) 13.96, Jadson Andre (BRA) 13.93
 Heat 11: Kolohe Andino (USA), Josh Kerr (AUS), Stu Kennedy (AUS)
Hurley Pro at Trestles Upcoming Round 1 Match-Ups:
Heat 12: Sebastian Zietz (HAW), Michel Bourez (PYF), Alejo Muniz (BRA)