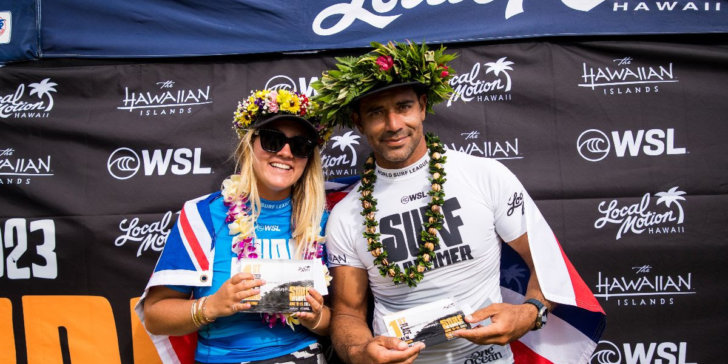 At Home In The Hawaiian Islands
Culhane, Sallas Sweep Respective Seasons To Claim Hawaii/Tahiti Nui Longboard Regional Titles
Stewart, Canullo Earn Runner-Up Finishes To Conclude LQS Season
Next Call, Tuesday 7:00 a.m. HST For 2023/24 Qualifying Series Season Start
Pictured:
 Opening day of the Local Motion Surf Into Summer awaits at the iconic wave of Ala Moana Bowls with Hawaii/Tahiti Nui's best contenders ready. 
Credit
: © WSL / Andrew Nichols
ALA MOANA BOWLS, Oahu, Hawaii (Monday, June 12, 2023) – Sophia Culhane (HAW) and Kai Sallas (HAW) emerged victorious at the Local Motion Surf Into Summer At Home In The Hawaiian Islands, a Qualifying Series (QS) 1,000 and Longboard Regional Qualifying Series (LQS) 1,000, after a marathon Finals Day to start the event window and conclude the Hawaii/Tahiti Nui LQS 2022/23 season. The South Shore, Oahu, duo swept their respective seasons, winning both the Surfing For Hope Longboard Classic and their victories today over some of Hawaii/Tahiti Nui's best longboard competitors to claim Regional Longboard Titles.
A clash featuring some of Waikiki's premier longboard talents highlighted the men's Final as Sallas had to fend off 2022 Longboard Tour No. 2 Kaniela Stewart (HAW), alongside brothers John Michael Van Hohenstein (HAW) and Michael Van Hohenstein (HAW). A back-and-forth affair witnessed multiple lead changes early on as each surfer earned mid-ranged scores to stay close, but Sallas' 6.60 (out of a possible 10) for his opening ride had him in a comfortable position despite going from first to fourth. The Hohenstein brothers pushed the Longboard Tour standouts to their best as Stewart and Sallas' final exchanges witnessed excellence in the dying minutes. Salla's 8.07 pushed his lead to a 14.67 (out of a possible 20) heat total and Stewart's 8.23 fell just short of the requirement, making Sallas victor once more.

"That was a really fun day and I'm stoked to be surfing at home, hopefully we can get some more events at home like this," said Sallas. "To share a heat with those guys was great, I've watched them grow up and they've become such good competitors. Winning at home is pretty special and having my family here, it was a great day."

Sallas' impressive Quarterfinal debut set the tone for his Finals Day surge to the top of both the event, and being crowned the 2022/23 Hawaii/Tahiti Nui Longboard Regional Champion, after earning back-to-back wins within the region, and now sets his eyes on a much bigger title.

"It's really cool to win a regional title with the guy who are around me competing and I'm looking forward to keeping it going back onto the Longboard Tour," added Sallas. "Now we have four legitimate stops with waves like Bells Beach, El Salvador, and Malibu, and I think it's what we all wanted to see. It's some of the best waves in the world with the world's best longboard competitors so I'm ready to get it started."
The women's Final featured some of the island's premier competitors including Sophia Culhane, former Longboard Tour competitors Keani Canullo (HAW) and Haley Otto (HAW), and WSL newcomer Natalia Wunderlich (HAW). A slow start provided minimal scores until the halfway point noted a solid 5.83 for Canullo, but Culhane's 5.43 and Wunderlich's 5.50 weren't far behind. As time ticked below the five-minute mark, Culhane was gifted an Ala Moana Bowls gem she didn't let pass by and put on a showcase of footwork and style all the way to the inside for a 7.50 – and her back-to-back regional event win.

"This is so special to win at home with all my family and friends here, and I'm just so excited," said Culhane. "All these girls rip and it was such a good event to push myself with them putting up some good scores all day. I'm just so happy to have won here and it was something I thought about a lot heading into this event."

This marks Culhane's second-consecutive victory within regional competition as she swept some of Hawaii/Tahiti Nui's top competitors along the way. The 17-year-old started her day with an immaculate debut and carried that momentum all the way atop the podium.

"[Winning the regional title] is super cool and it was one of my goals this year," said Culhane. "This has given me some confidence and to win two events against all these girls feels amazing. Now I'm excited for the year to come with all my friends at some new places."
Pictured:
 Kaniela Stewart's (HAW) masterclass of style and poise was on full display all the way to the Final. 
Credit
: © WSL / Heff
One of the world's most exciting longboard talents, Kaniela Stewart (HAW), delivered majestic performances from start to finish as he earned multiple excellent scores throughout Finals Day – including a day's best 16.56 heat total and 8.73 single-scoring wave. Now, Stewart prepares for the world's best once more after finishing No. 2 in his World Title hunt and will be joined by John Michael Van Hohenstein as the regional qualifier.
"It was so fun and it was so awesome to have some of my closest friends in that Final," said Stewart. "There was a lot of back-to-back waves and we went on a lot of waves with some good exchanges. And it came down to the dying seconds, and it was awesome. This year on the Longboard Tour is going to be super fun and I'm going to take it very seriously with a lot of training, and a World Title is the goal."
Pictured:
 Keani Canullo (HAW) honed into her former Longboard Tour drive and earned a maiden Finals appearance. 
Credit
: © WSL / Heff
Former Longboard Tour competitor Keani Canullo (HAW) found her passion for competitive surfing once more and put it on full display with an excellent showing in her Semifinal appearance. Now living on the South Shore, Canullo joins the likes of Culhane and more on a regular basis as she now looks forward to next season's start in hopes of rejoining the world's best.
"This was awesome and it was my goal to make it to the Final, and it was super special competing and also watching the men's Final with all the Waikiki guys," said Canullo. "I didn't really like competing before and I did an event in Mexico, and now I feel like I'm finally hungry for win. Now, I'm really excited moving forward and this definitely gave me a confidence boost."
With her Finals appearance, Haley Otto (HAW) rejoins the WSL Longboard Tour in 2023 as she looks to joins the race toward a World Title.
The Local Motion Surf Into Summer At Home In The Hawaiian Islands event now prepares for a likely 8:00 a.m. HST start to men's Qualifying Series (QS) 1,000 action.
Women's Final Results:
1 – Sophia Culhane (HAW) 12.93          1,000 points
2 – Keani Canullo (HAW) 10.23                 800 points
3 – Natalia Wunderlich (HAW) 8.63         650 points
4 – Haley Otto (HAW) 7.17                          600 points
Men's Final Results:
1 – Kai Sallas (HAW) 14.67                                                  1,000 points
2 – Kani Stewart (HAW) 14.40                                               800 points
3 – John Michael Van Hohenstein (HAW) 11.90             650 points
4 – Michael Hohenstein (HAW) 11.90                                 600 points
Women's Semifinal Results:
HEAT 1: Keani Canullo (HAW) 14.00, Sophia Culhane (HAW) 12.56, Alana Johnson (HAW) 8.64, Bella Eberz (HAW) 7.33
HEAT 2: Natalie Wunderlich (HAW) 12.10, Haley Otto (HAW) 11.07, Sally Cohen (HAW) 9.07, Puaiohi DeFries (HAW) 8.77
Men's Semifinal Results:
HEAT 1: Kaniela Stewart (HAW) 14.76, John Michael Van Hohenstein (HAW) 10.13, Kala Willard (HAW) 9.97, Ethan Speitz (HAW) 9.37
HEAT 2: Kai Sallas (HAW) 14.93, Michael Van Hohenstein (HAW) 12.50, Tristan Schrager (HAW) 11.43, Kaimana Domen (USA)
Women's Quarterfinal Results:
HEAT 1: Sophia Culhane (HAW) 15.40, Keani Canullo (HAW) 12.83, Sive Jarrard (ASU) 7.90, Melisange Ouellet Beaucaire (USA) 3.64
HEAT 2: Alana Johnson (HAW) 12.67, Bella Eberz (HAW) 9.27, Megan Godinez (HAW) 9.16, Nique Miller (USA) 8.27
HEAT 3: Haley Otto (HAW) 13.33, Natalie Wunderlich (HAW) 11.73, Tiki Willis (HAW) 9.07, Joie Kalu (HAW) 6.80
HEAT 4: Sally Cohen (HAW) 12.26, Puaiohi DeFries (HAW) 12.06, Luluhia Blomfield Kane (HAW) 10.07, Julia Okoda (HAW) 6.43
Men's Quarterfinal Results:
HEAT 1: Kaniela Stewart (HAW) 16.56, John Michael Van Hohenstein (HAW) 15.50, Kaimana Banes (HAW) 10.07, Tony Brigante (HAW) 8.04
HEAT 2: Ethan Speitz (USA) 11.40, Kala Willard (HAW) 11.00, Keone Young (HAW) 10.13, Ty Roach (USA) 7.10
HEAT 3: Tristan Schrager (HAW) 12.77, Kaimana Domen (USA) 10.76, Sean Louis (HAW) 7.73, Hans Vandervoort (HAW) 6.57
HEAT 4: Kai Sallas (HAW) 15.57, Michael Van Hohenstein (HAW) 10.70, John Pitzer (HAW) 9.80, Yoshiaki Uchimura (JPN) 7.60
Men's Round of 24 Results:
HEAT 1: John Michael Van Hohenstein (HAW) 15.57, Ty Roach (USA) 10.46, Justin Marriott (USA) 9.90, Jacob Dipaola (HAW) 5.33
HEAT 2: Keone Young (HAW) 11.67, Kaimana Banes (HAW) 9.84, Eizen Grace (HAW) 9.54, Kevin-Jerome Neal (HAW) 5.63
HEAT 3: Hans Vandervoort (HAW) 13.50, John Pitzer (HAW) 12.80, Zachary Newton (HAW) 11.93, Micah Desoto (HAW) 10.80
HEAT 4: Michael Van Hohenstein (HAW) 11.60, Tristan Schrager (HAW) 9.36, Tama Shimabukuro (HAW) 9.10