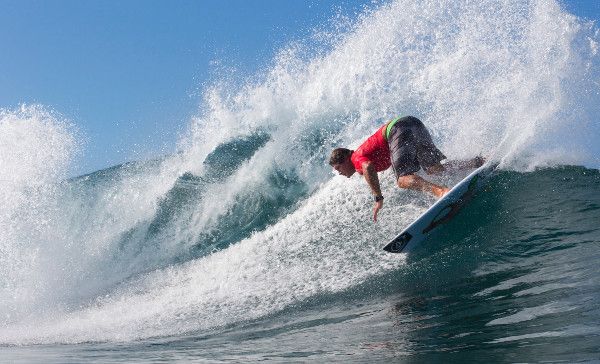 And  TOP NAMES ADVANCE! Like Kai Mana Henry (Haleiwa) was in powerful form at the Local Motion Surf Into Summer QS1,000 today. Image Courtesy: WSL/Manulele
Two more long period SSW episodes slowly fill Saturday into Sunday. NE Trades pick up a notch. It's going to be good. Real good!
Location:   
Ala Moana Bowls, Honolulu, Hawaii
Dates & Rating
Friday May 22 & Sunday May 24
WSL Men's QS1,000
HONOLULU  (Friday, May 22, 2015):
Iconic Ala Moana Bowls returned to the WSL Hawaii schedule today with the Local Motion Surf Into Summer. Great waves in the 3 to 4 foot range offered the perfect stage for local professionals to battle it out for valuable ratings points. A QS1,000 rated event, 112 of Hawaii's best turned out in force today.Haleiwa's Eala Stewart posted the highest wave score of the day in the Round of 96 – a near-perfect 9.5, to narrowly edge ahead of Kekoa Bacalso (Honolulu). Both advanced from the four-man heat.Waves were a little inconsistent but offered high scoring potential on the better rides of the day. A light onshore breeze made conditions trickier, causing the wave sections to reel off faster over the shallow reef.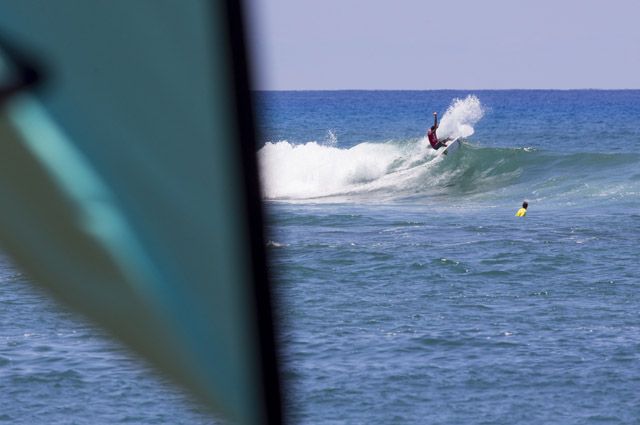 Eala Stewart © WSL/Manulele
One of the standouts today was 16-year-old Cody Young, of Makawao, Maui. This is only the second professional event of Young's career, making every wave a key learning and competitive experience.
"You have less pressure when you're younger going into the events so you can kind of let loose," said Young. "That's always a little bit of an advantage. But then everybody's really good and everybody knows how to surf under pressure, so it's like you just kind of go for it."
Other standouts today included: Kai Mana Henry (Haleiwa); Ulualoha Napeahi (Big Island); Elijah Gates (Makakilo); and defending event champion Jason Shibata (Honolulu).
"It's Ala Moana Bowls and it's fun to be out there with only four guys out," said Napeahi, one of Hawaii's top up-and-coming juniors. "On a regular day you've got all the locals and it's a pack of 100. We are really fortunate to be competing in an event here.
"This is amazing, especially for people in Hawaii that want to qualify for the HIC or any of our regional contests," Napeahi added. "It's a (QS1,000) and it's a start and I feel that, yeah this is great, I'm stoked to be a part of it."
Tomorrow will see the amateur divisions of the Local Motion Surf Into Summer take to the water, with the pros returning to battle it out for their title on Sunday. Monday will be the conclusion of the amateur divisions, with new names to join the winner's list as the event moves into its fourth decade.
Results follow below…
For more information:
Lauren Rolland (808) 651-8248
lauren@freesurfmagazine.com
ROUND OF 112 – 1st and 2nd advance, 3rd=97th place, 4th=105th place (all surfers from Hawaii unless noted). Surfers shown in order of 1st thru 4th
H1: Sheldon Paishon; Finn McGill; Alex King; Kaisho Kato (JPN)
H2: Levi Gonzales; Flynn Novak; Keoni Nozaki; James Fazio (USA)
H3:  Kai Mana Henry; Micah Moniz; Macy Mullen; Cassidy Kuakini
H4: Rainos Hayes; Nick Mita; Edrick Baldwin; Keoni Picollo
H5: Kaoliopuuwai Kahokuloa; Cody Young; Davin Torres-Jaime; Jason Magallanes
H6: Keijiro Nishi (JPN); Lance Gruver (USA); Brandon Kuakini; Logan Bediamol
H7: Barak Maor; Gavin Sutherland; Shinpei Horiguchi (JPN); Wyatt McHale
H8: Sean Moody; Ha'a Aikau; Kainoa Haas; Alex Pendleton (USA)
ROUND OF 96 – 1st and 2nd advance. 3rd=65th place, 4th=81st place
H1: Sheldon Paishon; Allen Schuyler; Kai Awada (JPN); Myles Laine-Toner (USA)
H2: Takayuki Wakita; Cody Canzoneri (USA); Finn McGill; Jud Lau
H3: Robson Santos (BRA); Kahea Hart; T.J. Barron; Levi Gonzales
H4: Kekoa Bacalso; Flynn Novak; Laka Burgess, Joao Marco Maffini
H5: Kai Mana Henry; Kamalei Alexander; Cole Yamakawa; Love Hodel
H6: Mikey Bruneau; Gregg Nakamura; Noa Mizuno; Micah Moniz
H7: Eala Stewart; Derek Wong; Daiki Tanaka (JPN); Rainos Hayes
H8: Nick Mita; Kelson Lau; Chandler Norton (USA); Mike O'Shaughnessy (USA)
H9: Kaoliopuuwai Kahokuloa; Teppei Tajima (JPN); Barron Mamiya; Taichi Wakita (JPN)
H10: EJ Mitsui; Myles Padaca; Cody Young; Frank Chenault (USA)
H11: Jonah Morgan; Keijiro Nishi (JPN); Ezra Sitt; Liam McTigue
H12: Tereva, David (PYF); Dylan Kowalski (USA); Lance Gruver (USA); Alex Utal
H13: Ulualoha Napeahi; Elijah Gates; Derek Ho; Barak Maor
H14: Jason Shibata; Gavin Sutherland; Shayden Pacarro; Nic Hdez (USA)
H15: Sean Moody; Mitchell Salazar (MEX); Dege O'Connell; Chris Foster
H16: Kaulana Apo; Kain Daly; Ha'a Aikau; Nolan Rapoza (USA)
ROUND OF 64 – 1st and 2nd advance. 3rd=33rd place, 4th=49th place
H1: Joshua Moniz; Sheldon Paishon; Cody Canzoneri; Kylen Yamakawa
H2: Shun Murakami (JPN); Keoni Yan; Schuyler Allen; Takayuki Wakita
H3: Robson Santos (BRA); Makai McNamara; Reo Inaba (JPN); Flynn Novak
H4: Kiron Jabour; Kahea Hart; Isaiah Moniz; Kekoa Bacalso
H5: Kai Mana Henry; Kaimana Jaquias; Kaishu Tanaka (JPN); Gregg Nakamura
Heats 6&7 results unavailable at time of issue.
Aloha!