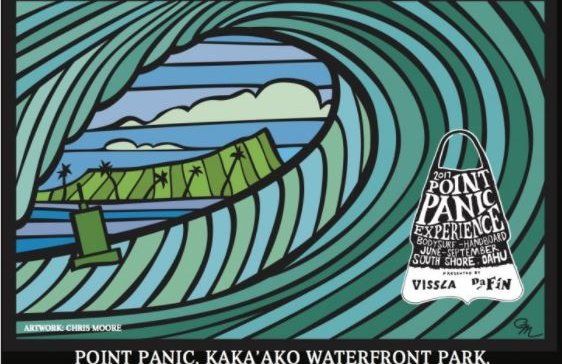 ….Present the annual Point Panic Beach Clean UP May 20th
Dear body-surfers, friends, family and Point Panic enthusiasts!
With assistance from VISSLA, DaFin, Hawaiian South Shore & Sustainable Coastlines Hawaii, we are proud to announce the annual POINT PANIC CLEAN UP will take place on Saturday, May 20th from 8:30am till 11:30am. See flyer for details.  Please Share via email, facebook, instagram, twitter, etc.
This annual effort has proven to be the MOST significant community contribution to this location known for being the best bodysurfing wave in the world!  We will continue this effort to remove discarded plastics, styrofoam, cigarette butts, bottle caps, and other type of litter from this beautiful scenic location so that ALL people can enjoy this special place in Kaka'ako.
This year, we will attempt to do our very best in removing the invasive "khaki" weeks also known as the evil KUKU weeds that are very painful to step on bare-footed (if you've lived in Hawaii for a while, you know EXACTLY what weed I'm talking about!).  Please bring with you a weeder or old screwdriver from home and gloves so that we, together, can remove ALL of these hazardous weeds in the area between the point panic shower and the Hawaiian garden area and possibly beyond.
If you have any rakes, dustpans, brooms, etc. please bring them with you also so we can do a fast, effective and efficient cleanup and don't forget to bring your fins!
Aloha!
Dave Kelly @ Hawaiian South Shore