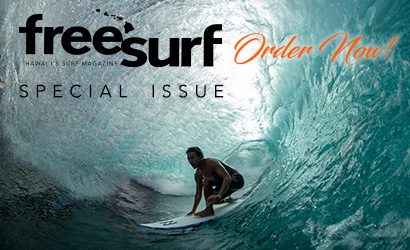 FreeSurf Magazine Special Edition
If there's one thing every dedicated surfer knows how to do, it's go with the flow and make adjustments "down the line."
Freesurf Magazine has been reporting from the front-line of surfing's mecca – the North Shore of Oahu – since 2002.
Nearly 20 years on, Freesurf is proud to be North America's only full color glossy, monthly surf mag.
As the birthplace of surfing, Hawai'i is the cultural torchbearer of our pastime.

It is our privilege to share with the world, the stunning photography and features that come from these sacred shores.
And, it has always been totally FREE.
With this unprecedented challenge, change and sacrifice must be endured on many fronts. As much as this crisis has been exacerbated by uncertainty, one thing has been made clear – working together is the only path forward.
In that spirit – through these trying times we hope to continue to tell the stories and share the beautiful images that help to define our sport, and we can only do it with your help.
For the first time, FreeSurf is offering a special collector's edition issue for purchase.
A high-gloss, perfectly bound, 132 page ode to the very best of FreeSurf Magazine.
Mahalo for your loyal readership and help in keeping the Stoke Alive!