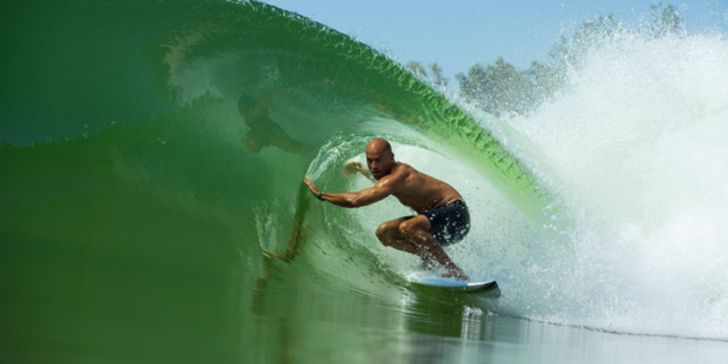 KELLY SLATER PARTNERS WITH OMAZE TO OFFER FANS THE FIRST EVER OPPORTUNITY TO SURF HIS WAVE
–  A ONCE-IN-A-LIFETIME TRIP TO HIS SURF RANCH WITH TOP PROS AND PERFECT WAVES TO BENEFIT WSL PURE

LOS ANGELES, California/USA (Thursday, August 11, 2016) – Today, pro-surfing legend Kelly Slater and Omaze are proud to announce the launch of a fundraising campaign to offer fans the chance to win an opportunity to surf Kelly Slater's wave, which is not open to the public. For ten years, Slater worked to fulfill his lifelong dream of creating the perfect wave. Now that his dream is a reality, he is opening the doors of his Surf Ranch for the first time to one lucky fan and their guest for a weekend surf getaway unlike any other.
One winner and their guest will experience two days and two nights of perfect waves, BBQ's and bonfires with Kelly and his closest friends at Kelly Slater Wave Company's Surf Ranch in Lemoore, California. Fans can enter for the chance to win their golden ticket to surf Kelly's exclusive wave for as little as $10 through Omaze. Funds raised benefit WSL PURE, the philanthropic initiative of the World Surf League, dedicated to supporting ocean health through the key areas of research, education and advocacy. Every donation gives you a chance to hang with the greatest surfer of all time, while supporting critical efforts to help heal the world's oceans.
Watch Kelly share a sneak peek of what the winner can expect here!
"I've had more requests than any one person can field or imagine about the Surf Ranch," said 11-time World Champion Kelly Slater. "I am excited to be giving away the chance of a lifetime to whoever wins these tickets. I'm inviting a few pros to join us.  So the winner will get to come hang at Surf Ranch for a few days and share waves and get tips from some of the best surfers in the world.
"This promotion between Kelly Slater and WSL PURE gives surf fans a chance to indulge in two of their greatest passions: surfing and protecting the environment," said Scott Hargrove, Chief Marketing Officer for the World Surf League. "By joining forces, we hope to raise significant awareness and funds to support ocean health and research, and develop programs that will create the next generation of ocean advocates, making the oceans healthier for future generations."
"We are thrilled at the opportunity to work with Kelly Slater again and WSL PURE for the first time," said Matt Pohlson, Omaze Co-founder and Co-CEO. "Kelly is one of pro-surfing's all time greats, and this golden ticket opportunity truly speaks to Kelly's commitment to providing an unbelievable experience for one lucky winner at his Surf Ranch, an opportunity previously reserved for his inner circle. Through this campaign, we're also honored to be supporting the mission of WSL PURE as they continue their work to protect our oceans."
The Grand Prize includes:
Two days and two nights at Kelly Slater's Surf Ranch where you will get the full experience of a surf trip with top pros and perfect waves
Days filled with surfing, BBQ's, bonfires, and the chance to hang with Kelly Slater and his closest friends
The campaign closes on September 12 at 11:59PM PST.
To learn more about the campaign, WSL PURE and to enter for your chance to win, visit  Omaze.com/Kelly.
ABOUT OMAZE
Founded by writer/filmmakers and friends from college, Matt Pohlson and Ryan Cummins, Omaze is an experience-driven fundraising platform that leverages the power of storytelling and technology to radically change charitable giving. Since launching in 2012, Omaze has impacted more than 125 charities and received donations from over 175 countries. For more information visit omaze.com.
About WSL PURE
The philanthropic arm of the World Surf League, WSL PURE is a nonprofit that's dedicated to improving the health of the planet's oceans—a cause relevant to all of us. The ocean contributes immensely to our global experience, directly affecting issues like climate change, global weather, and the entire ecosystem. With greater understanding and respect for the environment, we can improve that experience for generations to come.
WSL PURE has partnered with the Lamont-Doherty Earth Observatory and the School for Professional Studies at Columbia University, and is currently focusing on four research projects, which will increase scientists' ability to predict extreme weather events and subsequently reduce the effects and costs associated with them: Oceans & Climate; Ocean Health and Ecosystems; Carbon Uptake and Ocean Acidification; and Sea Level Rise and Coral Reefs. By creating a generation of ocean enthusiasts, WSL PURE aspires to empower global citizens to become more engaged in finding real-world solutions to ocean health.