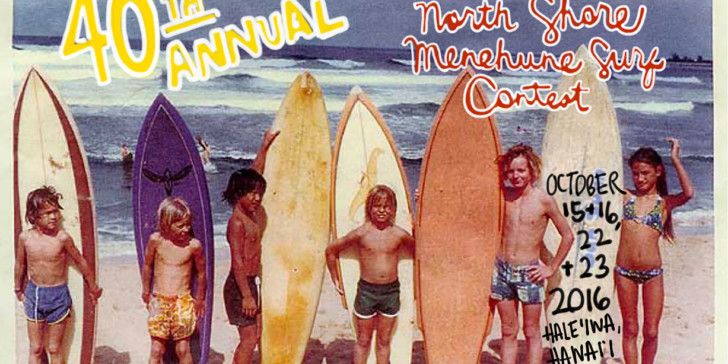 IMPORTANT CONTEST DAY INFO:
The decision will be made at 7:00am each morning on which divisions will run.
Our main concern is to have the safest conditions for each age group.
Parents can check hotline at 808-637-ALII and the SNN Hot surf hotline 596-SURF
It will also be posted at the beach.
JUDGING GUIDELINES
SHORT BOARDS
First off, know that children who are actually riding boards that are short for them (they fit under their arms, and are only 6 inches or so over their heads) will automatically be judged on a higher scale due to the much higher degree of difficulty. Length of ride will not judge very high unless accompanied by turns, and of course the more difficult the move, the higher the score. So if a child does one big short board move, they will score higher than another who rides longer but who does not do any high-quality moves.
LONG BOARDS
Turns are worth points, and even any changing of direction will help. Walking the board is an excellent move, which will be judged higher if they are cross stepping. Also know that walking to the nose and sinking out of the wave is not a completed move. They will get a little bit for that, as with any walking, but actually walking back and continuing surfing the wave will score much higher.
Please realize that in some heats all surfers are basically doing the same thing, sometimes all on the same wave, and the judges need to separate them somehow. We do this to the best of our ability, sometimes having to break it down to who was popping up instead of climbing to their feet, catching an unbroken wave opposed to the white water, and sometimes it may even come down to style and the comfort they show as they are riding. Catching a wave on the outside will be worth more points than basically the same ride that begins with a white water take-off.
Please bear with us, as at times it is virtually impossible to separate four little children at the same ability level riding straight into the beach. No offense! They are tiny and are amazing and it is extremely painful for us to eliminate any child, but, unfortunately, it is necessary.
DROPPING IN ON OTHER SURFERS
There will be no enforcement of the drop-in rule in the youngest divisions. In the other divisions the rules will be loosely enforced. What this means is that only if a majority of the judges deem that a rider has interfered with the scoring potential of another surfer's ride will an interference be called.
Please be positive and happy no matter how you or your child finishes overall. Remember that this contest is for fun, and that all of us are volunteers who are sincerely doing our best.