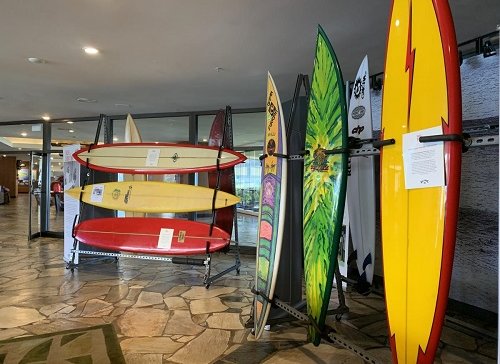 FOR IMMEDIATE RELEASE
KAHUKU, Oahu, Hawaii, March 5, 2020 – Turtle Bay Resort will be hosting legendary shapers and surfers at a one-night only Talk Story event to mark the end of its Billabong Pipeline Masters Salute to Shapers exhibit.
From 5:00-6:30 p.m. on March 10, shaper and surf legends will share the history, design and master skills behind the equipment critical to riding the Banzai Pipeline. There will also be photo opportunities for attendees with the legends.
The Talk Story event will feature some of the world's most prominent shapers including Bill Barnfield,  Eric Arakawa, Jon  Pyzel and Dennis Pang. Also attending are surf legends Jock Sutherland, Ricardo Pomar, and legendary photographers Jim Russi, Brian Beilman, and filmmaker Curt Mastalka.
Curated by the president of the California Surf Museum, the Billabong Pipeline Masters Salute to Shapers exhibit consists of 21 of the most famous boards ridden at Pipeline. The stories around these boards and the surfers who rode them will come to life through the discussion at the Talk Story event.
"These shapers are iconic figures in surfing," says Jim Kempton, a former Surfer Magazine publisher & editor who curated the exhibit. "To the surfing world, shaping a board for one of the Pipe Masters is one of the pinnacles of the sport; an honored achievement that sets a shaper in a special, elite class."
The Talk Story event will be held 5:00-6:30 p.m. at Surfer the Bar at Turtle Bay Resort. Free to the public. For more information, contact the Guidepost at Turtle Bay Resort at 293-6020.