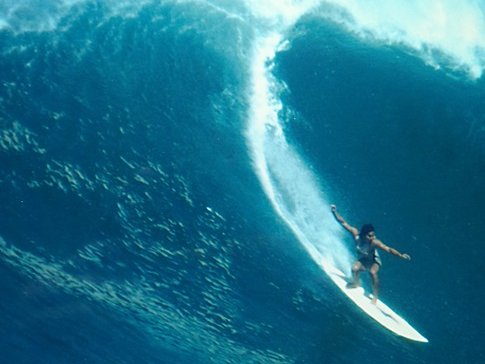 Hawaii's Big Wave Warrior, former world tour #4 performer, and influential shaper, Reno Abellira (71), is reportedly on life support after being attacked at the Ala Moana Beach Park last week.
As of last Sunday, he was still unconscious after being beaten at Ala Moana Beach Park (he's been battling homelessness, too).
Reno's life has been wild and full…with ups and downs. But his impact will always remain high as the waves he rode. Our Thoughts and Prayers are with Reno and his family. SNN
Front page: PHOTO: Waimea Bay. Photo courtesy of Dan Merkel.
In a 1979 profile by Phil Jarratt he is described as "oh, five-feet-seven, muscle-toned and slim of hip.
He dresses elegantly and carries himself with what his friends call confidence and his enemies call arrogance.
On a recent trip to the mainland he had his thick black hair permed and it now falls in ringlets around his face and sets off his well-trimmed mustache.
He's a bit of a dandy and he could teach most surfers a thing or two about color coordination.
He speaks softly, and when he's not smiling, he appears to be frowning.
There is no middle ground. You hear Reno described as arrogant, aloof and intense. He's all of that, but he's also a warm and genuine human being with a positively wicked sense of humor and a streak of dementia deep within.
He is sometimes misunderstood.
There are surfers who have associated with him for years but confess they don't really know or understand him.
By his own admission he is "a complex person."
ENCYCLOPEDIA OF SURFING
Matt Warshaw's 2003 "Encyclopedia of Surfing,": Abellira began surfing at age 4 in Waikiki, but didn't get his first board until he was 11 years old.
Abellira won the 1966 Hawaiian Noseriding Contest, the state's first professional surfing event, and the juniors division of the Makaha International in 1966 and 1967, and later became Hawaii's juniors division champion in 1968, making his international debut in the World Surfing Championships in Puerto Rico that year as well.
Abellira won Hawaii state titles in 1970 and 1972, starred in the innovative Expression Sessions of 1970 and 1971 and "beat fellow Hawaiian Jeff Hakman by a fraction of a point" to win the 1974 Smirnoff Pro, "held in cataclysmic 30-foot surf at Waimea Bay," Warshaw wrote.
For more on Reno go Surfing Walk of Fame HERE
View this post on Instagram
Reno Abellira Hawaiian Legend & Master Surfboard Shaper