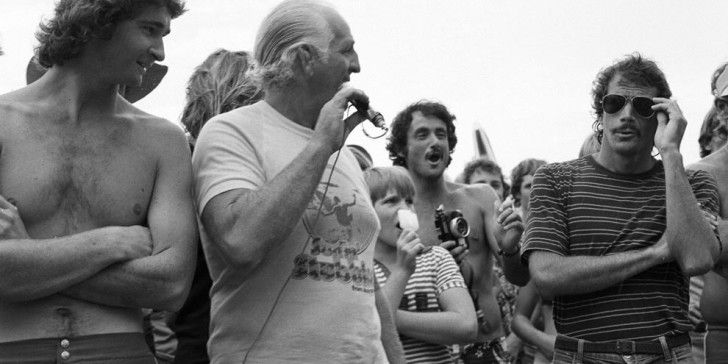 Front page Photo: Dan Merkel/A-Frame: Lord "Tallyho" Blears declares Michael Peterson (right) the winner as Mark Richards looks on. 1977.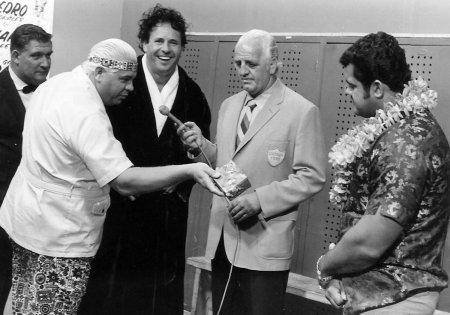 A legend in the world of professional wrestling and a surf contest announcer for many years passed away last Thursday March 3rd.
James "Lord Tally Ho" Blears died in peace at Kuakini Medical Center.
He always had fun and always had a smile. He shared this for decades behind the mic and even became referred to as "The voice of Hawaiian Surfing". The 250lb Jolly Giant was surely one of the world's stand out characters, in and out of the surfing world.
Blears also appeared in the "Endless Summer Surf" movie in the late '60's.
Blears was also  a wrestling announcer on KGMB for many years.
He was also a war hero!  Blears had been captured by the Japanese in World War II before escaping by swimming to safety.
"Lord Blears was my best friend and partner in business for many years in Hawaii," Ed Francis said. "We made some amazing memories together. I would say, 'What are we gonna do next week at the HIC, Lordy?' and he always had an answer. He was a war hero, showman and great gentleman. And I just know that he's planning the next main event right now. My love to his family. See you again, my friend."
He was 92 years old.
From his dear lifetime friend….
"I just wanted to post today about the passing of a very dear family friend of the Francis family. My friends in Hawaii will know him as well, as he was a very well known figure in Hawaii since the late 1950's. This past Friday, March 5th, we all lost Lord James Blears ( AKA "Tally Ho") he was 92 years old .
Lord "Tally Ho" Blears was a professional wrestler and an announcer for my father's 50th State Big Time Wrestling promotion in Hawaii during the 1960's and 1970's. He was a bigger than life figure, and everyone who grew up in Hawaii in the 1960's will remember him well. His son, Jimmy Blears, was the World Surfing Champion in 1972. His son Clinton, and daughter Laura, were also very talented surfers.
Lord Blears was also a WWII war hero ( something alot of people may not know). His ship was torpedoed by a Japanese submarine, which sunk his ship. All the survivors of the attack were brought aboard the Japanese submarine and were beheaded by the Japanese sailors. However, Lord Blears managed to escape certain death by jumping into the ocean, while handcuffed to a fellow sailor. The Japanese opened fire with rifles into the water….. but he swam deep to avoid the bullets. He got away with his life… and clung to the wreckage of his ship for 3 days until he was rescued. I remember him personally recounting this story to me back in 1978, when I was about `15 years old. I remember being wide eyed and stunned to hear such a fantastic story. That story has even more meaning today, after his recent passing 2 days ago.
Myself and my family would like to extend our most sincere thoughts and payers in this most trying time of grief. All our love and Aloha to the Blears family…. from the Francis family. Love you folks". Ed Francis Jr.
Here's some vintage Lord Tally Ho!

Some deeper info on our Hawaii treasure HERE