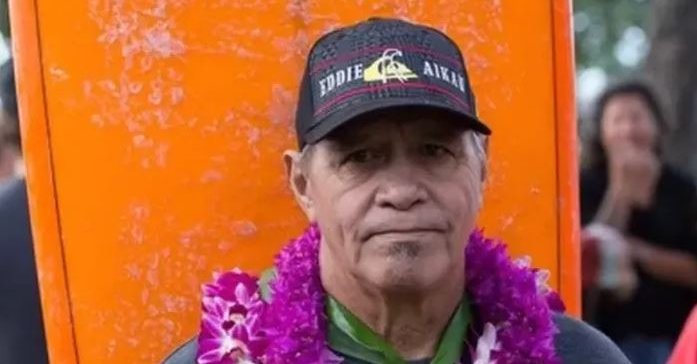 "Brah, I need a million of them (prayers)" Clyde Aikau… June 23rd.
It's going to take weeks of care and rehab in Vegas.
But Clyde will make it home with his son Ha'a -and others- by his side.
Though now, the Icon at 73 won't be doing everything he used to.
Clyde was on a business trip at a Hawaii convention at Westgate Las Vegas Resort and Casino. It was after finishing a meal at a restaurant he collapsed.
It was a potentially life-threatening aneurysm in his aortic valve. An aortic aneurysm is an abnormal bulging or ballooning of the aorta, the largest artery in the body.
If it ruptures it leads to severe internal bleeding, eight out of ten don't survive…Gnarly.
As you can imagine the unexpected medical bills will be staggering. Hopefully you can help in any way. Mahalo. SNN
Some of the many donors: Kelly Slater with $1,000; Shaun Tomson $500; and the most recent winner of the 2023 Eddie Aikau Big Wave Invitational, Luke Shepardson gave $250.
For decades now, Clyde has been a pillar in the Hawaiian surf community, organizing the famed Eddie Aikau Big Wave Invitational at Waimea Bay in honor of his late brother Eddie.
Back in 1986, he won the contest. And he surfed in the event up until 2016 at 66 years old, still charging hard with the best big wave riders in the world!
FOR CLYDE'S GOFUNDME PAGE PLS GO HERE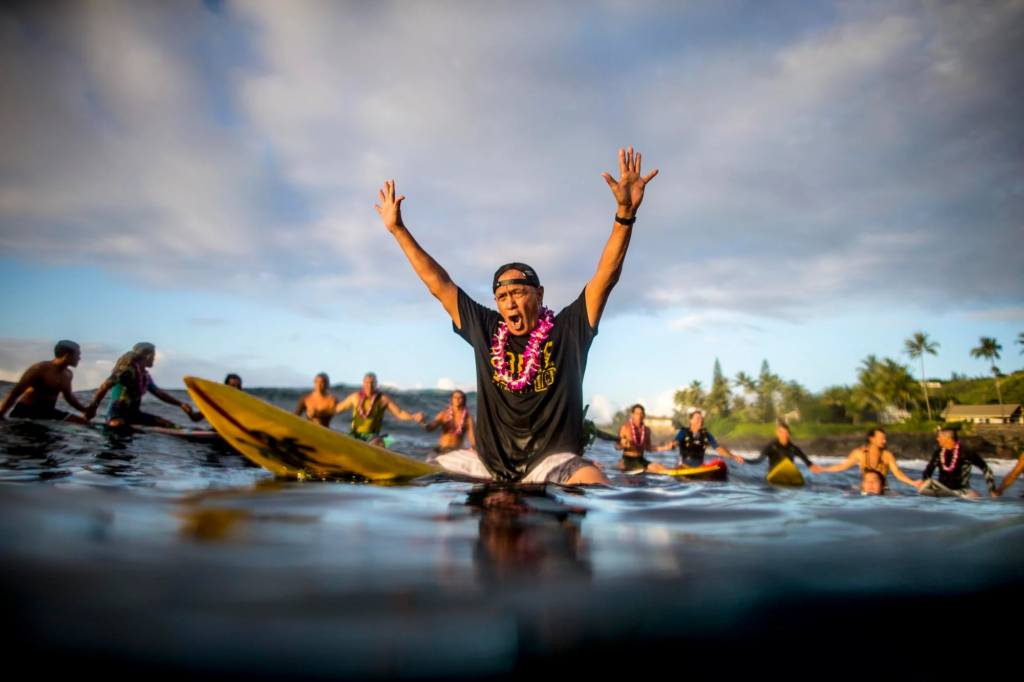 Honoring for decades his older brother Eddie. Image: Zak Noyle
Aloha, on behalf of the Aikau Ohana we would like to ask for your help to cover some overwhelming medical bills as Uncle Clyde recovers from Open Heart surgery in Las Vegas.
For those of you who don't know what happened, last week while on a work trip at a Hawaii convention at the Westgate in Las Vegas…
Uncle Clyde collapsed shortly after leaving a restaurant that night. After being taken to the hospital they found an Aneurysm in his Aortic Valve.
A blessing in disguise that they caught it, but that discovery led to an Emergency Open Heart Surgery.
Uncle Clyde is currently recovering in a hospital in Las Vegas.
As you can imagine these medical bills are already piling up, we still need to get him home, and we don't know when he will be able to return to work.
Please help us support The Aikau Ohana Financially here! Anything helps (June 24).