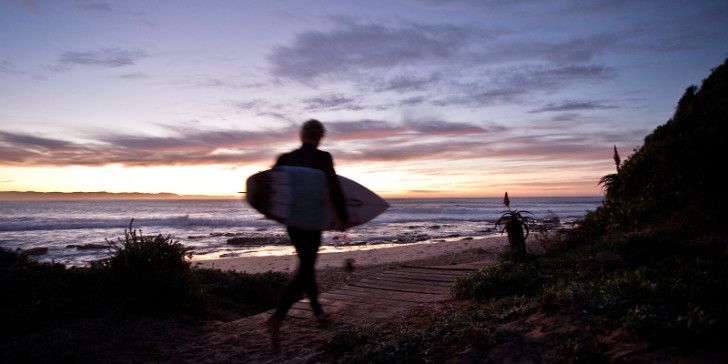 We may need to wait several days with windswell and onshores expected. But eventually Jeffreys Bay will play host to the world's best surfers at the J-Bay Open. Image: WSL / Cestari
The contest gets going on nite in Hawaii as S. Africa is 12 hours ahead.
| | |
| --- | --- |
| Location:    | Jeffreys Bay, South Africa |
| Holding period: | July 8 – 19, 2015 |
| Call: | Lay day, next call 7:30 a.m. tomorrow |
| Conditions: | Small and declining surf |
JEFFREYS BAY, South Africa (Wednesday, 8 July, 2015) – A lay day has been called at the J-Bay Open, stop No. 6 on the 2015 Samsung Galaxy World Surf League (WSL) Championship Tour (CT), with only small and declining surf on offer at Jeffreys Bay.
"There are some small waves today, leftovers from that East windswell that we had, but it's faded away and the wind hit pretty hard this morning," Kieren Perrow, WSL Commissioner said. "We won't be running any heats today and we'll be off for the day. We'll come back tomorrow morning but we have a tricky few days ahead as the winds aren't look favorable".
When competition commences, up first will be Taj Burrow (AUS), Michel Bourez (PYF) and Brett Simpson (USA) in the opening heat of Round 1.
Event organizers will reconvene tomorrow morning to assess conditions and make the next call.
A mix of swells from a variety of directions and swell periods will prevail during the first few days of the waiting period. Wind will be favorable on Wednesday before turning onshore Thur/Fri. We'll be watching for new, mid-size SW groundswell later in the coming weekend and early into the following week with a period of more favorable wind possible. Surfline.
The world's best surfing will also be broadcast LIVE on Fox Sports in Australia, MCS Extreme in France, EDGE Sports in China, South Korea, Malaysia and other territories and on Globo TV in Brazil.
J-Bay Open Round 1 Match-Ups:
Heat 1: Taj Burrow (AUS), Michel Bourez (PYF), Brett Simpson (USA)
Heat 2: Julian Wilson (AUS), Miguel Pupo (BRA), Alejo Muniz (BRA)
Heat 3: Owen Wright (AUS), Kai Otton (AUS), C.J. Hobgood (USA)
Heat 4: Filipe Toledo (BRA), Adam Melling (AUS), Dane Reynolds (USA)
Heat 5: Mick Fanning (AUS), Matt Banting (AUS), Tomas Hermes (BRA)
Heat 6: Adriano de Souza (BRA), Kolohe Andino (USA), Slade Prestwich (ZAF)
Heat 7: Josh Kerr (AUS), Sebastian Zietz (HAW), Dusty Payne (HAW)
Heat 8: Kelly Slater (USA), Matt Wilkinson (AUS), Glenn Hall (IRL)
Heat 9: Nat Young (USA), Wiggolly Dantas (BRA), Adrian Buchan (AUS)
Heat 10: Italo Ferreira (BRA), Jadson Andre (BRA), Fredrick Patacchia (USA)
Heat 11: Bede Durbidge (AUS), Jordy Smith (ZAF), Ricardo Christie (NZL)
Heat 12: Gabriel Medina (BRA), Joel Parkinson (AUS), Keanu Asing (HAW)