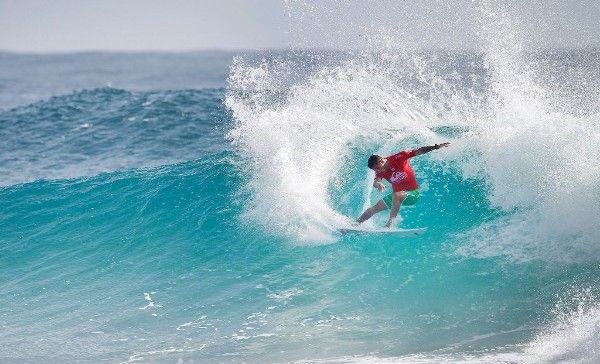 20 hours ahead of Hawaii (go out 24 hours & back 4). Eg. Comp would start 12 noon in Hawaii Monday if it started Tuesday 8am on the Gold Coast.

MORE INFORMATION AVAILABLE AT WORLDSURFLEAGUE.COM
Filipe Toledo (BRA), 2015 Quiksilver Pro Gold Coast event winner, will battle Adrian Buchan (AUS) and 2017 WSL Rookie Frederico Morais (PRT) in Round 1 Heat 10 when competition gets underway.
Credit: © WSL / Cestari
| | |
| --- | --- |
| Location:    |   Gold Coast, Queensland, Australia |
| Event window: |   March 14 – 25, 2017 |
| Today's call: |   Competition called OFF for the day |
| Conditions: |   2 – 4 foot (0.5 – 1 metre) |
COOLANGATTA, Queensland/AUS (Tuesday, March 14, 2017) – The world's best surfers have arrived on the Gold Coast of Australia for the first event of the 2017 World Surf League (WSL) Championship Tour (CT) season, the Quiksilver and Roxy Pro Gold Coast. Event officials have called the competition off for the day due to unfavorable conditions on offer, but anticipate improved conditions and increased swell toward the end of the week.
"It is great to be back here on the Gold Coast," said WSL Commissioner Kieren Perrow. "The offseason went by really fast and we are excited to get this season underway. We will not be running competition today. It is not great out there this morning. There is a lot of windswell, really short period, so the conditions are not ideal right now. We are going off for the day and will come back tomorrow morning.
"Tomorrow might still be a little average," continued Perrow. "We will monitor that throughout the day and see how those winds are going to be for tomorrow. Thursday onward is looking really good, so hopefully we will get underway on Thursday and if not then, into Friday."
Event organizers will reconvene tomorrow morning at 7:00 a.m. local time to assess conditions and make the next call.
When competition gets underway, the event will see an unprecedented number of men's and women's WSL Champions in the competitive field: Kelly Slater (USA), Mick Fanning (AUS), Joel Parkinson (AUS), Gabriel Medina (BRA), Adriano de Souza (BRA) and John John Florence (HAW) on the men's side and Stephanie Gilmore (AUS), Carissa Moore (HAW) and Tyler Wright (AUS) on the women's side.
Trials winners Nat Young (USA) and Alyssa Lock (AUS) will join Quiksilver wildcard Mikey Wright (AUS) in the event draw.
The interaction between strengthening high pressure over the Tasman Sea and a trough east of the Gold Coast will set up a prolonged run of windswell and swell through at least the first half of the waiting period. Local winds will be an issue at times this week and into the weekend but we are expecting periods of favorable conditions. Surfline.
Rising E windswell/swell mix continues to build in with improved shape/form likely compared to Tuesday and Wednesday. More size in the head+ towards the second half of the day as the trade windswell/swell develops. 
For more information, check out WorldSurfLeague.com.
Quiksilver Pro Gold Coast Round 1 Match-Ups:
Heat 1: Michel Bourez (PYF), Conner Coffin (USA), Jadson Andre (BRA)
Heat 2: Matt Wilkinson (AUS), Stuart Kennedy (AUS), Ian Gouveia (BRA)
Heat 3: Kolohe Andino (USA), Kanoa Igarashi (USA), Jack Freestone (AUS)
Heat 4: Gabriel Medina (BRA), Wiggolly Dantas (BRA), Ezekiel Lau (HAW)
Heat 5: Jordy Smith (ZAF), Miguel Pupo (BRA), Nat Young (USA)
Heat 6: John John Florence (HAW), Connor O'Leary (AUS), Mikey Wright (AUS)
Heat 7: Kelly Slater (USA), Mick Fanning (AUS), Jeremy Flores (FRA)
Heat 8: Julian Wilson (AUS), Caio Ibelli (BRA), Leonardo Fioravanti (ITL)
Heat 9: Joel Parkinson (AUS), Italo Ferreira (BRA), Joan Duru (FRA)
Heat 10: Filipe Toledo (BRA), Adrian Buchan (AUS), Frederico Morais (PRT)
Heat 11: Adriano de Souza (BRA), Josh Kerr (AUS), Bede Durbidge (AUS)
Heat 12: Sebastian Zietz (HAW), Owen Wright (AUS), Ethan Ewing (AUS)
Roxy Pro Gold Coast Round 1 Match-Ups:
Heat 1: Johanne Defay (FRA), Sally Fitzgibbons (AUS), Keely Andrew (AUS)
Heat 2: Tatiana Weston-Webb (AUS), Sage Erickson (USA), Bronte Macaulay (AUS)
Heat 3: Tyler Wright (AUS), Nikki Van Dijk (AUS), Alyssa Lock (AUS)
Heat 4: Courtney Conlogue (USA), Silvana Lima (BRA), Pauline Ado (FRA)
Heat 5: Carissa Moore (HAW), Laura Enever (AUS), Coco Ho (HAW)
Heat 6: Stephanie Gilmore (AUS), Malia Manuel (HAW), Lakey Peterson (USA)