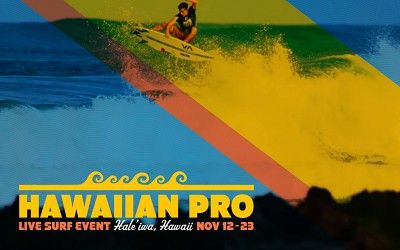 Small scale 1-2 foot NW swell is on hand at Haleiwa today, cosequently the event has been called off for the day.
The first gem of the Vans Triple Crown of Surfing – the Hawaiian Pro – runs at Haleiwa's Ali'i Beach, set for four days of competition on the best days of surf available through November 23. Haleiwa is known to throw a bag of tricks at competitors with its hollow rights, racing walls and ripple sections. Interestingly, it is a break that becomes even more challenging at smaller wave heights.
"Make no mistake," says Vans Triple Crown of Surfing Director Marty Thomas, "it's going to be challenging at Haleiwa this year. The short-range forecast predicts small surf, but that will lend itself to exciting aerial maneuvers. You can be sure that this year's Vans Triple Crown champion will most certainly be a master of every type of ocean condition the North Shore famously dishes up."
To begin the waiting period, a traditional Hawaiian pule (blessing) took place yesterday at 7:30am on the sands of Haleiwa. Athletes, crew members, organizers and onlookers gathered to pay respect to the ocean and the Hawaiian culture, and send out well wishes for a successful contest.
Surfline.com forecasts 2-3ft+ waves for Saturday and Sunday, with a reinforcing NNW swell building in the afternoon. ENE tradeswell wrap for select exposures and strong trades on tap. Confidence is slowly increasing that a medium to solid NW swell will move in for Wednesday/Thursday, with waves in the 6-10ft+ range.