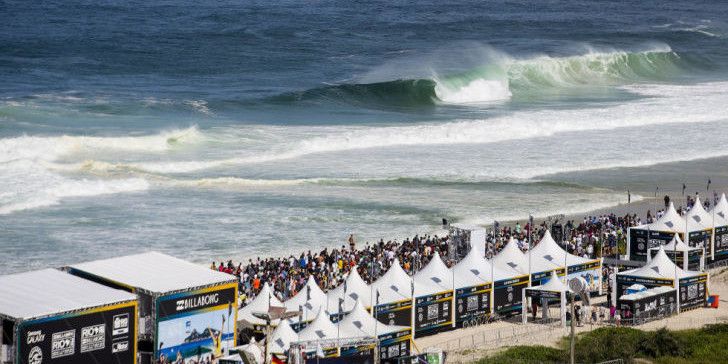 Solid barrels on offer at Barra da Tijuca for Men's Round 2 at the Oi Rio Pro.
Image:
WSL / Smorigo
| | |
| --- | --- |
| Location:    | Barra da Tijuca, Rio de Janeiro/Brazil  |
| Holding period: | May 11 – 22, 2015 |
| Call: | Men's Round 2 ON at 10am |
| Conditions: | 6 – 8 ft (2 – 2.5 metre)  |
BARRA DA TIJUCA, Rio de Janeiro/Brazil (Thursday, May 14, 2015) – Round 2 of the Oi Rio Pro has been called on this morning with the world's best surfers tackling solid surf in the six-to-eight foot (2 – 2.5 metre) range at the primary site of Barra da Tijuca.
GO LIVE HERE
The fourth stop on the 2015 Samsung Galaxy WSL Championship Tour, the Oi Rio Pro recommences at 10am this morning with the elimination Round 2.
"We've seen a lot of swell fill in over the past 24 hours with some wild conditions," Kieren Perrow, WSL Commissioner, said. "After monitoring throughout the morning, we've seen some really good waves come through and we'll be commencing men's Round 2 at 10am. Good luck to all our competitors this morning."
Up first this morning will be three-time World Champion Mick Fanning (AUS) up against David do Carmo (BRA) in the opening heat of Round 2
The Oi Rio Pro will be webcast LIVE at WorldSurfLeague.com
The world's best surfing will also be broadcast LIVE on Fox Sports in Australia, MCS Extreme in France, EDGE Sports in China, South Korea, Malaysia and other territories and on Globo TV  in Brazil.
Surfline, official forecasters for the World Surf League (WSL), are calling for:
Solid SSE/SE swell for Thursday eases on Friday and into Saturday. Winds are light during the early morning hours for Thursday through Saturday before a seabreeze develops in the late morning and into the afternoon. Leftover SE/ESE swell on Sunday drops further into the beginning of next week.
Oi Rio Men's Pro Round 2 Match-Ups:
Heat 1: Mick Fanning (AUS) vs. David do Carmo (BRA)
Heat 2: John John Florence (HAW) vs. Alex Ribeiro (BRA)
Heat 3: Taj Burrow (AUS) vs. Alejo Muniz (BRA)
Heat 4: Josh Kerr (AUS) vs. C.J. Hobgood (USA)
Heat 5: Jordy Smith (ZAF) vs. Ricardo Christie (NZL)
Heat 6: Nat Young (USA) vs. Brett Simpson (USA)
Heat 7: Julian Wilson (AUS) vs. Dusty Payne (HAW)
Heat 8: Joel Parkinson (AUS) vs. Keanu Asing (HAW)
Heat 9: Owen Wright (AUS) vs. Glenn Hall (IRL)
Heat 10: Miguel Pupo (BRA) vs. Adam Melling (AUS)
Heat 11: Kolohe Andino (USA) vs. Kai Otton (AUS)
Heat 12: Adrian Buchan (AUS) vs. Fredrick Patacchia (HAW)
Oi Rio Women's Pro Round 2 Match-Ups:
Heat 1: Silvana Lima (BRA) vs. Nikki Van Dijk (AUS)
Heat 2: Johanne Defay (FRA) vs. Alessa Quizon (HAW)
Heat 3: Tyler Wright (AUS) vs. Luana Coutinho (BRA)
Heat 4: Lakey Peterson (USA) vs. Sage Erickson (USA)
Heat 5: Malia Manuel (HAW) vs. Laura Enever (AUS)
Heat 6: Coco Ho (HAW) vs. Dimity Stoyle (AUS)
Oi Rio Pro
WSL Championship Tour Men's Event
WSL Championship Tour Women's Event
Barra da Tijuca, Rio de Janeiro, Brazil
11 – 22 May 2015
GO LIVE HERE