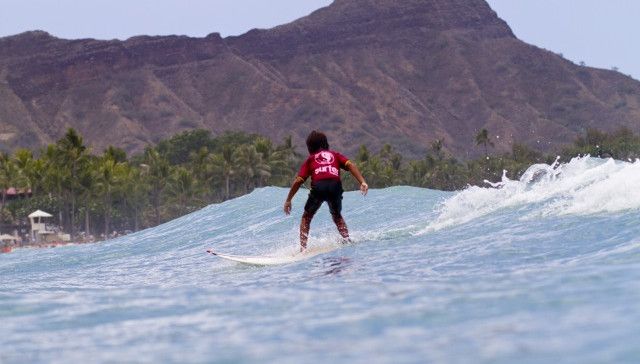 Injured sue after state tries to save eroding section of Waikiki Beach
Photo Grom surfing Waikiki during T&C contest © Tyler Rock
Surf News Network, 29 November, 2014. A man injured while surfing and another who became a quadriplegic after diving from a so-called "booze cruise" filed lawsuits against the state on Monday, blaming their injuries on a project to widen an eroding section of Waikiki beach.The state was negligent in the 2012 multimillion dollar sand replenishment project that created unnaturally shallow conditions and sandbars in areas that were previously deep, the lawsuits said.
A lawsuit by Marc Tablit, 24, said he suffered a spinal cord injury after diving off the Manu Kai Catamaran, a cruise that served him alcohol. The area where he dove from "was much shallower than it had been, something that he could not see or ascertain due to the murky unnatural quality of the ocean water there," his lawsuit said.
A separate lawsuit claims Esmond Chung, 65, suffered permanent neck and back injuries when he fell while surfing in an area that had always been deep. The lawsuit said the state ignored warnings that adding 24,000 cubic yards of sand and doing other work would negatively impact catamaran operations and surfing spots.