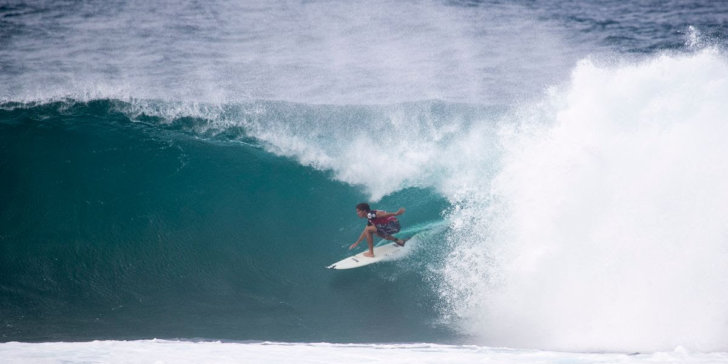 – New Swell Provides Big Day Of Competition In Testy Pipeline
– Josh Burke Finds Near-Perfection
– Makuakai Rothman Beats The Buzzer With Backdoor Bomb

Front Page: Josh Burke (BRB) found an absolute diamond in the rough to score a near-perfect 9.07 in Round 3 Heat 11. 
CREDIT: © WSL / Tony Heff
Banzai Pipeline, North Shore, Oahu, Hawaii
Volcom Pipe Pro Men's QS 3,000
Round 2 Heats 12-16, Volcom Last Chance Qualifer & Round 3 Heats 1-13
BANZAI PIPELINE, Oahu, North Shore/Hawaii (Sunday, February 3, 2019) – Conditions improved drastically for the second day of competition at the World Surf League (WSL) men's Qualifying Series (QS) Volcom Pipe Pro 3,000-level event. A new swell began filling in overnight and this morning event organizers' made an easy call to start Round 2 Heat 12 in 6-to-8 foot (10-foot, plus faces) WNW swell before moving into a full day of competition as the Pipeline lineup began to show its many different moods.

The first near-perfect score of competition was dropped in Round 3 Heat 11 by Barbados' Josh Burke on a Backdoor bomb to garner a 9.07 (out of a possible 10). The 21-year-old came to the North Shore for the first time at age 14 and that experience has paid dividends as he now tries to build a professional career in surfing. Burke also has the training ground of Soup Bowl to hone his barrel-riding and that comfort in waves of consequence proved a difference maker over the likes of former event champion Jamie O'Brien (HAW).

"I was happy to be out there by myself with priority because Jamie's (O'Brien) intimidating out there just being at his home break," Burke said. "Soup Bowl is a bit of a mix of waves out here. It's kind of like Off The Wall and Backdoor when it's clean, but can be like Haleiwa when it's windy.  It's so hard to be unprepared for this event staying at the Billabong house and the ocean right there so I'm incredibly grateful for that. You can see Pipeline a little bit from there and it makes it look a lot more scary, especially when people knife it and you only see fins through the back of the wave."

The wave gods smiled on Makuakai Rothman in his heat with a buzzer-beater.
Credit: WSL/ Keoki
Just before Burke's brilliance, Oahu, Hawaii's, own Makuakai Rothman found himself dropping into a Backdoor bomb when he needed it most in the dying seconds of his Round 3 heat and came flying out with the wave's spit surrounding him to earn an excellent 8.50 (out of a possible 10). The 34-year-old, former WSL Big Wave Champion, showed his patience and the ocean rewarded him for it
"Sunny Garcia always says if it's not an 8-point ride, don't go and I needed a 7.57 today," Rothman said. "I wouldn't say it's an easy give by the judges, but if you get a barrel and come out with the spit you're going to get the score. I knew none of those other waves that came in offered the scoring potential. I sat there waiting for my wave and if it didn't come, it wasn't my time. It's surfing, the waves choose you, they come to you and some guys are luckier than others. It came to me and I'm blessed, and tomorrow's another day."

Mikey Bruneau all smiles after winning the Volcom Last Chance Qualifier.
Credit: WSL/ Keoki
A specialty heat highlighted the early stages of day two with the Volcom Last Chance Qualifier determining the final slot into the main event and it belonged to the Big Island, Hawaii's, Mikey Bruneau. The best one-wave-take-all, single heat included the likes of WSL Champion Derek Ho along with a crop of Pipeline chargers such as Kaimana Henry gunning for the one spot into the main event, but it was Bruneau's 6.00 that took the win. While opportunities were scarce in the heat, Bruneau enjoyed the camaraderie as he now prepares to shift gears into competition.
"I just went into it wanting to have fun with my friends surfing and got that six thinking maybe it will hang on — I'm glad it did," Bruneau said. "I just tried to pick and choose. There weren't many good waves, but I saw that one wave and knew it'd have a little barrel. Basically just tried to navigate through that heat, but the rip was pretty gnarly so just stayed focused. It was super rad to be in that heat with them and it was nothing but good vibes, everyone was laughing and not competition mode. I hope we get some barreling Pipeline and I'm focused, and now it's competition mode."

From winning the Da Hui Backdoor Shootout to a Round 4 appearance at the Volcom Pipe Pro, Tyler Newton is on a roll.
Credit: WSL/ Heff
Tyler Newton proved himself as a threat before the first horn of this event sounded after taking down the 2019 Da Hui Backdoor Shootout title and brought that confidence into winning form in Round 3. The Kauai, Hawaii, native showcased his prowess for the barrel once again and earned a solid 7.33 to find himself into the top-seeded Round 4. Newton is also understanding the process and what it takes to compete at a high level which was on full display today.
"I went on the first one and the face pinched on me, but then I saw Makai (McNamara) get a right and thought I just need to wait for a good one so I was stoked it came," Newton said. "Nothing too crazy but it got the job done. It's going through phases where there is good waves and then the wind will come up, there's a rip, but that' Pipeline. I'm feeling healthy, I've been training a lot and just trying to be the best me I can. Hanging out with Ian Walsh at Nias then going to Teahupoo after and seeing the way Nate (Florence) and Koa operate is really inspiring. You have to be an athlete, it's not like when I was a kid and just going out to surf. Now it's training, being smart, boards, eating healthy – just all of that comes into play."
Event organizers will reconvene for a 7:00 a.m. HST call to determine a possible 8:00 a.m. HST start for Round 2 Heat 12.
The 2018 Volcom Pipe Pro will run on the four biggest and best days of surf within the holding period, determined by contest officials, and will be broadcast LIVE via worldsurfleague.com, the WSL app and volcom.com/pipepro. Tune into Spectrum SURF Channel for their live and replay television coverage of the 2018 Volcom Pipe Pro on digital channels 20 SD and 1020 HD across the state of Hawaii.
Fans can watch every minute of the Volcom Pipe Pro live and on-demand on Red Bull TV, available at redbull.tv or as a free downloadable app.
For more information about the Volcom Pipe Pro, visit worldsurfleague.com and volcom.com.
About Volcom
Inspired by creative spirit, Volcom was founded in 1991 and creates products for the persistent who are true to their passions. We were born to chase what we are true to. It's not that we want to… WE HAVE TO. We have a vision that turns obstacles into opportunity, a creative courage to tempt the impossible… And embrace the strange. Telling us to push further…To try again. Endlessly seeking elevation, we are all connected by this same internal force. Forever we chase that intoxicating moment when our vision is realized…The world around us goes quiet…And for brief moments, we are more than alive. Volcom, True To This.
About Red Bull TV
Red Bull TV features beyond the ordinary live events and videos featuring inspirational stories covering sports, music and lifestyle entertainment. Anytime, anywhere. Red Bull TV is available on the web, connected TVs, gaming consoles, mobile devices, and more.
The World Surf League (WSL), coordinates the annual tour of professional surf competitions including the men's and women's Championship Tours (CT), the Qualifying Series (QS), the Longboard Championships, the Junior Championships, the Big Wave Tour and the XXL Big Wave Awards.
There aren't too many complicated rules in professional surfing, but we do have a few that are worth getting to know as you watch the sport. The rules are in place to ensure the safety of the athletes, the fairness of competition and, ultimately, to promote the best surfing on the planet in the arena of live competition.
Judging and Points
Rankings
Priority
Interference
Heat restart
Doping and drug use
Below we'll describe the basics and for those who want to really dig into every detail, please feel free to download the full rulebook linked at the bottom of this page. Note the following do not apply to the XXL Big Wave Awards.
Judging and Points
Events are comprised of rounds and those rounds are made up of heats with anywhere from two-to-four surfers looking to lock in their two highest-scoring waves — both out of a possible 10 points for a possible 20-point heat total. A panel of five judges scores each wave on a scale of one to ten. For every scoring ride, the highest and lowest scores (of the five judges) are discounted and the surfer receives the average of the remaining three scores. There is no limit on the number of waves that will be scored, but the two best scoring waves (each out of a possible 10) are added together to become a surfer's heat total (out of a possible 20).
Judges analyze the following elements when scoring waves (not for Longboard or BWT Events):
Commitment and degree of difficulty
Innovative and progressive maneuvers
Combination of major maneuvers
Variety of maneuvers
Speed, power and flow
Judging scale:
[0.0 — 1.9: Poor]
[2.0 — 3.9: Fair]
[4.0 — 5.9: Average]
[6.0 — 7.9: Good]
[8.0 — 10.0: Excellent]
Rankings
After each event surfers are awarded points based on their respective placing and the better they perform, the more points they get. For example, on the Championship Tour (CT), first place gets 10,000 points, second place gets 8,000 points and so on. These points are added together to create the CT Rankings. At the end of the year, the male and female surfers at the top of the Rankings will become the WSL Champions.
Priority
The surfer with priority has the unconditional right of way to catch any wave they choose. Other surfers in the heat can paddle for, and catch, the same wave, but only if they do not hinder the scoring potential of a surfer with priority. A surfer loses priority once they catch a wave and/or a surfer paddles for but misses a wave. If two or more surfers catch a wave, the first surfer to make it to the take-off zone will get priority.
Interference
A surfer who hinders the scoring potential of a surfer with priority over them will be given an interference penalty. In most situations, this means that their heat score will be calculated using only their best scoring wave. Except for BWT, if a surfer causes two interferences during a heat they will be disqualified from the heat.
Heat Restart
Except for BWT, if no one catches a wave during the first 10 minutes of a heat then the Head Judge has the power to restart the heat.
The full Rule Book can be downloaded here.
Anti-doping Policy
The WSL's Anti-Doping Policy was instituted in 2012 and you can view it here. The policy covers use of both performance-enhancing and illicit substances and applies to surfers and their support staff. WSL tour staff are also bound by the Policy.
Drug Free Sport AXIS
Dietary supplements may contain prohibited substances and cause a positive drug test. To ensure safety and make informed decisions on supplements, please login to Drug Free Sport AXIS to review. For first-time users, please follow the steps below.
In the Organization drop down menu, look for World Surf League
Enter password WSLSupport
If you have any questions or issues, please feel free to email AXIS
About the WSL The World Surf League (WSL) is dedicated to celebrating the world's best surfing on the world's best waves through a variety of best-in-class audience platforms. The organization, headquartered in Santa Monica, is a global sport with regional offices in Australasia, Africa, North America, South America, Hawaii, Japan and Europe.

The WSL has been championing the world's best surfing since 1976, annually running more than 180 global events across the Men's and Women's Championship Tours, the Big Wave Tour, Qualifying Series, Junior and Longboard Championships, as well as the WSL Big Wave Awards. The League possesses a deep appreciation for the sport's rich heritage while promoting progression, innovation and performance at the highest levels, and in doing so crowns the undisputed Men's and Women's World Champions across all tours.

Showcasing the world's best surfing on its digital platform at worldsurfleague.com, the WSL has a passionate global fan base with millions tuning in to see world-class athletes like Kelly Slater, Stephanie Gilmore, Tyler Wright, John Florence, Lakey Peterson, Paige Alms, Kai Lenny, Taylor Jensen, Honolua Blomfield, Carissa Moore, Gabriel Medina, Courtney Conlogue and more battle on the most dynamic field of play of any global sport.

For more information, please visit worldsurfleague.com.