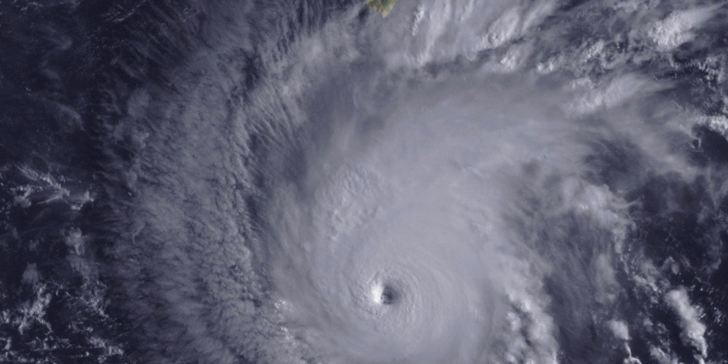 Sandy Beach at 7am was 3-5′ (this is not a big set). Reports now say it's solid 6-7'…It's going to get over 10′ tonight and Friday with a chance of 12′ way outside! (Image: Eugene Teixeira)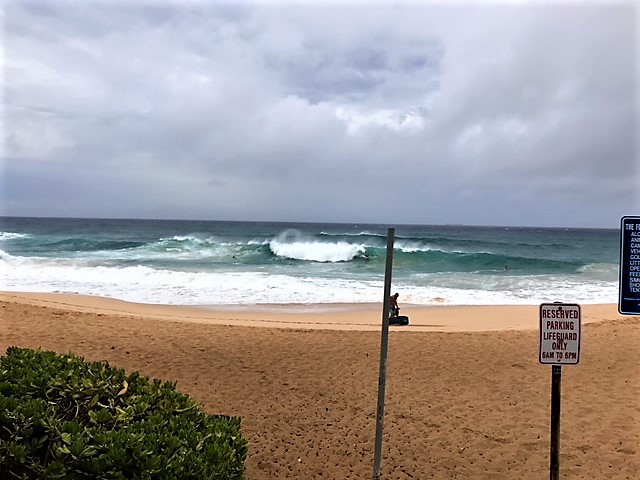 EYE OF LANE PASSES OVER NOAA BUOY 51002 (19′ swells, 10sec) AS THE DANGEROUS HURRICANE CONTINUES TO SLOWLY MARCH TOWARD THE MAIN HAWAIIAN ISLANDS 
1100 AM HST Thu Aug 23 
Maximum sustained winds: 130 MPH
Moving: NW at 7 MPH
Minimum pressure: 949 MB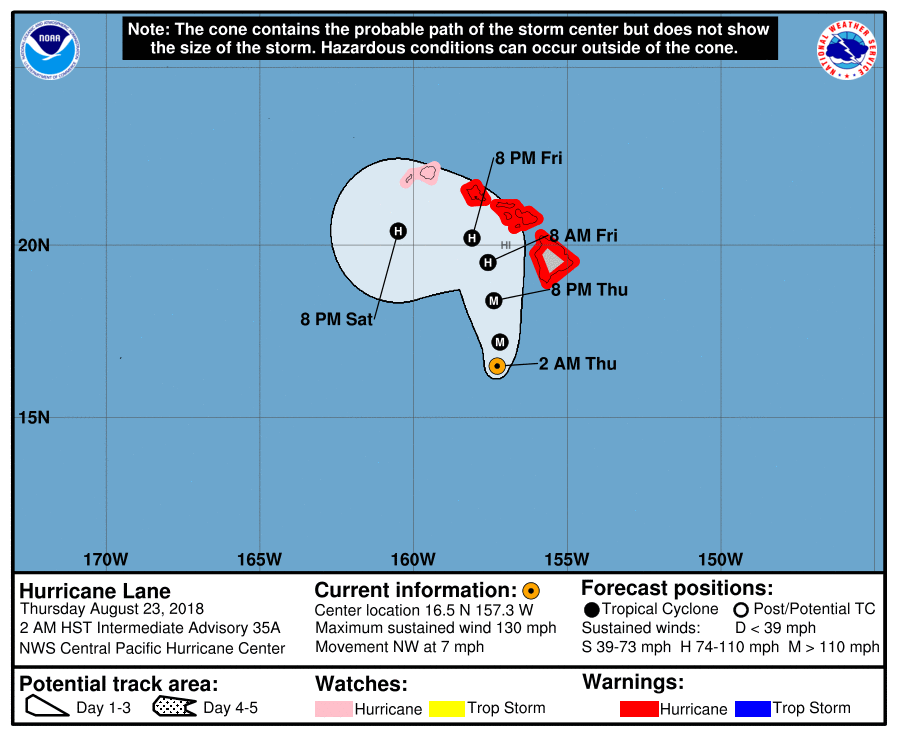 MAJOR CAT4 'LANE': Lane less than 280 miles SE of Honolulu…Forecast models are mixed. We do not know what will happen. It was supposed to be weaker based on yesterday's model runs. 
Lane has eased slightly with 130kts with gusts 160kts. It will begin to bend NW-NNW-N nearing the smaller Islands. Esp. Oahu and Kauai; it's center not likely to make landfall but this is by no means guaranteed. BE PREPARED, YESTERDAY. 
Wind shear is increasing esp. Friday and is expected to weaken the storm. This is the key. Once Lane weakens from the shear it will take a sharper turn to the West away Saturday. If it doesn't weaken it will bend more N-NNW and get too close to Oahu. Euro Models say Kauai is safer than Oahu Thnks to the West Track starting near Oahu.  
Surf is building as we write. It's up to 4-7' now for SE exposures with bigger sets later. We still expect surf to peak above the Warning Criteria of 8' Local Scale or 15' faces. Watch for possible 8-12' (15-20' crest to trough) Friday-Saturday. It will be consistent and confused storm surf which means extra dangerous. The surf will rise up the Island chain pending track of Lane.  Variation is expected on specifics of degree and timing.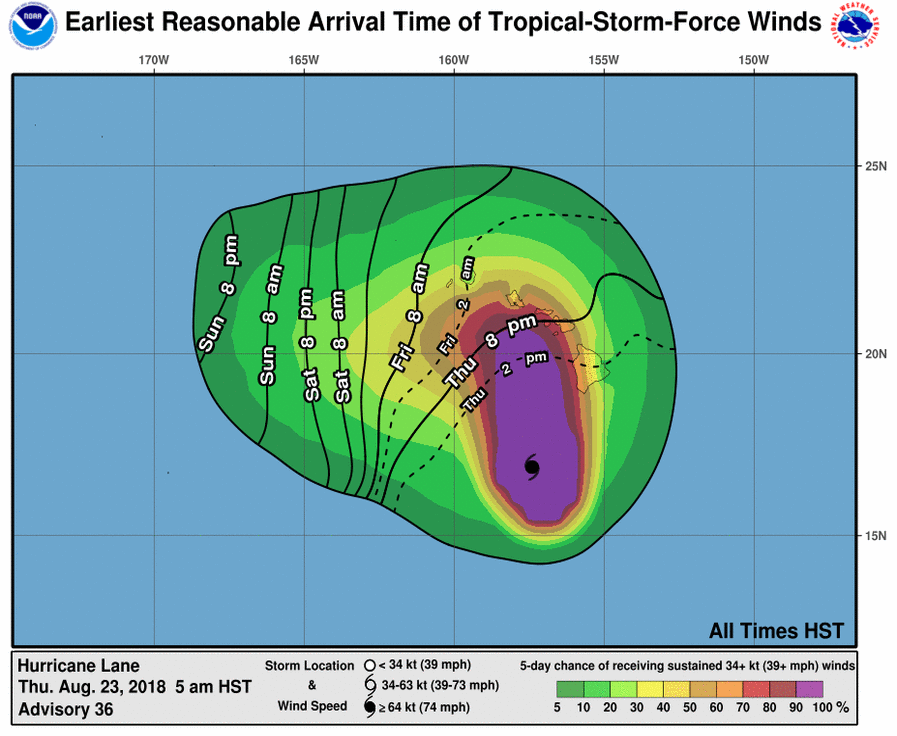 HURRICANE WARNING  FOR OAHU to BIG IS …WATCH FOR KAUAI.
DUKES OCEANFEST POSTPONED TFN.
Life-Threatening Surf guaranteed for all the Hawaiian Islands SE to South exposures (even along select adjacent shores) due to expected NW-NNW track of Lane. SNN.
High Surf Advisory (8′ minimum crest to trough or 4′ plus Hawaiian Scale) from noon Wednesday to 6 AM HST Thursday for Niihau, Kauai Windward, Kauai Leeward, Oahu South Shore, Waianae Coast, Molokai Leeward, Lanai Makai, Kahoolawe, Maui Leeward West, Maui Central Valley, Leeward Haleakala.
High Surf Warning (15′ faces or 8′ Hawaii Scale) until 6 AM HST Friday for Kona (tho' surf hasn't gotten big as of Thursday AM, it still could). South Big Island (and especially the Puna-South Pt zone or SE sector got hit first and have seen 10′ surf (SNN).
Game on for the possibility of intense, flooding rainfall in the rainbands and squalls surrounding Lane, from "orographics" alone. There's also the possibility of additional enhancement from an upper-level jet to the north of the islands, and an upper-level trough to our northwest.
Note: The orographic effect occurs when air masses are forced to flow over high topography. As air rises over mountains, it cools and water vapor condenses. As a result, it is common for rain to be concentrated on the windward side of mountains, and for rainfall to increase with elevation in the direction of storm tracks.
Oahu could see damaging winds by Thursday afternoon, and Kauai by Thursday late night.
The CPHC (HERE)forecasts continue to show that all islands are at risk from direct effects from the core of Hurricane Lane. Everyone should take this hurricane very seriously and should prepare accordingly. It's also important to expect that there will need to be future adjustments to the track and intensity forecast, particularly with the challenging recurvature forecast that Lane is presenting. Please consult the latest advisories from CPHC (HERE)
NWS STATEMENTS HERE