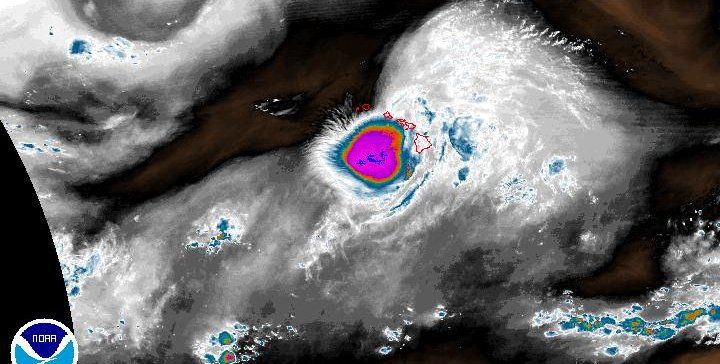 Things are looking better, relatively. Lane could have been much strong and far closer if yesterdays models had panned out.
They didn't.
Still, VERY hazardous winds, waves, weather, and flooding. SNN
NOTE: The NWS Surf info below is a forecast… being safer, not sorrier. A good call.
Observations for Oahu have come in significantly smaller. Though still, anything could happen pending the Track and isolated reefs may still be 8′ maybe near 10′ (15+' crest to trough). SNN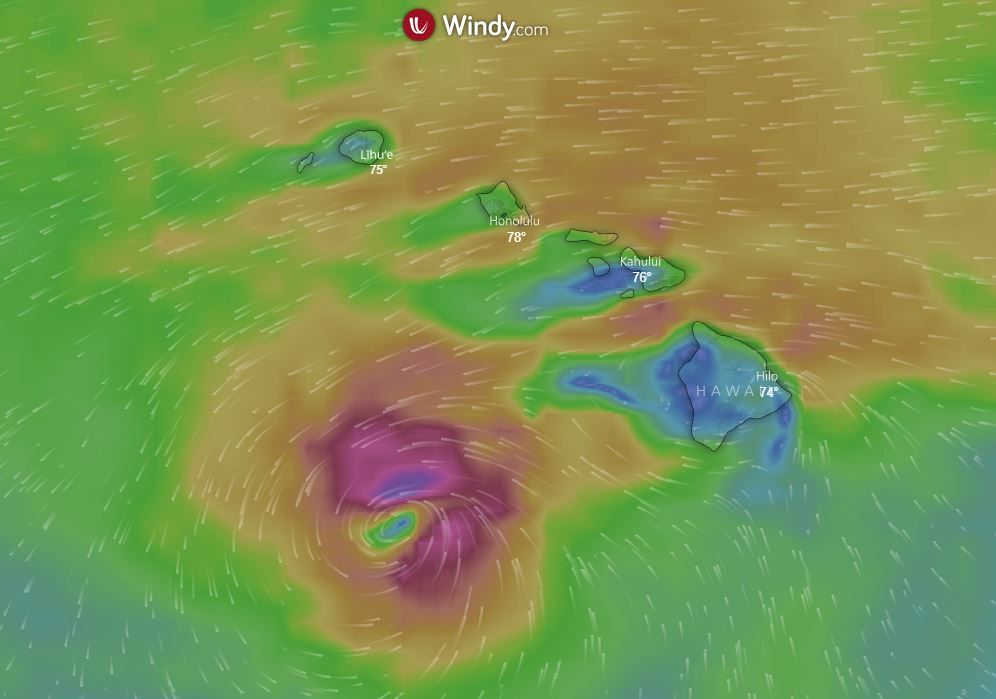 West Buoy Tops all at 13′ 12 sec. The SW buoy 9′ 8sec (down from it's 20′ 10 sec Thursday) showing how the fetch is shifting West. Kauai select exposure still BIG.
A Hurricane Watch is in effect for Kauai Leeward, Kauai Mountains, Kauai Windward, and Niihau
A Hurricane Warning is in effect for Central Oahu, Haleakala Summit, Kahoolawe, Lanai Makai, Lanai Mauka, Leeward Haleakala, Maui Central Valley, Maui Leeward West, Maui Windward West, Molokai Leeward, Molokai Windward, Oahu Koolau, Oahu North Shore, Oahu South Shore, Olomana, Waianae Coast, Waianae Mountains, and Windward Haleakala
A Tropical Storm Warning is in effect for Big Island Interior, Big Island North and East, Big Island Summits, Kohala, Kona, and South Big Island
NWS Overview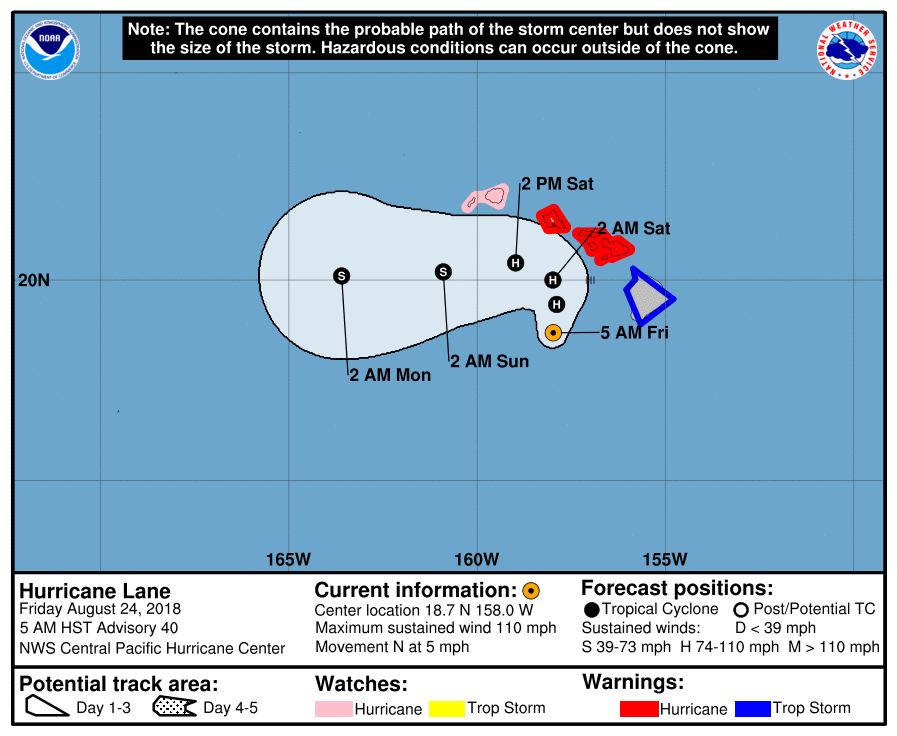 Hurricane Lane is a category 2 storm this morning, with maximum sustained winds of 110 mph.
As of 5 AM HST, Hurricane Lane was located 180 miles south of Honolulu and around 145 miles west-southwest of Kailua-Kona. Lane is moving slowly toward the north at 6 mph.
A slow northward motion is expected to continue today. A turn toward the west is anticipated on Saturday, with an increase in forward speed.
On the latest forecast track, the center of Lane will move dangerously close to portions of the central Hawaiian islands later today and tonight.
Regardless of the hurricane track, life-threatening impacts will extend far beyond the center position as Lane approaches the islands. Do not focus on the exact forecast track or intensity of Lane. The close proximity of this hurricane track to the main Hawaiian Islands and the forecast timing of Lane's turn to the west remains challenging. Be prepared for changes in future forecasts as Lane approaches the islands from the south. Although the official forecast does not explicitly indicate Lane's center making landfall over any of the islands, impacts from a landfalling hurricane may still occur.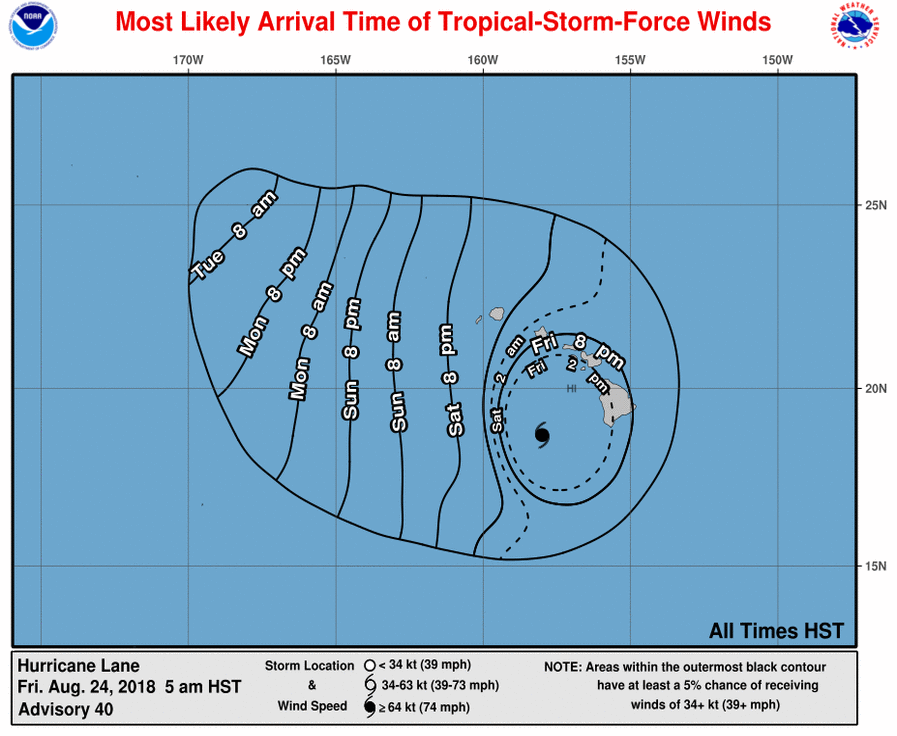 Tropical storm conditions are already occurring on the Big Island, Maui County and Oahu. These conditions will likely persist today. Hurricane conditions are expected over some areas of Maui County and Oahu starting later today and continuing through tonight. Hurricane conditions are expected over some areas of Maui County and Oahu starting tonight. Tropical storm or hurricane conditions are possible on Kauai starting tonight or Saturday.
Rain bands will continue to overspread the Hawaiian Islands well ahead of Lane. Excessive rainfall associated with this slow-moving hurricane will continue to impact the Hawaiian Islands into the weekend, leading to catastrophic and life-threatening flash flooding and landslides. Lane is expected to produce total rainfall accumulations of 10 to 20 inches, with localized amounts up to 40 inches possible. Over 30 inches of rain have already fallen at a couple locations on the windward side of the Big Island over the past 36 hours.
Swells generated by Lane will produce life-threatening surf and dangerous rip currents along exposed shores of all Hawaiian Islands. A prolonged period of high surf will likely lead to significant coastal erosion. Surf is expected to continue to increase through the day today with the peak tonight as Lane passes near the smaller islands. Surf heights for the Big Island are forecast from 10 to 15 feet along the southwest facing shores, with 6 to 10 feet for east facing shores. Surf heights for Maui County, Oahu and Kauai County will rise 15 to 25 feet by this afternoon.
The combination of storm surge and large breaking waves are expected to raise water levels well above normal tide levels as Hurricane Lane makes its closest approach. Overwash onto vulnerable coastal roadways will be possible through Saturday, especially around the afternoon high tide cycles. Water levels will rise 2 to 4 feet above normal along south and west facing shores near the center of Lane.
Tornadoes and large waterspouts will be possible with Lane, mainly along and to the right of the track of the hurricane.