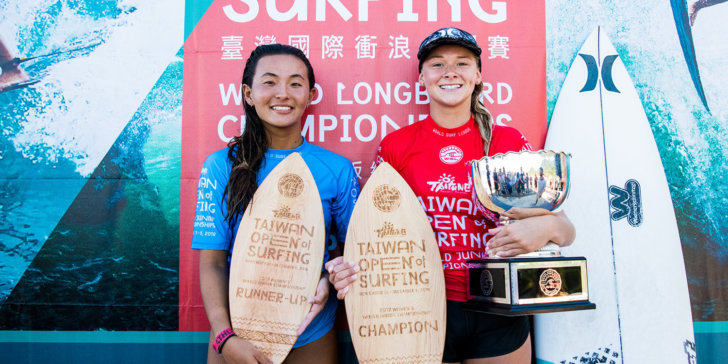 Keala Tomoda-Bannert (HAW) finishes Runner UP!
 Keala Tomoda-Bannert (HAW) and new World Champion Kirra Pinkerton (USA) on the podium at the 2018 WSL Taiwan Open World Junior Championships.
Credit: © WSL / Jack Barripp
Taiwan Open of Surfing World Junior Championships
Congratulations Kirra Pinkerton (USA), the 2018 WSL Women's World Junior Champion.
3-4ft. ENE swell, Super Clean, light off-shore winds.
NEWSFEED CONTAINS KIRRA PINKERTON (USA) AND KEALA TOMODA-BANNERT (HAW)
Jinzun Harbour, Taitung/Taiwan (Thursday, December 6, 2018) –  Kirra Pinkerton (USA) has taken out the 2018 World Surf League (WSL) Junior Championship at the Taiwan Open of Surfing. Pinkerton overcame Keala Tomoda-Bannert (HAW) in the 35 minute Final in clean 2-to-4 foot waves at Jinzun Harbour.
16-year-old Kirra Pinkerton surfed with poise and composure beyond her years, chasing down scores in the dying minutes in each of her Finals Day heats. In the Final, Pinkerton held a strong lead for the first half of the match up until Tomoda-Bannert found a perfect left which she smashed 4 massive turns on. The judges loved the young Hawaiian's commitment and awarded her an 8.20, leaving Pinkerton to yet again chase an almost excellent score. With less than 2 minutes left on the clock, Pinkerton also found a left and got to work on her backhand to snatch back the lead. Tomoda-Bannert had one more shot before the buzzer sounded but it wasn't enough, leaving the young San Clemente native to claim her maiden World title.
 Kirra Pinkerton (USA) chaired to victory at the 2018 WSL Taiwan Open World Junior Championships.
Credit: © WSL / Jack Barripp
Pinkerton had a stellar competitive season, winning the WSL North America Junior Qualifying Series (JQS) thanks to two event wins, a runner-up and an equal fifth place. However, it was today at Jinzun Harbour that Pinkerton took the win of her career.
Although Keala Tomoda-Bannert (HAW) fell just short at the end of the Final, she had Pinkerton on the ropes until the dying seconds and dominated her way into the last heat of the event. Tomoda-Bannert qualified for the WJC after a win at the Sunset Pro Junior earlier in the year. This finish to her 2018 season has opened up endless opportunities for the young Hawaiian who is still only 16 years old.
On her way to the final, Tomoda-Bannert (HAW) took down Australian title hopeful Zahli Kelly (AUS) in Semifinal 2. Kelly, who took out the WSL Australia Oceania JQS, was looking like she was destined for a spot in the final with epic performances all event.  Unfortunately, she couldn't overcome a rampaging Tomoda-Bannert and finishes her 2018 WJC campaign in equal third place.
Pinkerton had to take down fellow Californian Samantha Sibley (USA) in her Semifinal which was no easy feat, with Sibley posting some of the highest waves and heat totals throughout the event.
With excellent conditions continuing throughout the day at Jinzun Harbour, event organisers were able to run through Heats 1 to 6 of Men's round 3. Top seeds faired well with Samuel Pupo (BRA), Kauli Vaast (FRA), Eithan Osborne (USA) and Kehu Butler (NZL) advancing while So-Cal surfer Cole Houshmand (USA) went down to Cole Alves (HAW).
The 2018 WSL World Junior Championships will run in conjunction with the Taiwan Open of Surfing from December 1 – 9. Watch all of the action LIVE at worldsurfleague.com  and on the free WSL App. Head here for more information, images, highlights and results.
Taiwan Open World Junior Championships Women's Final Results:
Heat 1: Kirra Pinkerton (USA) 15.27 DEF. Keala Tomoda-Bannert (HAW) 15.03
Taiwan Open World Junior Championships Women's Semifinal Results:
Heat 1: Kirra Pinkerton (USA) 16.83 DEF. Samantha Sibley (USA) 15.83  
Heat 2: Keala Tomoda-Bannert (HAW) 16.06 DEF. Zahli Kelly (AUS) 12.73
Taiwan Open World Junior Championships Women's Quarterfinal Results:
Heat 1: Samantha Sibley (USA) 12.50 DEF. Alyssa Lock (AUS) 7.77  
Heat 2: Kirra Pinkerton (USA) 15.30 DEF. Sol Aguirre (PER) 12.56  
Heat 3: Keala Tomoda-Bannert (HAW) 14.00 DEF. Minami Nonaka (JPN) 12.77  
Heat 4: Zahli Kelly (AUS) 14.23 DEF. Alyssa Spencer (USA) 14.17
Taiwan Open World Junior Championships Women's Round 3 Results:
Heat 1: Samantha Sibley (USA) 16.23 DEF. Sol Aguirre (PER) 13.37, Gabriela Bryan (HAW) 10.63  
Heat 2: Kirra Pinkerton (USA) 14.17 DEF. Alyssa Lock (AUS) 9.60, Shino Matsuda (JPN) 8.66  Heat 3: Keala Tomoda-Bannert (HAW) 14.10 DEF. Alyssa Spencer (USA) 14.03, Sara Wakita (JPN) 9.16  
Heat 4: Zahli Kelly (AUS) 12.43 DEF. Minami Nonaka (JPN) 11.96, Kai Woolf (ZAF) 6.17
Taiwan Open World Junior Championships Men's Round 3 Results:
Heat 1: Samuel Pupo (BRA) 16.14 DEF. Tiago Carrique (FRA) 9.50 | 
Heat 2: Kauli Vaast (FRA) 14.70 DEF. Justin Becret (FRA) 8.50 | 
Heat 3: Eithan Osborne (USA) 15.66 DEF. Crosby Colapinto (USA) 10.37
Heat 4: Cole Alves (HAW) 14.74 DEF. Cole Houshmand (USA) 14.13  
Heat 5: Te Kehukehu Butler (NZL) 14.66 DEF. Kade Matson (USA) 5.40
Taiwan Open World Junior Championships Men's Remaining Round 3 Match-Ups:
Heat 6: Joh Azuchi (JPN) vs. Marco Mignot (FRA)
Heat 7:Yuji Nishi (JPN) vs. Dextar Muskens (AUS) |
Heat 8: Callum Robson (AUS) vs. Eduardo Motta (BRA) | 
Heat 9: Rio Waida (IDN) vs. Luke Slijpen (ZAF) | 
Heat 10: Tyler Gunter (USA) vs. Jhonny Guerrero (PER) | 
Heat 11: Caleb Tancred (AUS)  DEF. I Ketut Aditya (IDN) | 
Heat 12: Mateus Herdy (BRA) vs. Luke Thompson (ZAF)