All Photos WSL: Heff and KEO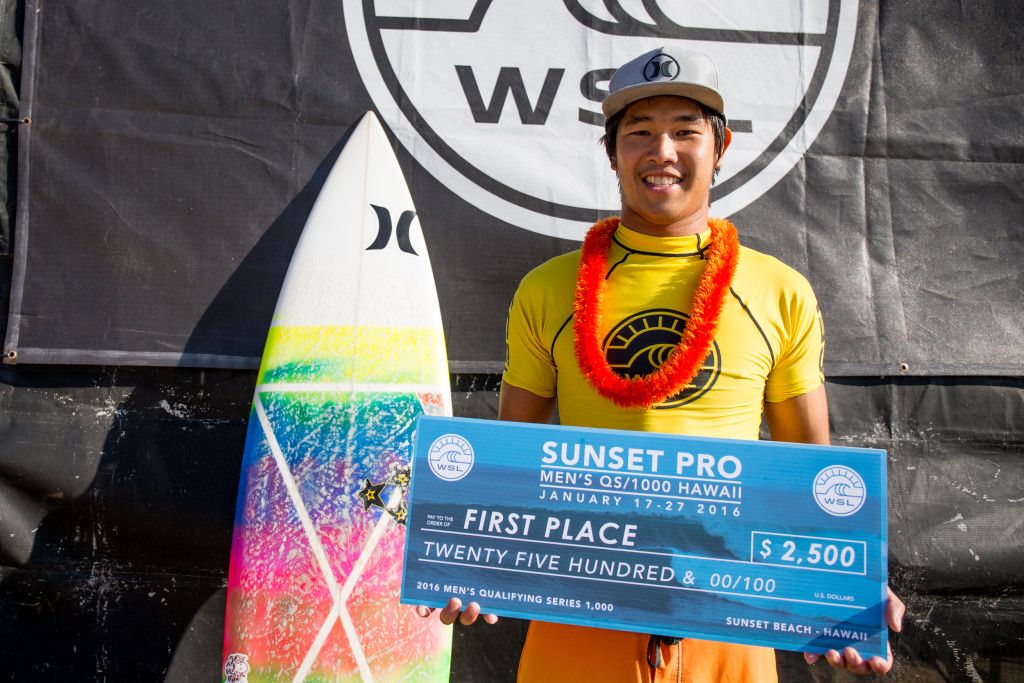 Keone Yan: Winner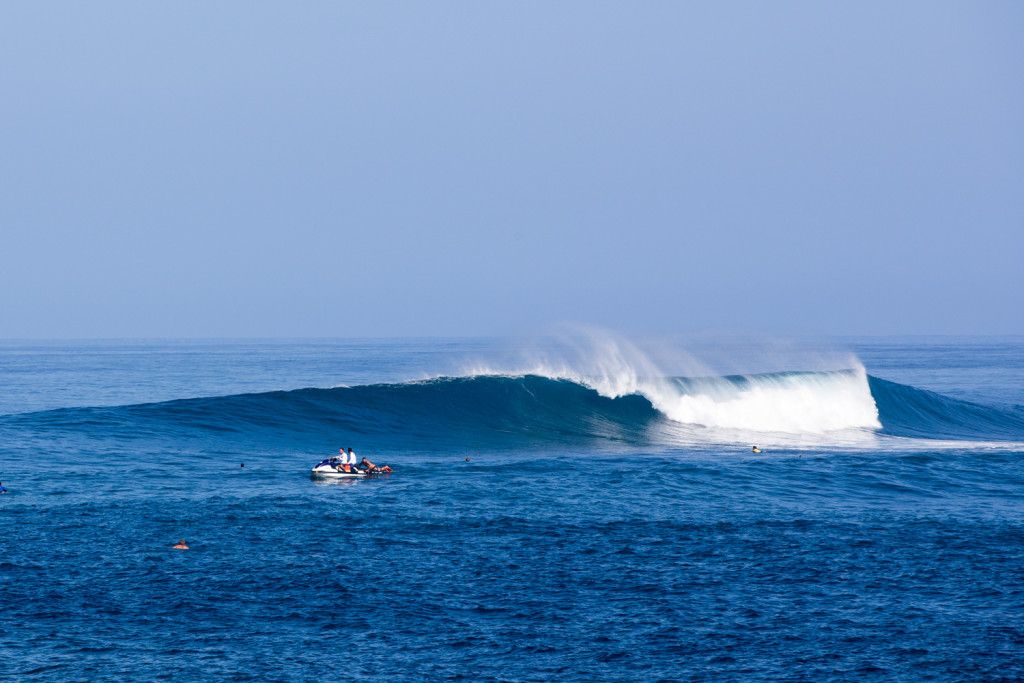 The awesome Sunset Line up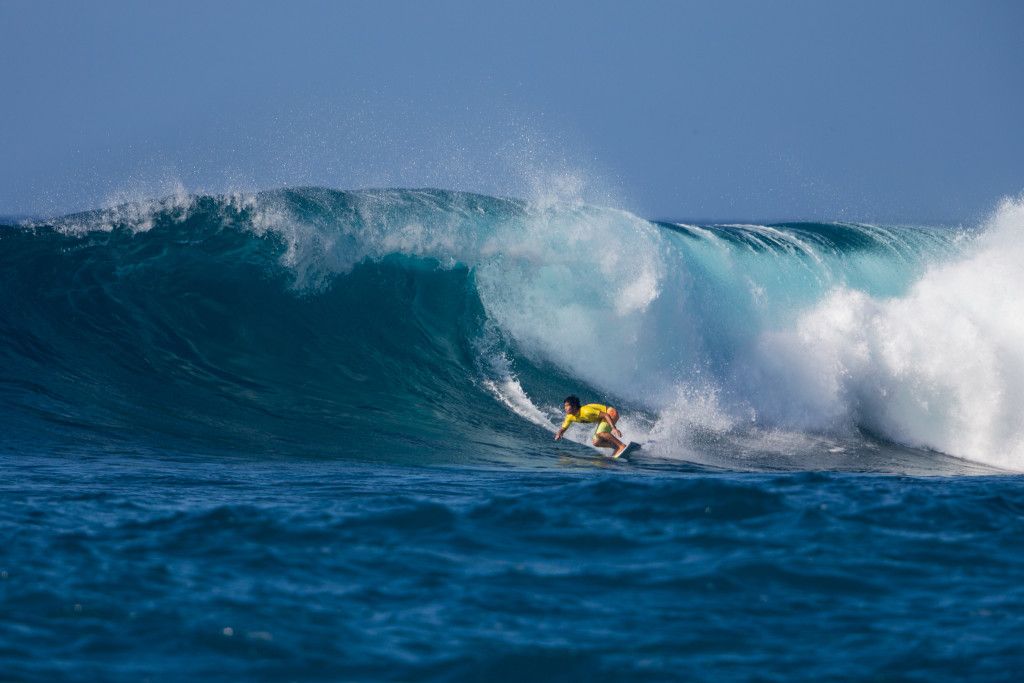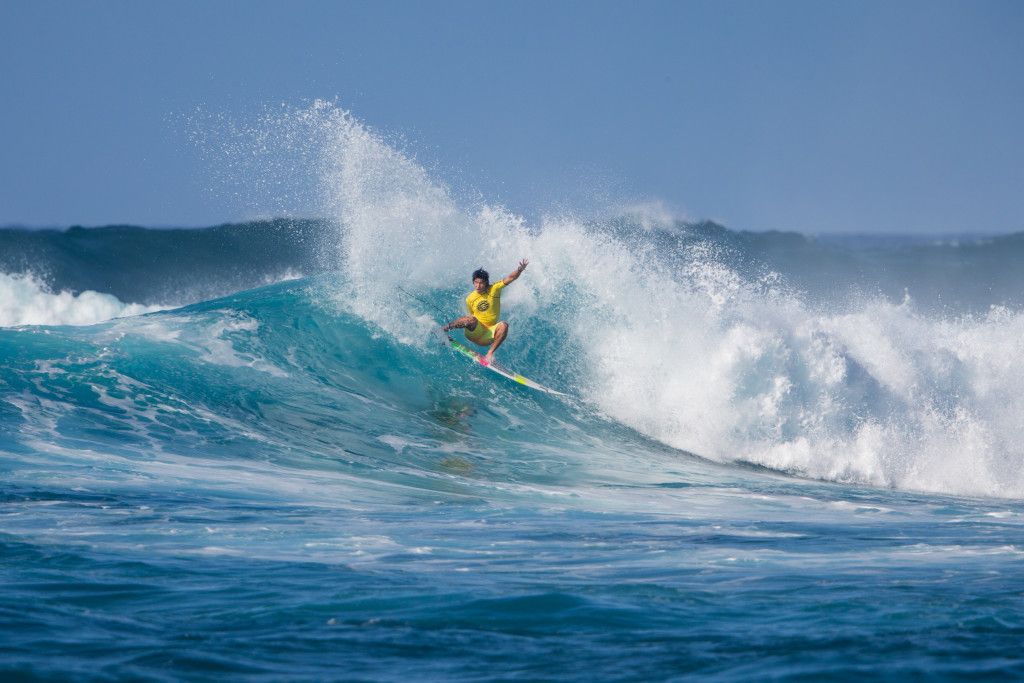 WSL, Sunset Pro, Final Day:Keone Yan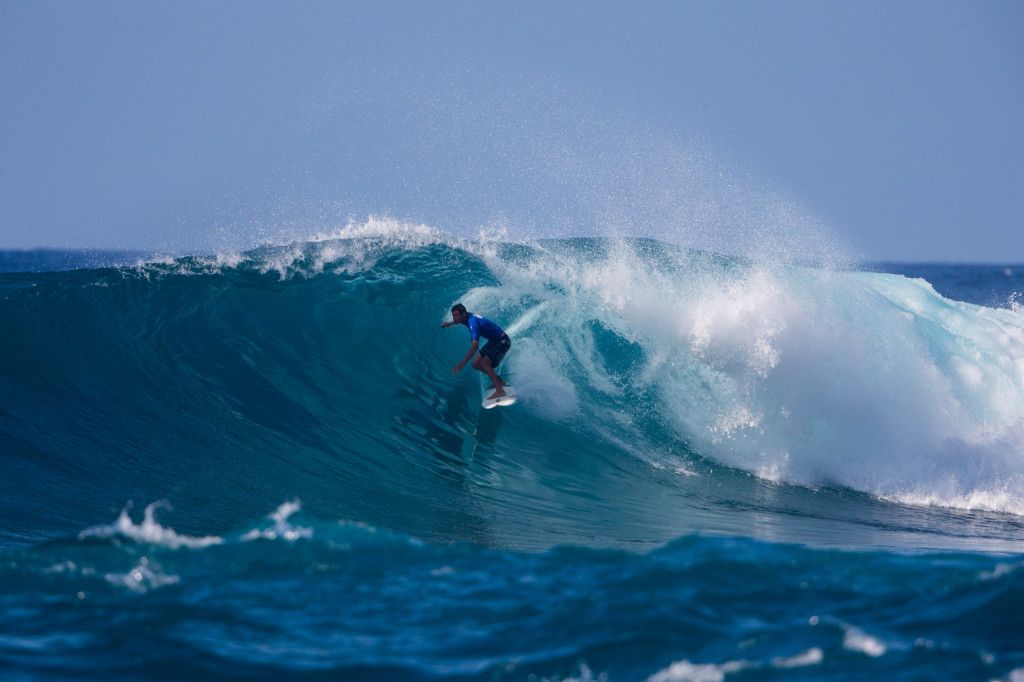 Miles Padaca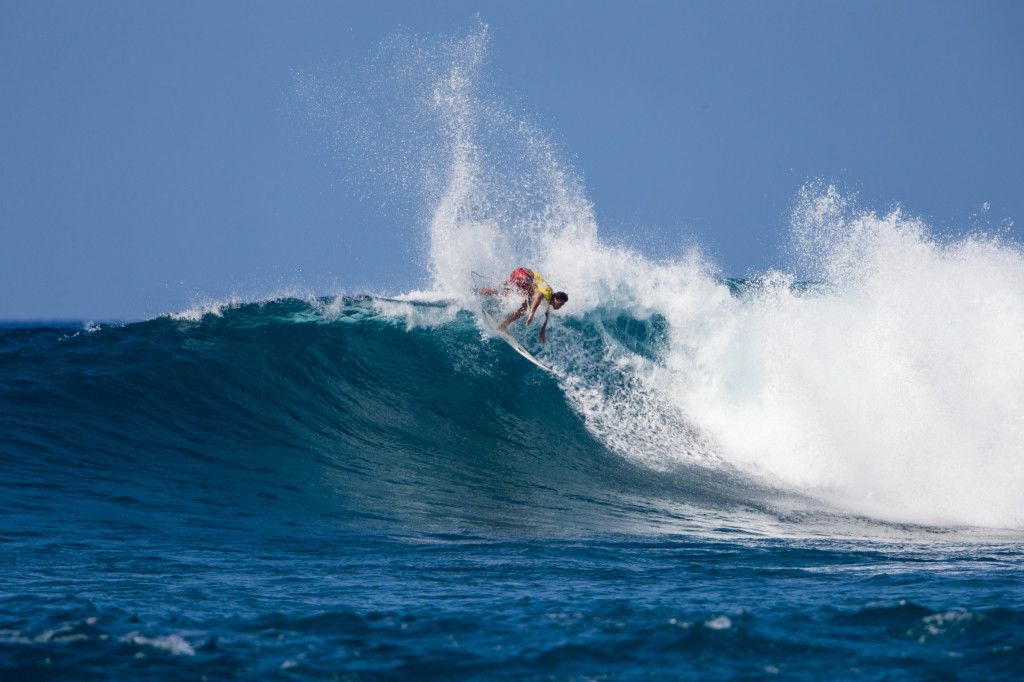 Evan Valiere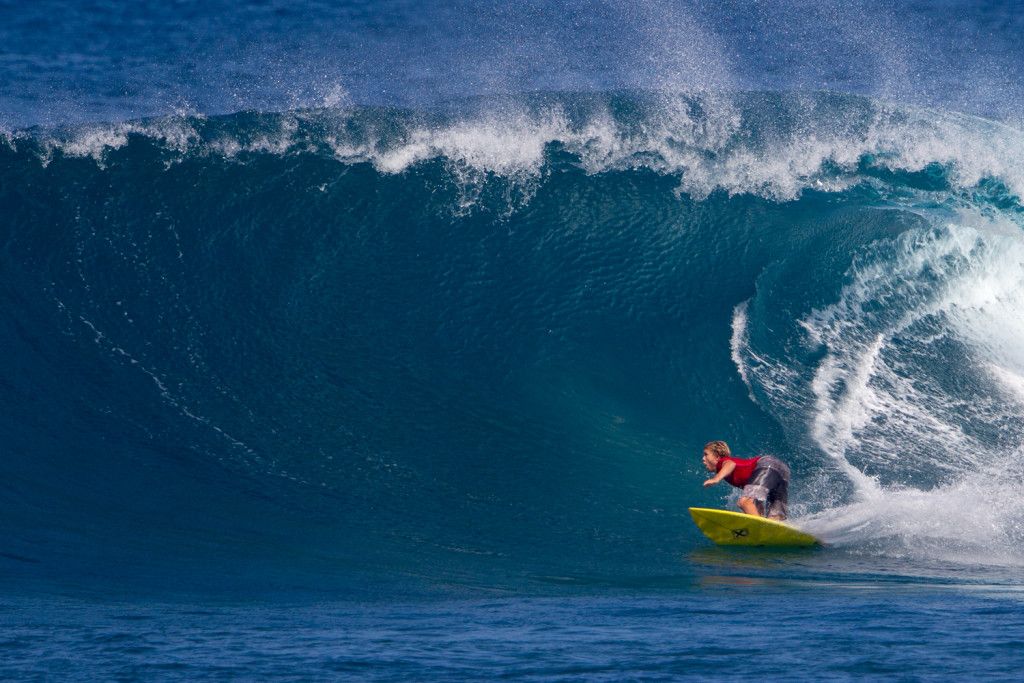 Tanner Hendrickson
L to R, Tanner Hendrickson (fourth place), Evan Valiere (third place), Keoni Yan (first place), Myles Padaca (second place). Image: WSL/Freesurf/Heff
| | |
| --- | --- |
| Event / Location:   | Sunset Pro, North Shore, Oahu, Hawaii |
| Dates: | January 17 – 27, 2016 |
Rating:                            WSL Men's QS1,000

Sunset Beach, North Shore, Oahu, HAWAII – (Sunday, January 24, 2016) —
Honolulu born and Tahitian raised surfer
Keoni Yan
, 20, seized his maiden World Surf League (WSL) victory in Hawaii today at the Sunset Pro – a QS1,000 rated event. He takes an early lead of the WSL Hawaii regional rankings.Wave face heights of up to 12 feet offered ample scoring potential, but the unpredictability of the newly rising swell highlighted the importance of positioning in the lineup; this was where Yan capitalized. The 30-minute Final presented the shiftiest lineup of all and Yan stole the lead from beneath veteran Sunset surfer
Myles Padaca
, with
Evan Valiere (Kauai)
and
Tanner Hendrickson (Maui)
putting up third and fourth."This is my first WSL final and my first win so I don't know it feels weird," said Yan, on the victory. "I wish the waves were better for the Final, but a win is a win, and surfing is like that – even if it's not good you have to go out there and do your best, so I'm happy to win."Yan recently returned to Oahu to get a leg up on competition, and will remain in Hawaii to compete through the winter before pursuing events overseas."After I graduated high school in Tahiti, I decided to move here (Hawaii) because it's cheaper to travel and it's closer to my sponsor," commented Yan. "I'm staying with Big Ben (Wilkinson) on the North Shore."
The ocean went quiet during the Final, which meant strategy played a big role in the suspenseful last minutes of the heat. Yan secured the win by scoring a 6.0, which put him less than one point ahead of Padaca. But Padaca, 44, played his veteran cards well by collecting small scores and safeguarding an early lead for a second place finish.
"The waves were pretty slow and the tide was kind of high so the waves were missing the outside peak and kind of shifting inside, so I tried to sit under everybody," said Padaca. "All in all today was an epic day here at Sunset … it was just fun to go out surf with three guys in a heat at Sunset because usually there's 20-40 guys out on gigantic boards, so this was a real treat."
Although Valiere, 32, had the highest scoring ride of the Final, a 6.75, he was unable to find a solid backup score and had to settle for third place ahead of Hendrickson, who also only found one wave in the lull-filled heat.
Hendrickson nabbed the biggest score of the day during the Quarterfinals, a 9.25 for three big critical turns and a solid finish. The Maui local had considerable success in 2014 with a runner up finish at the Vans US Open and a Semifinal finish in the HIC Pro, however a big win has surprisingly evaded the 23-year-old surfer.
Another event standout was Patrick Gudauskas (USA), who was fresh off a win at the Shoe City Pro in Huntington Beach. Gudauskas' tear in the complex conditions ended short after an interference call was made in the second Semifinal against Yan. Yan took off deep and struggled to maintain his balance in the white water. Gudauskas, unsure if his opponent was still standing, took advantage of the wave and dropped in just as Yan bottom turned and the two bumped rails. Pat kicked out immediately, but it was too late and an interference was called.
The 2016 WSL Hawaii tour moves to Pipeline this week for the Volcom Pipe Pro – a QS3,000 rated event that will include surfing giants Kelly Slater (USA) and John John Florence (HAW), as well as many of today's local stars. The holding period gets underway Thursday, January 28, through February 7.
RESULTS – Sunset Pro Men's QS1,000
Shown in order of 1st through 4th. All surfers from Hawaii unless otherwise noted.
FINAL
1st – Keoni Yan (HAW) – $2500 and 1,000 pts.
2nd – Myles Padaca (HAW) – $1500 and 750 pts.
3rd – Evan Valiere (HAW) – $1100 and 560 pts.
4th – Tanner Hendrickson – $900 and 525 pts.
Semifinals – 1st and 2nd advance, 3rd=5th place, 4th=7th place
SF1: Evan Valiere, Myles Padaca, Miguel Tudela (PER), Kai Barger
SF2: Tanner Hendrickson, Keoni Yan, Shayden Pacarro, Patrick Gudauskas (USA)
Quarterfinals – 1st and 2nd advance, 3rd=9th place, 4th=13th
QF1: Myles Padaca, Kai Barger, Koa Smith, Joel Centeio
QF2: Miguel Tudela (PER), Evan Valiere, Gregg Nakamura, Makai McNamara
QF3: Patrick Gudauskas (USA), Keoni Yan, Makuakai Rothman, Joshua Moniz
QF4: Tanner Hendrickson, Shayden Pacarro, Kaimana Jaquias, Noa Mizuno
Round of 32 – 1st and 2nd advance, 3rd=17th place, 4th=25th place
H1: Koa Smith, Makai McNamara, Bernardo Victor (BRA), Imaikalani deVault
H2: Kai Barger, Gregg Nakamura Lucas Silveira (BRA), Mason Ho
H3:  Miguel Tudela (PER), Joel Centeio, Alex Smith, Jamie O'Brien
H4: Evan Valiere, Myles Padaca, Hank Gaskell, Luke Shepardson
H5: Patrick Gudauskas (USA), Noa Mizuno, Benji Brand, Travis Beckmann
H6: Keoni Yan, Shayden Pacarro, Seth Moniz, Coconut Willie
H7: Tanner Hendrickson, Joshua Moniz, Brian Toth (PRI), Kaito Kino
H8: Kaimana Jaquias, Makuakai Rothman, Gavin Gillette, Eala Stewart
Round of 64 – 1st and 2nd advance, 3rd=33rd place, 4th=49th place
H1: Makai McNamara, Gregg Nakamura, Ian Gentil, Kalani Chapman
H2: Victor Bernardo (BRA), Kai Barger, Eli Olson, Takumi Nakamura (JPN)
H3: Mason Ho, Koa Smith, Landon McNamara, Gavin Sutherland
H4: Lucas Silveira (BRA), Imaikalani deVault, Kekoa Cazimero, Logan Bediamol
H5: Jamie O'Brien, Myles Padaca, Ian Walsh, Love Hodel
H6: Alex Smith, Luke Shepardson, Torrey Meister, Taichi Wakita (JPN)
H7: Evan Valiere, Miguel Tudela (PER), Tereva David (PYF), Kevin Sullivan
H8: Hank Gaskell, Joel Centeio, Jonah Morgan, Isaiah Moniz
H9: Patrick Gudauskas (USA), Shayden Pacarro, Reo Inaba (JPN), Schuyler Allen
H10: Noa Mizuno, Seth Moniz, Riley Laing (AUS), Alex Pendleton
H11: Coconut Willie, Benji Brand, Slade Prestwich (ZAF), Marco Giorgi (URY)
H12: Keoni Yan, Travis Beckmann, Kiron Jabour, Rainos Hayes
H13: Tanner Hendrickson, Gavin Gillette, Dylan Goodale, Danny Fuller
H14: Brian Toth (PRI), Eala Stewart, Chris Foster, Billy Kemper
H15: Makuakai Rothman, Joshua Moniz, Mikey Bruneau, Ulualoha Napeahi
H16: Kaimana Jaquias, Kaito Kino, Elijah Gates, Cody Young
Round of 80 – 1st and 2nd advance, 3rd=65th place, 4th = 73rd place
H1: Gregg Nakamura, Eli Olson, Nathan Florence, Ryan Hipwood (AUS)
H2: Gavin Sutherland, Logan Bediamol, Jud Lau, Ezra Sitt
H3: Love Hodel, Taichi Wakita (JPN), Joao Marco Maffini, Lance Gruver
H4: Tereva David (PYF), Jonah Morgan, Sheldon Paishon, Finn McGill
H5: Shayden Pacarro, Alex Pendleton, Wyatt McHale, Kai Mana Henry
H6: Coconut Willie, Rainos Hayes, Flynn Novak, Derek Wong
H7: Danny Fuller, Chris Foster, Joey Johnston, Kelson Lau
H8: Ulualoha Napeahi, Cody Young, Jason Shibata, Edrick Baldwin
Round of 88 – 1st and 2nd advance, 3rd=81st place, 4th=85th place
H1: Ryan Hipwood (AUS), Jud Lau, Derek Ho, Laka Burgess
H2: Lance Gruver, Kekoa Bacalso, Jonah Morgan, Patrick Furlotti (USA)
H3: Wyatt McHale, Rainos Hayes, Koa Rothman, Braiden Maither (AUS)
worldsurfleague.com