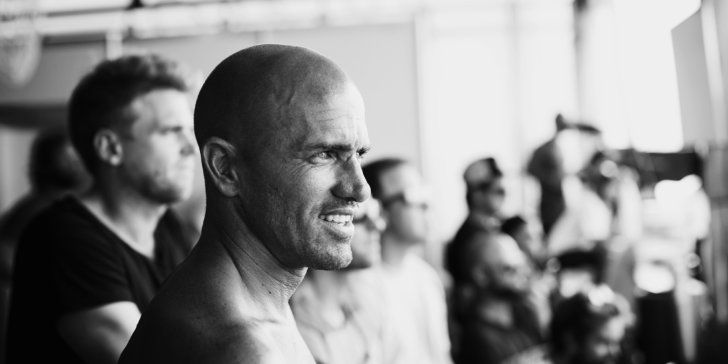 SOUTH AFRICAN MICHAEL FEBRUARY TAKES PLACE IN THE QUIKSILVER PRO
 © WSL /  Kirstin
COOLANGATTA, Queensland/AUS (Monday, March 12, 2018) – Kelly Slater (USA), 11-time WSL Champion, has formally withdrawn from the opening event of the 2018 WSL Championship Tour season, the Quiksilver Pro Gold Coast, citing the ongoing rehabilitation of a foot injury sustained in July of last season.
"I think the best thing for me to do is withdraw from the event," Slater said. "My gut feeling has been to use this injury as a platform to overhaul and reset my mind and body. The looming excitement about a new year starting, my foot sort of magically allowing me to surf the past couple of days and a number of other factors had me talking myself back into jumping in as soon as possible against my better judgment. I feel I've had a couple of half-hearted attempts this past couple of years fighting injury and desire. The foot injury symbolizes a lot at this point in my career both as an ending and as a beginning."
A six-time winner of Quiksilver Pro Gold Coast (1997, 1998, 2006, 2008, 2011, 2013), Slater was eager to return to competition for the opening event of the year, especially with a great surf forecast coinciding with the event window. However, the foot injury sustained in South Africa last season has yet to fully heal prompting the sporting icon to withdraw from the event.
"Hearing Mick talk about his choice yesterday rang true for me also around doing things that make you uncomfortable," Slater continued. "Competing is a natural environment for us both and it's the easy route for me. I think it's best that I properly rehabilitate the injury and choose to surf wholeheartedly, not from the excitement or stress of a last minute arrival. It's not super professional or responsible and it won't allow me to be at my best potential. I really love the energy around the events, especially a new year and I find myself at odds especially with a potential Kirra swell approaching. I wish the best for everyone this event and a special good luck to Mikey February who will surf in my absence. Let him know if he wins I'm requesting a 10% caddy fee! Thanks to the WSL and crew for helping accommodate my predicament and I'll be back when the time is right."
Michael February (ZAF), first replacement for the 2018 WSL Championship Tour, will take Slater's position in the Quiksilver Pro Gold Coast where he will surf against Keanu Asing (HAW)in Heat 7 of Round 2.
Quiksilver Pro Gold Coast Round 2 Matchups:
Heat 1: John John Florence (HAW) vs. Mikey Wright (AUS)
Heat 2: Gabriel Medina (BRA) vs. Leonardo Fioravanti (ITA)
Heat 3: Matt Wilkinson (AUS) vs. Ian Gouveia (BRA)
Heat 4: Adriano de Souza (BRA) vs. Patrick Gudauskas (USA)
Heat 5: Joel Parkinson (AUS) vs. Michael Rodrigues (BRA)
Heat 6: Sebastian Zietz (HAW) vs. Ezekiel Lau (HAW)
Heat 7: Michael February (ZAF) vs. Keanu Asing (HAW)
Heat 8: Frederico Morais (PRT) vs. Willian Cardoso (BRA)
Heat 9: Kanoa Igarashi (JPN) vs. Yago Dora (BRA)
Heat 10: Caio Ibelli (BRA) vs. Tomas Hermes (BRA)
Heat 11: Conner Coffin (USA) vs. Wade Carmichael (AUS)
Heat 12: Joan Duru (FRA) vs. Jesse Mendes (BRA)